Tips for using Facebook Live videos for hospitality
Screen Pilot recently published this handy set of tips for using the Facebook Live video feed for hospitality promotions
Go Live: Facebook Live Tips & Tricks for Hospitality Teams
According to a study by Social Bakers, videos have a 135% greater organic reach compared to photo posts on average, and people spend three times longer watching a live video than a pre-recorded one. Facebook is intentionally giving live videos more organic exposure and placing them at the top of the newsfeed. If you want to showcase your property to prospective, current, and past guests, it's time to put your hotel in the spotlight with Facebook Live.
Here is a summary of their tips:
Tell people when you will be live to build anticipation
Do a test run so everything runs smoothly
Write an attention-grabbing caption so viewers will want to unmute the video
Be social while broadcasting so viewers can interact in real time
Engage with commenters by name to make it personal
Be live for at least 10 minutes so viewers have time to tune in, ask questions, and tag their friends
Save the video so you can critique it and post it on your website
Follow up by thanking guests and asking viewers what they would like to see next time
Try, try, try again until you figure out what your viewers are really interested in
Use fan feedback to improve your digital experience, especially the negative comments and tough questions
The article also sugested that if you film in public it is wise to post "Notice of filming and photography" signs and keep release forms on hand if you will interview any guests.
They even included this infographic to help inspire your hostel's next Facebook Live video: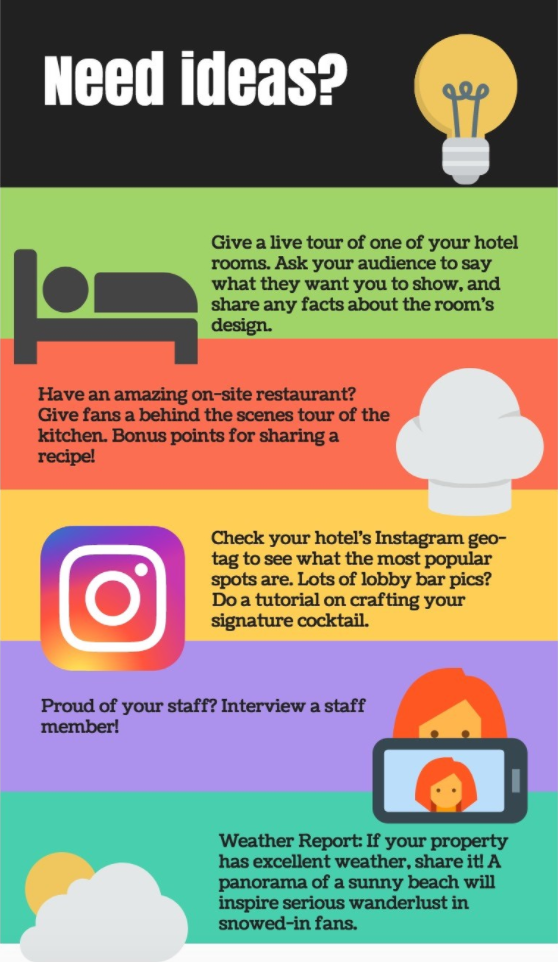 Some examples of successful Facebook Live spots:
Costa d'Este Beach Resort & Spa posted live drone footage to showcase their location
Aloft Hotels and Fast Company had a representative explain their technological innovations like their robotic butler
Marriott International broadcasted a panel discussion on women entrepreneurs and travel
Dunkin' Donuts gave a tour of their test kitchen and built a donut wedding cake