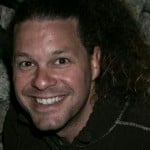 A great location is key, but it's also very subjective. To some people "great location" means right next to the airport/train/bus station. To others it means right in the city center.
If your hostel is in the city center, then market specifically to the second group. Make it clear where you are located so that your guests can select themselves from the start. After all, the airport has a bad location, not you - right? If they're coming to visit your city, rather than looking for a place to crash before a flight, then they'll need a hostel IN the city. They're lucky they found you. :)
If you're trying to set yourself apart from another city-center hostel, then explain what's so great about your part of town. Tell them about all of the interesting attractions, fun places to go, beautiful things to see, unique places to visit, delicious things to eat, affordable shopping, convenient markets, hotspots for local culture, etc. that are right in your vicinity so they'll see the benefits of your location. This can turn a subjective opinion about what makes a good location into Traveler Fact and mark you hostel as the obvious choice. If you can make a short video that shows these things, even better, because people don't always take the time to read what you write.
How much you can charge depends on the competition, the demand, and your operating costs. The difference of 10-20 minutes of transit time while seated probably won't change the amount the guests would be willing to pay if you can convince them that your location is perfect for them. (again, the airport has a bad location, not you) If the other guys charge $50, try starting off at the same price and see if anyone bites. You can always go up or down later.