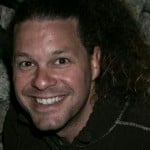 This might be the thread you were looking for.
From what I know this has not really taken off as the new thing to do. The sentiment is still strong that if someone wants to stay for free on someone's couch then they're welcome to do so, but if they want all the benefits and services of a hostel then they should pay for their stay.
While it might work, I don't think offering a free bed on CS in exchange for positive reviews is the way to go. I glanced over their terms and conditions and didn't see any specific mention of it, but they would likely frown on the practice if they knew.