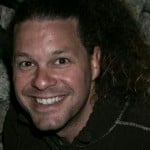 Hi Dan,
It's great that you decided to take the plunge. 
Are you looking for opportunities to work in hostels doing social media and blogging for them, or staying for free in exchange for your own social media exposure and blogs about them?  From what I have seen, many hostels offer accommodation in exchange for work, but most are hesitant to give free beds for blog advertising opportunities. 
You can find a lot of hostel positions that are being offered on hosteljobs.net. Another option for you to offer a specific skill like social media and blogging to hostels is workingtraveller.com. Maybe you could offer marketing and PR services.
Enjoy the new lifestyle, and let us know where you decide to open your hostel!