How many of us have bought really expensive phones or laptops and don't actually use half the features on them? Or hell, even know how to? (#guilty) It may seem like a good PMS for your hostel will be equally as confusing or costly, but luckily it doesn't have to be. You've had enough to worry about keeping your business running during a global pandemic. You shouldn't have to spend weeks figuring out a new system on top of it, let alone pay for a bunch of features you don't even need. 
Which is why you need to know about Abode Booking- a one-stop-shop for your hostel operations that's easy to set up, intuitive to use, and a breeze to manage. 
For many hostel owners, finding a new PMS (Property Management System) can fall into the "ugh, I need to, but that search feels like more work than it's worth" territory. From options with an overwhelming amount of features to integrating multiple moving parts with your current setup, it's easy to keep pushing off the switch despite the clear benefits of a more streamlined system. But now you don't have to.
Originally created for a backpackers (hostel) in New Zealand and specifically designed with hostels in mind, Abode has now been serving accommodation providers around the world for over 10 years. With a fully integrated PMS + Website Booking Engine + Channel Manager, your search for the right solution may end here. 
To be fair, just like the baseline expectation of amenities in a hostel have changed over time (or at least strongly desired, like bedside USB outlets) so have those of a PMS. 
Integrates with channel managers for real-time availability? Yes please. 
Cloud-based for anytime, anywhere access? Of course. 
Flexible booking engine? A must-have. 
Abode has all of those, and more, so what makes it stand out?
It's *simple*. 
Regardless of which option(s) you choose- the PMS, channel manager, or website booking engine, all of Abode's solutions are integrated, intuitive, and easy to learn, which means less time needed to train staff and less time wasted fixing preventable mistakes. In fact, not only can the system be mastered in just a matter of hours, Abode provides all the essential training over the phone with screen sharing. How convenient is that?
The software has the straightforward connections you'd expect to all of your online channels, such as Booking.com, Expedia, HostelWorld, AirBnB, etc., with bookings retrieved quickly and accurately. Even better, Abode also integrates with a number of other systems you may already be using, including channel managers (e.g. SiteMinder, STAAH), payment gateways (e.g. Stripe), and accounting systems (e.g. Xero). No more piecemealing various solutions causing you even more time and effort just trying to get them to work together.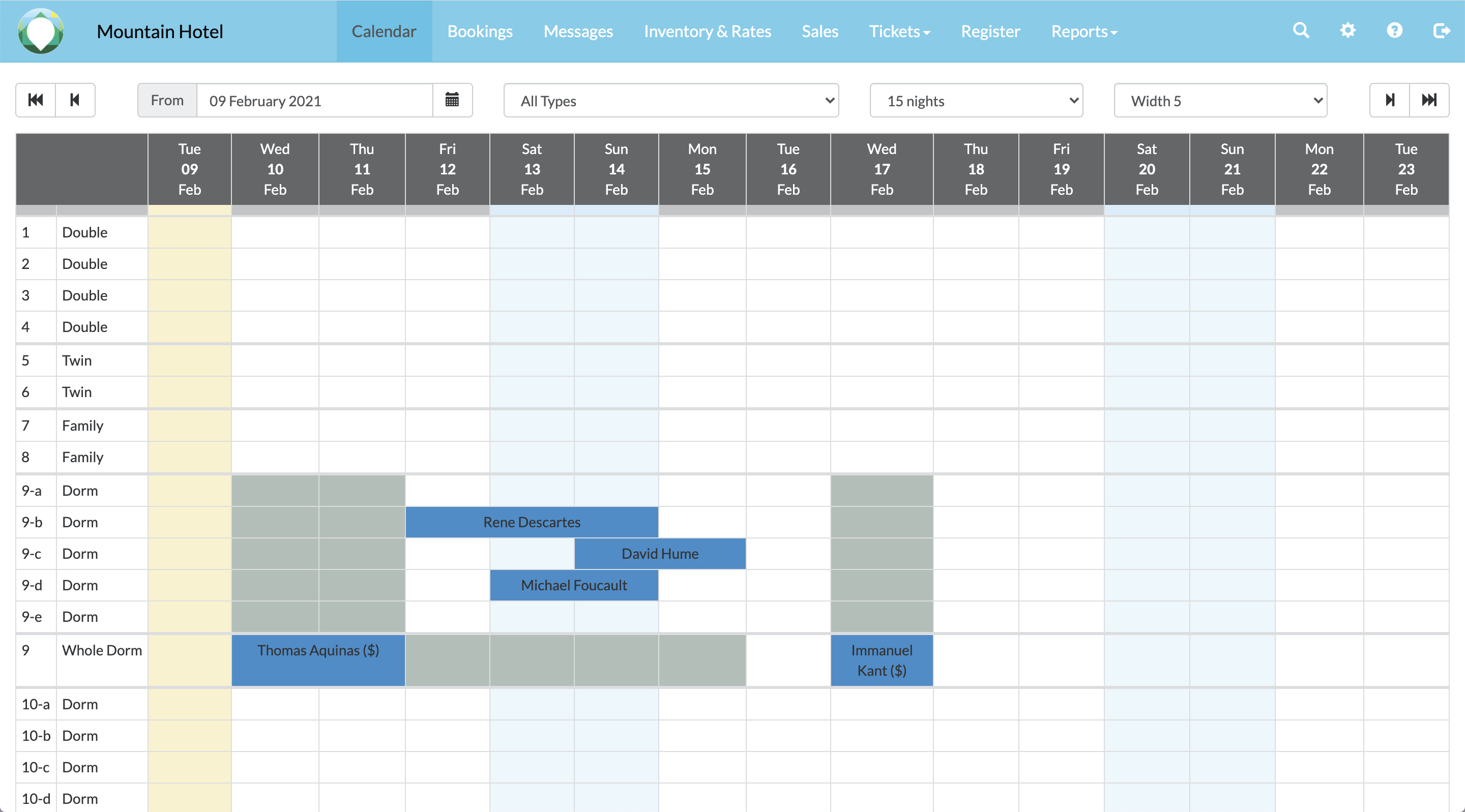 Use virtual rooms to broaden your potential market.
Another stand-out feature I saw was the flexibility and customization available, especially with hostel-specific features. For instance, many PMS options originally designed for hotels are frustrating when it comes to things like dorm room arrangements. So why use a product that bases your options around a business model that isn't even yours or forces annoying workarounds? Abode offers flexible options for room and calendar layouts so the user experience feels simple and intuitive to you. Including 'virtual rooms' so you can sell dorm rooms as private options simultaneously. 
Inventory is flexible too. What happens when an unexpected maintenance emergency occurs and a dorm room is unavailable? Easy- hold back some of your inventory with a simple click and stop playing musical beds every time the unexpected happens. Need to keep an eye on things? Multi-user logins allow you to track who is doing what, from changes to bookings to payments and transactions.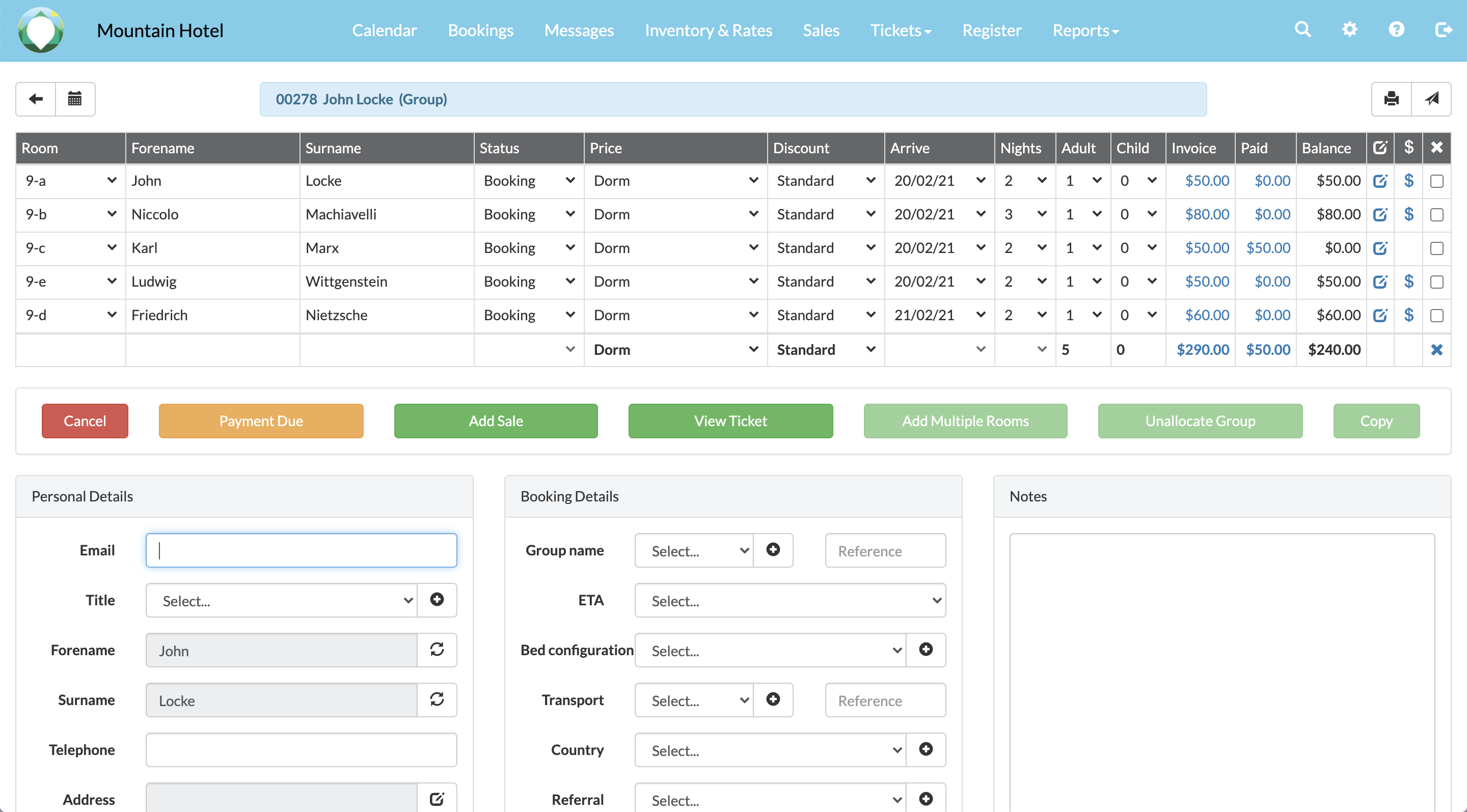 Fully flexible group booking management.
And what about groups? Ever had a group booking and suddenly on arrival, all 12 people want to pay separately? Just thinking about it gives me mild trauma flashbacks to my early days as a server when everyone still paid with cash. Luckily Abode makes that way simpler than a group of teenagers running up a bill and then telling you they need separate checks. (Oh and they're each paying with a 20, of course, and need change). 
I may have had to do mental gymnastics back then but with Abode it's just a click of a button to flexibly manage groups as a unit or individuals. Plus with fast check-in and payment options, the whole process will be easy on your staff and seamless for your guests, even with those last-minute changes. 
So what about the cost? Of course at the end of the day, the investment has to make sense. Like sure, offering every guest a gourmet artisan breakfast (complete with vegan and gluten-free options, of course) sounds great until you run the numbers and remember you're a hostel, not the Hilton. You may give them a run for their money in customer experience, but nevertheless, I'm going to guess your profit margins are a tad slimmer. Cornflakes and toast it is. 
Luckily with Abode, you don't have to debate switching to one-ply toilet paper just to pay the bills. Their system is not only super affordable but has three different payment tiers that are all flat rate, along with a website booking engine. And with custom packages also available, you get to choose exactly what you need, skip what you don't, and with every option always know exactly what you're paying. Including the commission-free direct bookings. Hello simple accounting, goodbye constant recalculating. 
Plus all Abode solutions are charged on a monthly basis with no contractual lock-in, so it's no sweat if you decide it's not for you. But with the ease of operations Abode will bring into your business, not to mention the lack of managing multiple softwares and systems, I have no doubt you'll be gratefully paying that single invoice each month.
2020 was an unprecedented year, and 2021 will still have its challenges for the travel industry. Yet in the lifetime of your business, it's only a chapter. Travelers will continue to return at even bigger numbers, and now is the perfect time to ensure you're ready for more seamless biz operations moving forward. 
For more information on all of the Abode Booking solutions, be sure to check them out here, as well as on Facebook and Instagram.
Special thanks to the Abode team for sponsoring this post.