Hostels are a lot of things, but overwhelming should not be one of them. Unfortunately this isn't always the case, whether you are the traveler or the host. 
Blindly picking out a hostel off a long list can be daunting. Hopefully there are also photos & reviews to help with the process, but many travelers don't want to waste their precious holiday time digging through pages of info just to pick their next place to stay. I am sure I'm not the first to have pushed my computer aside, thrown my hands up in the air, and opened a beer instead. Procrastination can taste good, but it can also leave you scrambling later for a place to stay that doesn't resemble the ramshackle treehouse you had as a kid (minus the cool vibes). 
On the operator side, it almost goes without saying that running a hostel can be overwhelming. While you may want to simply focus on an excellent guest experience and customer service, the reality of aspects like marketing or price sourcing don't just disappear. Trust me, I've tried. Have you ever longingly stared at admin or logistics work wondering if you could Harry Potter that crap into taking care of itself? No? Just me then... 
Assuming, however, that I'm truly not alone in that frustration, is where an organization like MAX Hostels comes in. MAX is a brand new hostel chain that is growing rapidly. In fact, they aren't only in the works to add a hostel in every major backpacking destination this year, but also to surpass 200 quality members over the next few years. They are actively looking for hostels to join their network, and there are plenty of reasons to do just that!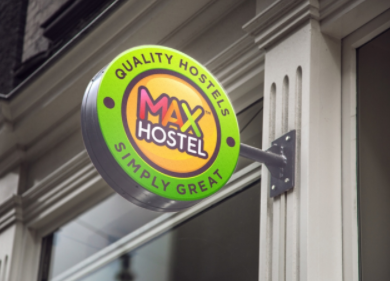 It's easy to tell when you've found a MAX Hostel
Hostel Membership Information
With a motto that gets right to the point, "Simply great quality Hostels!", their vision is twofold: 
         1. To create a well-known brand that travelers equate to a high-quality hostel experience
         2. To help hostel owners focus on their guests, operations, and service by leaving the marketing and setup work to someone else 
From digging into MAX Hostels, it's clear they're not trying to reinvent the wheel here. That's rarely effective or worthwhile, and it seems they get that. By keeping it simple and focusing on what matters, they can ensure that travelers who pick a MAX hostel expecting an amazing experience will be able to get just that. MAX does the leg work, and you focus on providing exceptional service & quality. 
Who's it for?
First and foremost, MAX is for hostels who exude quality. Though they are ready to expand, they are only looking for the best. I'm not going to name names, but if you are that hostel I found in the outskirts of Bogota that had no toilet paper, barely running water, 5cm of grime, and blankets so stiff they could double as room dividers, you probably aren't a great candidate. Spontaneity usually means adventure, but sometimes you want educated adventure. Choosing a familiar hostel brand is a great chance at avoiding cockroaches in your shower. [And before you think I'm dogging on Colombia, that country has some incredible hostels, which I continue to adore and recommend.] 
To MAX, quality also goes beyond the required amenities and cleanliness. It means having a welcoming atmosphere that creates a modern, comfortable "home away from home" feeling. However, even though they are a chain, they don't want to hinder individuality. So this atmosphere can and should reflect your part of the world, country, or destination. 
Whether it's outstanding views of the countryside, proximity to local sights and attractions, or displays of local culture, the hostel decor and vibe can be reflective of this. It isn't about conforming to a single style, but rather committing to the overall values of quality, warmth, and individuality. 
It's hard to have a quality atmosphere without also having strong facilities, which is why MAX also has minimum criteria, as explained below. The exciting part is that as long as you are a great mutual fit for what MAX is looking for, your locale, size or target market doesn't matter. The most important condition is offering your travelers a wonderful stay. 
The general minimum criteria are:
Dorms      Free Wifi           TV Lounge
Kitchen    Dining Area       Good Ratings
Clean       Friendly Staff    Active Manager 
However, these criteria do vary depending on the size of your hostel. MAX understands that certain amenities change with hostel size, and they have accounted for it. For instance, hostels that only have 25 beds or less simply need dorms and free internet, in addition to being clean with great service. Or, for instance, sometimes a kitchen can also double as the dining area. 
With this flexibility, truly anyone with a fantastic hostel has the opportunity to join! If you think you'd be a candidate but aren't sure, definitely reach out. MAX Hostels is not a 'one solution for all' organization, and are certainly willing to work with you.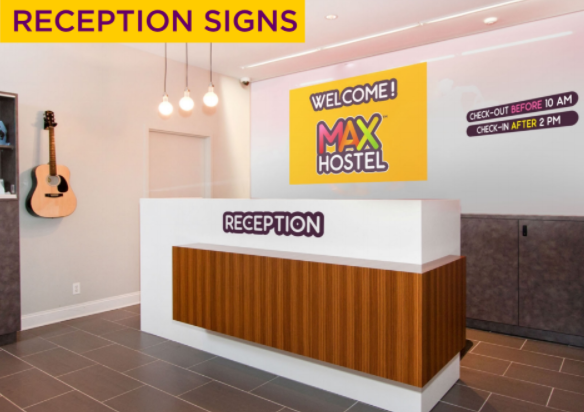 An example of a reception with the signature MAX Hostel branding, which can of course also be personalized to reflect the individual hostel's style.  
Why Join? 
Working in a budget industry, very few hostels are ready to spend their hard earned dough without great value in return. Luckily MAX Hostels seems to have you covered there as well. Your monthly membership has a plethora of benefits. 
Memberships include:
Established marketing: materials, signage, stickers, listing on maxhostels.com, & more
Established operations: access to a comprehensive operations manual
A PMS, Channel Manager, and Booking Engine
Hostel Supplies Catalogue: all sourced for you, with factory direct pricing
Ongoing central support
Collaborative platform for all MAX Hostels members
And much more
Benefits of membership:
Professional looking hostel with MAX branding
Established procedures means taking the guess work out of starting or operating a highly rated hostel
Easier opportunities to start a hostel, as landlords prefer chains and established brands
Attract quality guests & staff
Receive more bookings overall through a greater marketing reach
Receiving referral bookings from other MAX hostels, or simply from guests who recognize the MAX brand 
Unlimited potential to grow and experience even more benefits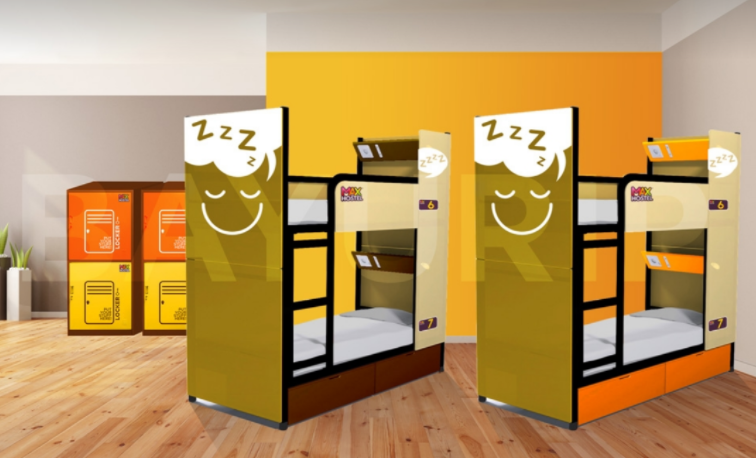 An example of modern, high-quality bunk beds you can purchase at factory dircect prices 
FAQ: Hostel Membership Questions
The MAX Hostels team can provide you with answers to all of your questions, but here are a few I found especially pertinent:
What's the cost? 
Cost varies based on size, but starts at just $95 per month for a hostel with 25 beds or less, and ranges up to $645 for a hostel with 401+ beds. (All prices in USD)
How many members are there per geographic location?
Small towns will only have one MAX member hostel. Larger cities may have multiple, but none that are in direct competition with each other. 
Does my hostel get to keep its name?
Yes! You simply add MAX into it. For ex. "Best Hostel" now becomes "MAX Best Hostel"
Can I have multiple MAX hostels?
Yes, but only one hostel per membership
How do I join?
Click
here
to download their membership application or to contact them for more assistance. 
So what does all of this mean in a nutshell? 
That there can be immense benefits to hostels joining a global network, especially one run by a management team with over 15 years of experience building and operating more than 10 hostels. While it won't magically run your hostel for you (a girl can dream, right?) it can certainly make it easier. 
The opportunity to join MAX Hostels means a greater reach in marketing than nearly any small hostel can do independently, operations and aesthetic taken to the next level, and the chance to collaborate with owners around the world about specific or internal business issues. It also means the freedom to focus on why you probably got into the hostel industry in the first place- the passion of connecting with guests and providing them with a wonderfully memorable experience. And plenty of time for that much-deserved beer. 
Thanks to MAX Hostels for providing us with detailed information about their new concept, and for sponsoring this post.