A few weeks ago, Dorms.com reached out to HostelManagement. Coincidentally, this same week I discovered that the hostel I manage, Pacific Tradewinds, was listed on there. I was already curious about them, so I jumped at the chance to find out more details about this new booking platform and how it's different. Turns out, not only does Dorms.com have a few key advantages to other OTAs, it's not actually "new" per se.
Dorms.com has already sold one million beds to date. Math was never my thing, but that's more than just a handful of bookings. How did they do this if you haven't heard of them? Well, many of your guests from around the world probably have. French speakers will recognize the widely used site www.aubergesdejeunesse.com, while their Spanish friends are searching for their next backpacker hostel on www.albergues.com.
One of the biggest advantages Dorms.com offers is a team of dedicated translators allowing for 13 full sites in different languages. Your guests are often searching for accommodation in their own language and this is a huge asset! Not to mention the quality of using human translations. I learned the hard way in high school French class that while Google translate can be useful for a quick reference, using it for accuracy is like expecting your Tinder match to actually look like their photo.  
The many options for travelers around the world: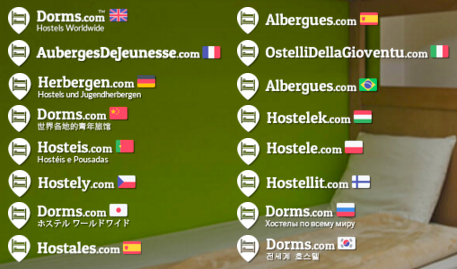 Another aspect I truly appreciate about Dorms.com is their stated dedication to the hostel industry by ONLY listings hostels. No hotels. No apartments. No random campground listing to entice your nature-loving hippie guests to book elsewhere. I'd say the name of Dorms.com should make that obvious, but several hostel-themed OTAs list more than just youth hostels. Like...most of them. With Dorms.com you are only competing within the hostel industry. It's up to you to provide the best product, but at least the playing field is even.
We all know that hostels offer an experience that hotels simply can't. Dorms.com is not only embracing this through their loyalty to the hostel industry, but by actually listening to what hostels want and offering a lot of flexibility. For instance, hostels can specify when and how much guests should be charged.
You can choose from a 0% deposit (the 'book now and pay later' option) or a 100% deposit (the 'pre-paid & non refundable' option). Other options include milestone payments. For instance, you can charge 100% of the stay 14 days to 1 day before arrival. You decide what policy is best, and they charge the guest on your behalf.
You also have flexibility when it comes to late cancellation policies or no show fees. You can charge the first night, the first 2 nights, the first 3 nights, the first week or the full reservation. Depending on the policies you've chosen, you will receive a weekly bank transfer minus a commission, or Dorms.com will charge your hostel's credit card. This is significantly more flexibility than most- if not all- OTAs. I know first hand from some less-than-satisfied comments thrown around HostelManagement forums that this will be a giant asset for many hostels that feel stuck to someone else's rules.
You can see more about what they offer in this video: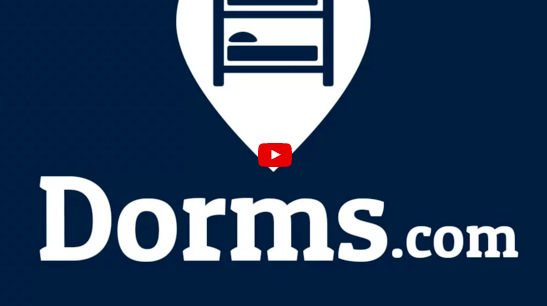 What else do I like about Dorms.com? When I had a question, I was able to get an answer right away. It's easy to use, but I've been known to have a blonde moment here or there (like the time I started to text my friend "I'll be late, I can't find my phone". Facepalm.) I have to admit, I was a bit thrown off guard when I clicked the "Live Chat" icon on the Dorms.com website and I was actually connected to a real person within about, oh, 8 seconds. Whoa. I asked a couple questions about setting up my listing, got quick answers, and was on my way. What to do with all of that unexpected free time?! It almost made me want to email someone and then wait 6 days for an answer. Almost.
Your guests will be able to stay easily stay connected as well through the Dorms.com iOS and Android apps, which launch in a few weeks, and will also sync with Google Maps. That sure would have been useful when I was half lost in the dark in San Jose, Costa Rica, a couple months ago. [I'm a backpacker! I can take public transit! I don't need a taxi, look at me go!....Umm where the hell is my hostel??] There are loads of features Dorms.com offers that can help the world of hostelling, both for you and your guests.
Personally I love any business that is trying to change things up, and I think Dorms.com is a site you should really check out. Register your listing here, and start getting paid the way you want. Compared to hotels, the hostel industry is tiny but mighty, with a flavor all its own. This site seems to really take that to heart, and understands the unique values like community that only hostels can offer. When I spoke with them they were very receptive to feedback, and really want to know what hostels think and want. I encourage you to start your own dialogue with them as well. If we as an industry don't speak up, we lose the opportunity to be heard. And with someone like Dorms.com listening, it'd be a shame not to.
Thanks to Dorms.com for contributing to our site through this sponsored post. We look forward to seeing the future of your site!