Doing it from the end but keeping it safe!
General Hostel Operations
It was worth mentioning that when you ask your hostel bunk bed manufacturer to customise your bunk beds ensure that your manufacturer adheres to the standard safety guidelines when bespoking standard hostel bunk beds.
An ESS customer in the USA recently asked us to adjust the Dallas D2-30 [30 inch wide bunk bed] to have the ladder built into the end frame. Of course ESS design team got straight onto this and presented the Dallas as the customer requested. However this was acheived by a customer/ESS compromise on the design as all bunk beds higher than 1.5 meters needs to comply with international safety standards with gaps no larger than 75mm so that a child's head cannot enter and become trapped.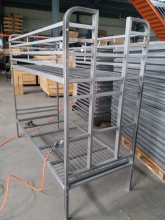 So adding comfort steps to the ladder for bare feet [Standard on all ESS bunk beds] and ensuring that all gaps were correct for safety the customer give the go ahead for production. Fully seam welded joints to deter bed bugs from nesting inside the tubular frame is also standard ESS Universal practice.
SAFETY RAIL STRENGTH
It might be weird seeing ESS Universal bunk beds in the raw in a factory situation but lets look at the Dallas beneath the paint. As travelers themselves, ESS is only too aware what a bunk bed has to go through during a high turnover of guests. The first thing to give is the safety rails, I am sure most of us have happy rowdy guests that have had a tinny or two [few beers]. Hanging on the safety rails is common and soon become buckled and bent; this is why the Dallas, Missouri and Iowa bunk beds have a design that combats the most rowdy of guest, after all its your investment! The sleeping platforms are strength tested to bare 500 lbs and can withstand the onslaught of any guest. There are many benefits of choosing ESS Universal hostel equipment, even bed bug resistance, so take a brows at any of our global websites and feel free to reach out to our team even just for advice or local laws regarding hostels in your neck of the woods.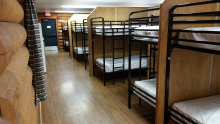 The mighty strong Dallas in Santa Monica Hills, California
WE TRULY ARE THE ONLY GLOBAL SUPPLIER OF HOSTEL EQUIPMENT!
USA | Canada - American's http://heavydutybunkbeds.com
British or Scandinavian languages - UK | EU http://heavydutybunkbed.co.uk
Aussies - Australia | NZ http://heavydutybunkbeds.com.au
Chinese, English or Japanese language - SE Asia | China http://heavydutybunkbeds.com
Safety while travelling!
William Lewis [CEO ESS Global]