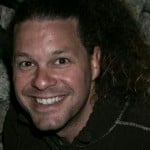 We suffer from the same problem. We hire the rock stars who would be great at any job, and understandably, everyone else in the working world wants to lure them away because they're awesome.
Our management team has been discussing what we can do about this lately. We were considering creating a tiered level of receptionist work based on experience, time with the hostel, evaluations, etc. It's not quite the career path that some of our team might like, but at least there would be room for advancement. They can strive for and achieve something within the company without looking outside for bigger opportunities or a more impressive title.
Each tier level would involve different responsibilities and different rewards and privileges. We haven't worked out what would be involved in each tier, but we tossed around ideas like:
Pay increases
Priority scheduling opportunities
Increased time off
Opportunity to travel on official hostel business trips
Educational opportunities
It's still something we need to develop. If you're interested in something like this, maybe we can brainstorm a little to build the concept into something more concrete.
Incidentally, while I don't want to rely on financial bonuses as a key motivator for my team, I really like your idea of a retention bonus that you mentioned in a previous thread.