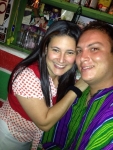 Jungle Party Hostel Club & Restaurant is centrally located in the Colonial city of La Antigua Guatemala worldwide know as one of the most touristic cities in the region of Central America.
We are an 16 year experienced hostel, bar and restaurant extremely popular among young people. Over this time we have shared with more than 500,000 visitors from around the world who came as strangers and left as friends. Taking satisfaction that many of them continually return to visit. Our current facilities consist of 7 rooms, dorms type, accommodations for up to 65 people. hostel, bar and restaurant caters in a daily bases on high season to around 100 to 150 people a day.
The hostel is composed by 4 business from which all operations and revenue are generated.
The Hostel with an accommodation average of 21,600 nights per year
The Restaurant that provides services to both guests and general public.
The Two bars as the most important center of atmosphere with regular themed activities occurring on weekly bases such as all you can eat bbq", ladies night, Mexican costume nights, etc. and big monthly events that cares up to 500 people.
The Travel Agency that provides shuttles and tours to multiple destinations in all Central America.
WE ARE LOOKING FOR AN INVESTING PARTNER  THAT BE INVOLVED IN THE DAILY OPERATIONS
The hostel value is 250,000Usd, We are offering a percentage of the business base on the investment that the future partners will like to acquire depending on his buying power. It could begin by buying a small percentage and grow the investment in a time period. We are aiming to eventually sell the majority of shares.
We are looking for a dynamic, cheerful, sociable single, between 25 to 35 years old.
Our ideal partner will be business minded, responsible for directing, coordinating and overseeing the overall operational activities of all departments within this property and for ensuring that the various business units operate in line in order to achieve the companies overall goals with the maximum profitability and quality.
*Experienced in hospitality management or business administration, Field experience of 3 years minimum
*Sales and Revenue knowledge.
*Focus and seek to understand internal and external customers and meet and exceed the needs of both the customer and the company.
*Bar and service industry experience highly preferred
*Coaching Marketing sales strategies with the F&B team
*Attention to detail; ensure that work is accurate, thorough and to the highest standards.
*In-depth understanding of bar and food inventory control under high industry standards
*Full English and 75% Spanish *to work in Latin American based hotel with European standards
* ability to understand the needs of a party clientele between 20 to 30 years old.
*Flexible in the ability to adapt to challenges
*Having an approachable, cheerful and friendly personality
*Client Relations and loves Face to Face Customer Service
*Proactive
FINANTIAL INFORMATION CAN BE PROVIDED TO SERIOUS PROSPECTS. WITH IN A NON-DISCLOUSURE, NON COMPETETION AGREEMENT SIGNED.