Backpackers: the Ultimate Lazy. Go around the block for a bar? Can't be bothered. Oh, you serve drinks at the bar downstairs? Eh, I suppose I could make it that far for a round. Or seven.
And thus begins many of the nights I've seen at hostel bars. This month we wanted to focus our theme on hostels that have restaurants/cafes or bars. I don't actually have experience with this, and the hostels I have managed had neither. But I've been to plenty, and look forward to hearing more about the challenges and rewards of adding these features to your hostel in our upcoming panel discussion on April 29th.
Below are several pros and cons. I imagine these are among the many considerations of those who have, or are contemplating, adding a bar or restaurant to their hostels. My goal with this is for you- the reader this relates to- to tell me if I'm spot on, in the neighborhood, or totally off. Perhaps if you're considering adding one of these features, perhaps I've thought of an idea that hadn't occurred to you. Either way, help out the community by commenting below with your wonderful knowledge and insight.
Let's start with the 'cons' first, since I prefer to get the negative out of the way.
Increased Workload
My first thought as a con is that you could essentially be running a 2nd business to the hostel, depending on the size of the restaurant or bar. Is it just a small cafe with a few muffins and coffee, or is it a full fledged sit down restaurant that offers brunch? A reception desk with a beer cooler behind it or a dj spinning and two bartenders working? It certainly could be more to manage, especially if large scale.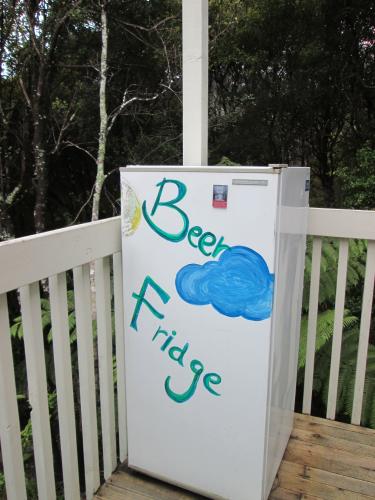 Ok, it's not a bar, but it's a fun idea! (Hekarua Lodge, NZ)
Change in the Wrong Direction
There's the chance it could change atmosphere negatively if not managed appropriately. For example, noise could be a large issue. Or for instance, many hostels don't allow locals to stay, but some will open their bars to the public. This can be extra revenue but depending on the situation can be a drunk ticking time bomb of a problem arising.
Added Costs
A cafe or bar can raise labor costs, in addition to inventory. Hopefully this would be taken care of with the extra revenue it brings in, but bars or restaurants are not always profitable by much, if at all. Sometimes they exist for other reasons, but workers still have to be paid.
At the Expense of Your Guests
Bars on site often prohibit guests from bringing in their own alcohol legally, which can be expensive for them. So while it's fun for some, you may be losing out on the bednights of those who want to drink their own goon. At 10 dollars for 4 liters, who can blame them?!
Now onto the pros, since I gathered in my experience that most hostels with a bar or restaurant was doing pretty well with it.
MONEY!
The first obvious is that it can add revenue. Ancillary sales from guests is never a bad thing.
Added Value
Speaking of money, even if the bar/cafe is not profitable it may be paying for itself. I spoke to one hostel who told me that their bar barely broke even, on a good day, but the amount of bed nights it added made up for it. I gather it's because they were in a really dodge area. Not only did it keep guests, who didn't feel comfortable navigating the sketchy neighborhood in the hostel and spending money, it probably prevents them from checking out and into another place because of the added value.
At the Expense of Your Guests (the other side)
It could also help guests to spend more money in the long run if the hostel operates on a tab system. I stayed in a few hostels in Colombia that did this system. You'd be amazed how high your bill can reach when you are only adding a couple $1 beers at a time. ("What do you mean I owe $37?? Is that why I don't remember two nights ago?") The tab system is interesting because I've spoken to a couple hostels who don't hold cards on people and have said they've never had an issue with someone not paying before they left. To my memory neither of the Colombian hostels I'm picturing had my card info either, yet let me run tabs. Anyone have experience with this?
Great Vibes
Bars and restaurants can also add atmosphere and completely change the style of the hostel. Though this could be negative, as explained above, usually it's on purpose. For instance, if you are trying to brand yourself as a party hostel, it gives easy access to giveaways, drink specials, games, etc. to bring that atmosphere in. It can also be used as an area to funnel noise and loud guests to, rather than near the dorms, if designed well.
Guest Incentives
Lastly, a restaurant/ cafe or bar means increased job opportunities, which may mean another reason to attract travelers to your place. Several countries with work holiday visas have backpackers scrabbling to find jobs. With these extra services, you are increasing the chance of gaining a few paid nights out of these travelers looking for work. It could also be used as an incentive for new employees when they find out you do drink discounts or free food, as many hostels do.
Your Thoughts?
So hostel community, what are your thoughts? If you have a bar, restaurant, or cafe did you consider any or many of these when opening? If you are thinking about it, did I leave anything off? How long did you have your hostel before adding one of these features, and what drove you to add it?
Sign in, and comment below.
**I know many of you comment on these blogs on the site's FB page, which is great, but it would be even better to have the comments directly on here for everyone to read. Thanks for your input and helping to further our knowledge!**
In case you missed it:
<< My last post: What Makes the Best of the Best?
>> My next post: How I Saved $10,000 Towards My Own Hostel (And how you can too!)
Just joining the show and don't know who I am? Check out my introductory blog post.
As always, send any suggestions, questions, or thoughts on the blog my way by emailing me here.
Peace & love, 
Courtney
P.S. Don't miss out! Follow HostelManagement on Twitter if you would like to receive updates when new my blog posts are made.