As travelers ourselves, we know how difficult and confusing travel can be, especially where there is a language barrier. Throughout history, travelers have relied on the kindness of others to help them on their way.  A receptionist with a smile goes a long way to set tone and atmosphere of the hostel, both cheapo or glamo and we should all continually seek that tradition, especially in the era of wi-fi and Google Translate. ;) 
The following set of goals is designed to welcome guests and to ensure excellent customer service. If you have other ideas for goals, we encourage you to share them with us in the comments below and incorporate them into your customer service goals policy.
Goal #1
Be helpful
Anyone who represents your hostel, owner, manager or staff, should try to truly get to know all the guests as people. Hostels want guests to understand that they have stepped into a unique place that will act as their second home, whether they're staying for one night or for two weeks.
Start helping backpackers before they even arrive at the hostel. Responding quickly to their questions and concerns via email might be the first step. If the guests are unfamiliar with hostels, direct them to information on the web about hostels. Wikipedia: Hostels is a great start.
Consider using social media outlets like, Twitter, Instagram or Facebook page. You can use pre-defined searches to actively look for backpackers who need information and assistance and respond to their posts. Do this not to "sell" the idea of our hostel to them, but to truly be helpful to a traveler in need. All us travelers know what it's like to have a helping hand while on the road.
Meet new guests at the front door, if possible, and offer to help them with their luggage. When they get to registration, offer them a glass of water, tea or a coffee.
Take time to show them around the hostel. Walk with them and personally show them where their bed is located. Take time to learn what they want to see in the and offer a map and whatever local information you can provide.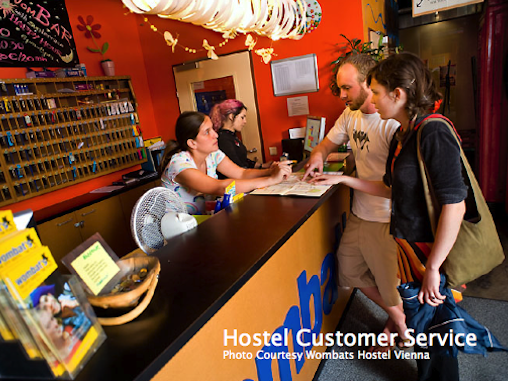 Goal #2
Be proactive, rather than reactive, to guest needs.
Think about the other hostels you may have stayed in. Did they make you feel welcome like an old friend or did they treat you as an inconvenience?
Always strive to find out what kind of person each guest is and what kind of customer service you can provide. You can immediately set the wheels of service in motion by offering assistance and information.
Customer service can also be conveyed on the phone when you are taking a reservation or giving out information to a prospective guest. Even on the phone you can assess a guest's needs and help to ensure that their future stay will be a pleasant one!
"Service can have no fine meaning unless one takes pleasure in it. When it is done for show, or fear of public opinion,it stunts the man/woman and crushes his/her spirit."

"Service rendered without joy helps neither the servant nor the served. But all other pleasures pale into nothingness, before service which is rendered in a spirit of joy ..." - Gandhi
Goal #3
Customer Service Multi-tasking
Especially during the peak season things can get really busy, and it will seem like every guest needs your attention at the same time. (I find this especially true on morning shifts.) When you find yourself in hot demand, you will need to assess priorities and possibly work with a sense of urgency. It is important to remain calm and remember that a smile goes a long way both for the guest and for yourself.
Try to complete a transaction with one guest before you start another one - this avoids confusion and mistakes. Sometimes it makes sense to excuse yourself briefly from one transaction in order to quickly make another customer comfortable and let them know you will be back. You may need to keep a guest waiting while you assist others, but you could offer them a cookie or something to read while they wait.
I know it is hella annoying when the phone rings right when you are in the middle of helping another guest. But keep in mind that that in-person guest can see that you are on the phone, but the person on the phone does not know you are helping someone else. If possible, give the person on the phone priority, or ask them if you can put them on hold while you finish. Just be sure to get back to the caller within a decent amount of time.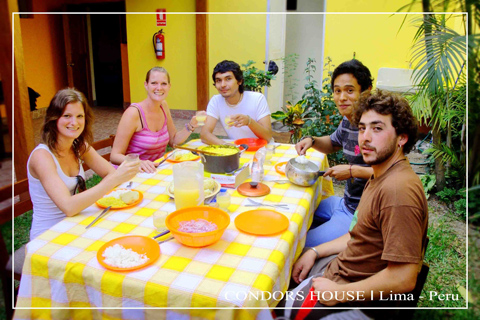 Goal #4
Continually find ways to push the hostel customer service envelope.
Traditionally hostels have always been the "no frills" accommodation choice. As a result, most travelers do not expect more than a bed and kitchen when they stay at a hostel.
This expectation is changing with time though, because the hosteling demographic is changing: digital nomads, conference or makers fair travelers, solo female travel bloggers. And with high end "hostel-type" accommodation getting into the mix, like Generator, your hostel may want to up it's game and provide more of what is in demand. Wi-fi is just about a must now-a-days. 
Here as some of the extra things you might consider providing. If you can think of others, please feel free to add them in the comments below.
Free use of Computers or lots of Free Wi-Fi
Free Tea & Coffee
Free Breakfast
Community Meals
Free Loaner Umbrellas
Free Loaner Alarm Clocks
Free Bicycle Parking or usage (with reservation)
Free Loaner Sports Equipment
Free Iron and Ironing Board
Free Hair Dryers
Free Sock Washes
Laundry Service
Free Soap, Shampoo, & Toiletries
Free Extra Blankets
Free Towels
Free Long Distance on Low Cost International Calls
Free 5 min call to select international countries
Free Use of Hostel Entire Day of Checkout
Long Term Luggage Storage
Free DVD Library- not everyone has Netflix
What services and amenities can you think of to make your hostel truly stand out?
We have many more articles on making and keeping hostels awesome. Follow the links to more great reads:
The Depths of Creativitiy, Setting Hostels Apart>>
Wisdom from Hostel Owners and Managers>>
*If you are new here, and want to know who I am, check out my introduction : Hello and Happy New Year*