Our HostelManagement theme for December is "Industry Expectations: Standing out, while fitting in." I have to admit, even I thought to myself, "How can I write about such a cliche?" I want my writing to be meaningful, but most of all useful. We all know the general standards a hostel should meet. Dorms beds, functioning kitchen, toilets that flush? Sure. Wifi that is faster than the speed of light and never goes out for 30 seconds? Obviously, #1 priority.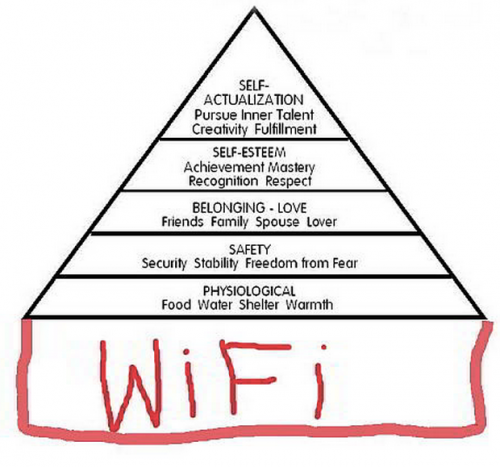 We also know each hostel has its own personality and special quirks while meeting these ever-rising standards. Even the large chain hostels can vary greatly in style from one property to another. However, standards and expectations for hostels have been steadily rising over the last several years, to the point where certain offerings that would have once made a hostel stand out are now expected. Figuring out how to provide all the services expected by a guest in 2014, while still standing out unique against the competition (and being able to pay the bills!) is not easy.
Yet standards and differences are two necessities hostels need to survive. As I thought about this piece, I first struggled to think of what makes those two work together successfully. 'Creativity' bubbled to the surface of my mind, but even then it seemed to only scratch the surface.
Until I started expanding my definition. Then many ideas came to me, which will hopefully spark inspiration in each of you. When I think 'creativity', my mind first goes to a traveler painting murals on the wall, or an unusual way of offering information to guests. For example, hand drawn wall-sized maps of the area, or hostel events info inside the bathroom stall. Those aren't bad ideas at all. In fact, I bet if this blog was inside a toilet the readership would skyrocket. No judgement.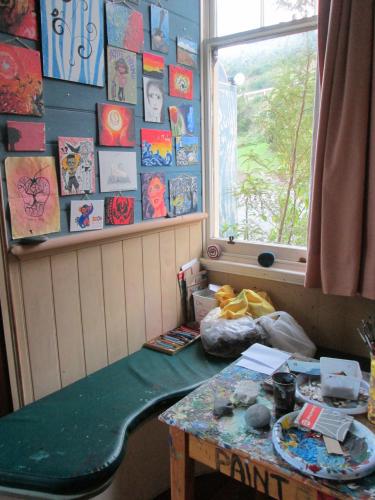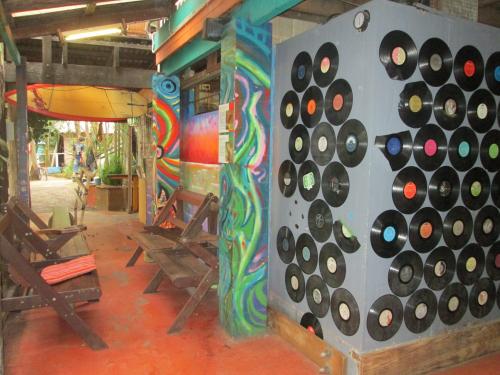 .Albatross Backpackers, Kaikoura, NZ............Arts Factory Lodge, Byron Bay, Aus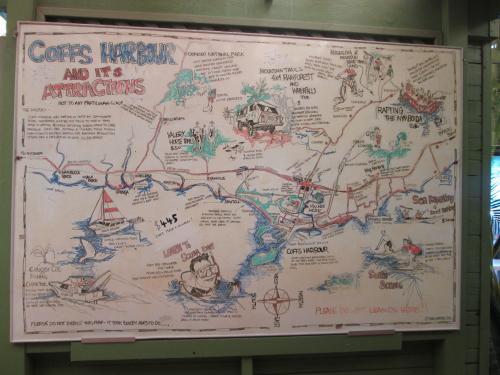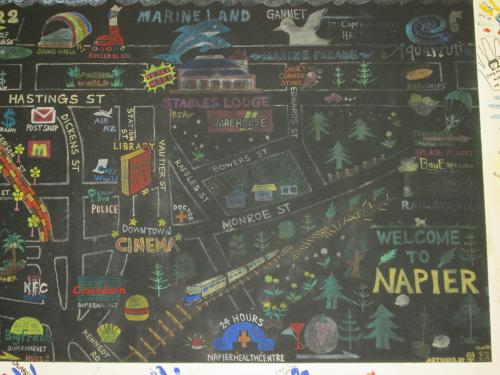 Aussitel Backpackers, Coffs Harbour, Aus...............................Stables Lodge, Napier, NZ
But setting yourself apart goes further than that. After the images of colorful walls and hippie backpackers had sprung to mind, I started thinking of a hostel's personality. More specifically, of how that could be incorporated into a guest's experience. For instance, at Dunloe View Hostel, a cozy farm style hostel outside of Killarney, Ireland, the free breakfast is far from standard. It includes fresh eggs from the chicken coop out back. A few hours away, Sky Backpackers in Dublin has retained its former recording studio legacy. Having previously hosted legends such as the Cranberries, David Bowie, and U2, the studio-turned-hostel still holds gigs right in their musically-themed common area. I can say from experience, farm fresh eggs are great for a hostel conference hangover, though I'm sad I missed the Irish dancing at Sky.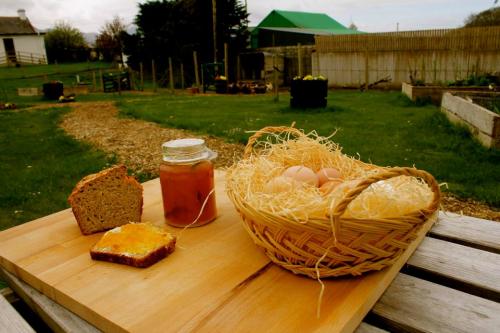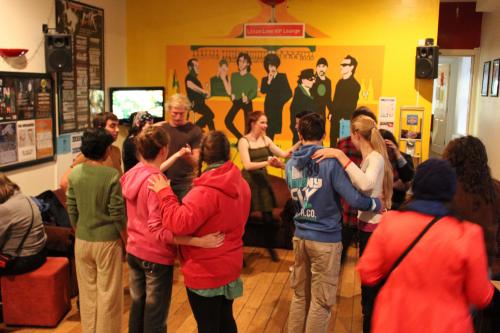 Picture credit: www.facebook.com/DunloeViewHostel......... Picture credit: www.skybackpackers.com/
However, it's not just those small touches that set one hostel apart from another either. It's a deeper use of creativity. How many hostels struggle with space constraints? What about ways to add value beyond a free towel? Those solutions aren't always obvious, especially if you want to set yourself apart from your neighbor. Or the other 15 hostels doing the same thing.
I'll touch on the space issue first. I once heard at a HostelManagement Unconference "Plan for storage; you'll never have enough storage." This is definitely an issue at the hostel I manage, Pacific Tradewinds in San Francisco, and I was impressed upon arrival with some of the creative ways space is used.
For instance, a Harry Potter style storage closet for supplies was built underneath the stairs. It's so mysteriously tucked away right under your nose, that when a guest sees one of us entering it, their face looks like they discovered the Room of Requirement. Except instead of time traveling cabinets, it's filled with toilet paper and trash bags. (Ok, ok, I'll stop nerding out with the HP references). We also have our luggage storage hidden away in plain sight. Our common room is lined with cushioned benches that are hollow inside. They are big enough to fit a large suitcase, or a person, if you're sick of your travel companion.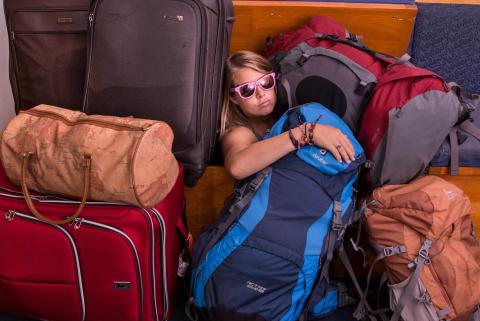 If I touch enough luggage, can I apparate to a foreign land? (Muggle speak: teleport) ;)
Another creative use of space I've seen was at Paradiso Backpackers in Nelson, NZ. There they built a lofted reading nook above their reception in what would have otherwise been wasted space, overlooking their beautiful back pool area. They also built lofted dorm beds into some rooms with really high ceilings.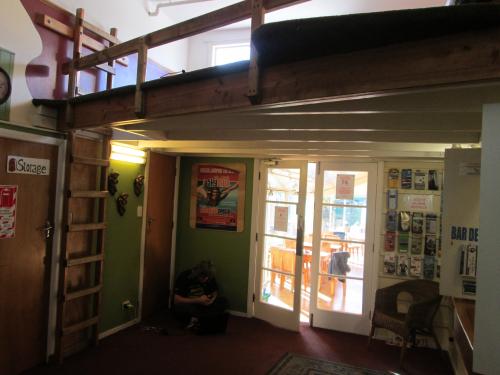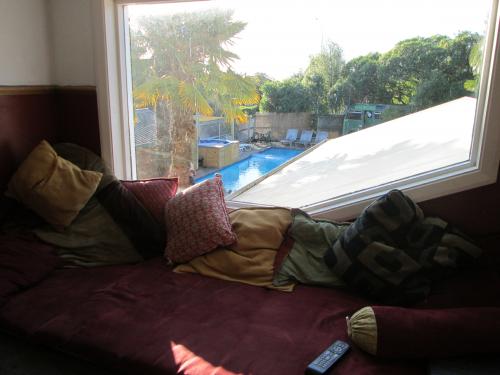 I spent a lot of time writing up here last year.
Media Luna Hostel in Cartagena, Colombia has a beautiful and expansive rooftop deck. While the hostel is certainly known to throw a good party (don't miss Wednesday!), they also use that space for activities such as yoga. You can guess which hostel event I made it to, but your guests may be more zen-inclined on holiday than I am.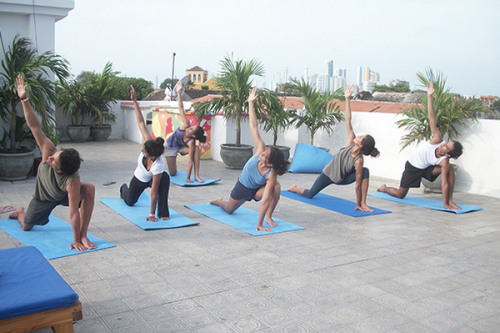 Picture credit: www.medialunahostel.com
Sometimes creativity with space means navigating a large amount of people through it. This is something Adventure Queenstown Hostel in NZ has figured out with their kitchen. Though beautiful (probably one of the nicest hostel kitchen's I've ever seen), it's still not huge for their 50 bed hostel. Their trick? The kitchen has several 'stations' with duplicates of the supplies. Most kitchens have, for instance, 5 large bowls in one cabinet, 5 cutting boards in another, and tons of utensils in another. This causes one guest to cross back and forth to get what he or she needs. At AQ, each station has 1 of each item, allowing you to prep your food while staying in one place. It gives convenience to the guest, and frees up traffic flow in and out. The kitchen is cleaned twice a day, which includes setting these stations back up properly. It's very creative, extremely efficient, and a prime example of something enhancing a guest's experience that they probably don't even realize.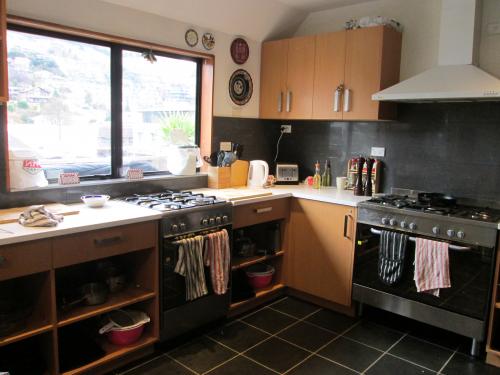 Who else is dying for this kitchen?
All hostels want to add value to their guest's stay without spending a lot of extra to do it. How to do that is the million dollar question, but I have seen a few good examples of little to no cost extras. Have very budget-conscious guests? Prince Albert Backpackers in Nelson, NZ, has negotiated deals with neighborhood businesses. They give every guest a wristband at check-in, which allows them discounts around town.
Other hostels have 'honesty systems' setup for treats or services. Pacific Tradewinds sells candy, noodles, soda, etc. Jack in the Green Backpackers in Hamner Springs, NZ has an egg basket, as does Adventure Queenstown. Piha Beachstay in NZ has several things on the honor system, including laundry, internet, and even beer. These systems may only work for a small hostel, but I feel they add a value of trust and community to a guest's experience. If you are doubtful, or interested in reading more about this concept, check out the specific piece I wrote last July here.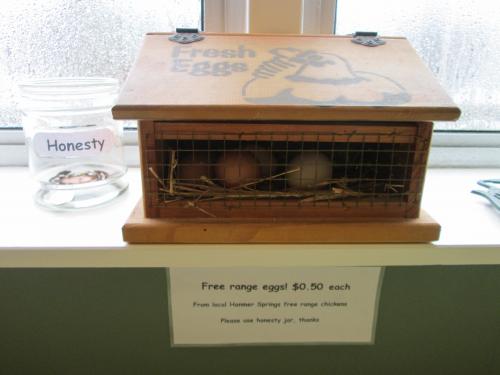 Jack in the Green Backpackers
Another great way to add value? Make your ladies feel special. I've been to several hostels that do this. Many hostels offer hair dryers to loan, but I've only seen a few that have straighteners, such as Bounce Hostel in Sydney. That's pure luxury for a curly haired girl on the road who wants to change it up for a night on the town. Adventure Queenstown went one step further and loaded up their girls dorm bathroom with hair dryers, straighteners, nail polish, and even an extra hair towel per bed. Nothing overly expensive, but highly appreciated. A few Base hostels have an entire girls wing called The Sanctuary where they also give extra freebies, like shampoo & conditioner. Even better: the Base in St. Kilda (Melbourne) will bring girls tea or coffee on the weekend. Yes, at 10am, hot tea or coffee, to your bed. "Oh hi mom. Traveling is great, and I'm never leaving."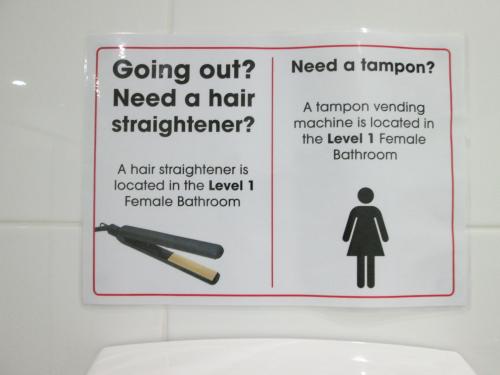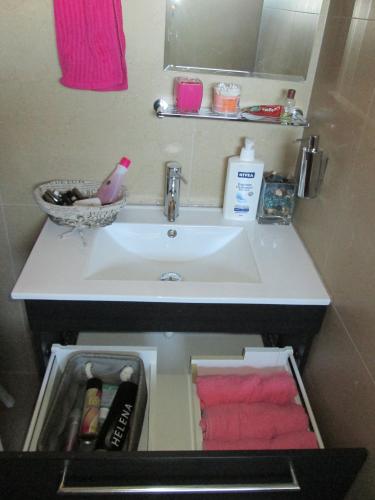 Bathroom at Bounce....................................................... Girls Bathroom at AQ
In the end, I realized creativity for hostels usually comes down to creative solutions. After all, owning and managing is largely problem solving. Luckily for your curiosity, I have many examples.
...But if you want to read about them, you'll have to wait for Part 2, "The Depths of Creativity: Problem Solving the Unexpected", coming soon! :P
In what ways have you used creativity for your hostel? Did any of these strike particularly useful to your situation? Share the love. Sign in and comment below.
Want to hear from other hostel owners & managers about how they use creativity? Join us for our live streaming December panel discussion, Wed. Dec. 17th @ 18:00 GMT.
**I know many of you comment on these blogs on the site's FB page, which is great, but it would be even better to have the comments directly on here for everyone to read. Thanks for your input and helping to further our knowledge!**
In case you missed it:
<< My last post: Misadventures in Hostel Management: A Look Back
Just joining the show and don't know who I am? Check out my introductory blog post.
As always, send any suggestions, questions, or thoughts on the blog my way by emailing me here.
Peace & love,
Courtney
P.S. Don't miss out! Follow HostelManagement on Twitter if you would like to receive updates when new my blog posts are made.