One of the questions that we frequently come across in the forum and Facebook group is about TripAdvisor Business Advantage listings, and if they are worth it. In particular, this is asked by small to medium size hostels because the budget for marketing is generally smaller than that of larger hostels.  
So I decided to do an experiment with TripAdvisor's "upgrade" to Business Advantage to measure if it is worth it for my small hostel, Pacific Tradewinds, which only has 35 beds. I purchased Business Advantage from 1 June 2018 until 31 May 2019 and then fully analyzed the year-end results.
It's worth noting that my hostel is in a slightly different situation than most hostels in that we have chosen not to be bookable on OTAs like Booking.com, or Hostelworld. Tripadvisor forces individual properties to compete for the booking with OTAs, so if your hostel works with OTAs that also work with Tripadvisor, your results may be lower than what I experienced.  More on this later.  In any case, I thought it might be useful for a lot of hostel owners to see my analysis so you can extrapolate and determine whether Business Advantage is likely to work well for your hostel.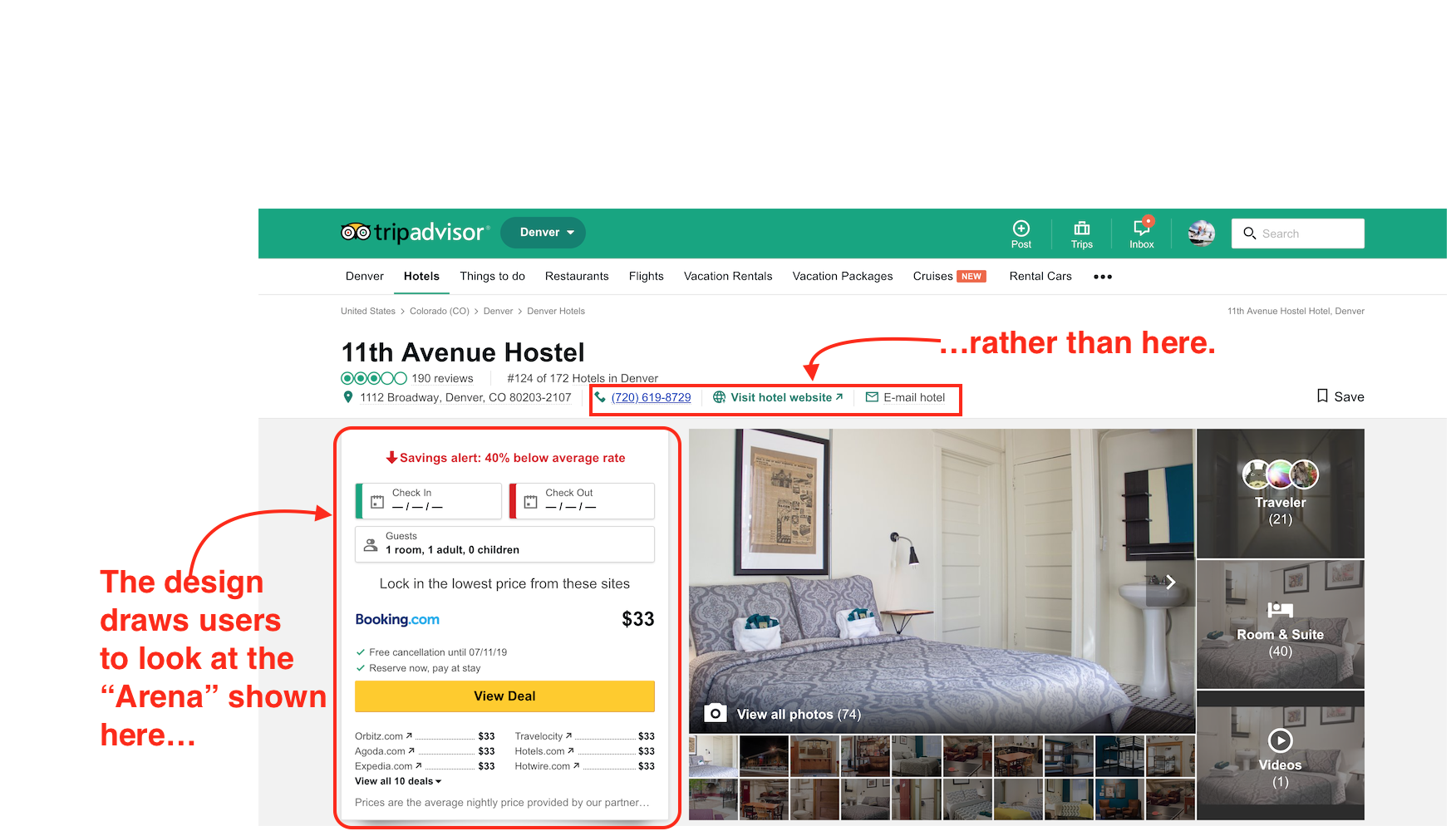 What is TripAdvisor's Business Advantage?  
TripAdvisor has a lot of different marketing products. So many in fact, it can be confusing for some hostel owners to get their head around it all.  Kat Luper has written about TripAdvisor before, but for now, I am only going to concentrate on Business Advantage with only a brief reference to their other products for comparison. 
The idea behind Business Advantage is that it's supposed to highlight your hostel's contact details so travelers can direct book your hostel.  The complaint I have always had with the product is the way it's implemented.  From a design perspective and a user experience perspective, all of the user's attention is drawn to the "view deal" section which I will affectionately call "The Arena" since that's where all the competition for bookings at your hostel occur.  Your potential guests hardly see the Business Advantage contact details at all.   Nevertheless, I wanted real-world data to be my guide so I took the plunge and tried Business Business Advantage for a year. 
Business Advantage listings include a direct link to your hostel's website, your hostel phone number and a link to email your hostel.  Business Advantage also provides some minor (almost hidden) benefits that appear "below the fold".  These include a small text "special offer" where you can add a very short amount of additional text (usually a promo code), the ability to mark a review as "favorite" so it will appear in the 2nd (not first) position, and create a storyboard which is a video containing your favorite photos and reviews.  They also provide some insightful analytic tools related to the reviews of your competitors.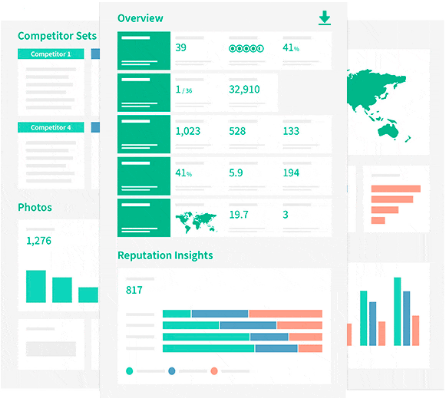 There are 2 tiers for the Business Advantage product, Standard and Preferred. You can review the minor differences in each product's feature set on the TripAdvisor website.   Pricing for this product at TripAdvisor is not particularly transparent and it seems your final price will depend on the size of your hostel.  This seems to indicate that if you are persistent and like to haggle you might get a lower price. You will need to speak with one of their representatives to see if a discount is possible.  The good news about Business Advantage is once you sign up at a given price the amount you will pay is fixed and will not vary based on the number of bookings you receive. 
The problem: Competition with TripAdvisor's commission based products
As I mentioned before, TripAdvisor has 2 additional commission-based products that directly compete visually with the Business Advantage product.  These products are available to you, the individual hostel owner, but they are also available to OTAs!  Furthermore, these additional products introduce a bidding scheme where the hostel is required to bid against the OTAs to secure the customer for direct bookings - hence the name "Arena". Let's briefly explore those products for comparison.  
TripConnect Instant Booking - This closely resembles a traditional OTA commission model where the hostel pays either 12% or 15%.  If you want your hostel to appear at the top of the Arena 50% of the time, choose 15%.  And if you are content with 25% of the time, chose a 12% commission.  If you are like my hostel and don't work with any OTAs that also work with TripAdvisor, TripConnect Instant Booking will not work for your hostel. See the video for an explanation.  
TripConnect Cost-Per-Click - With this product, the hostel will pay each time the guest clicks through to your booking page, whether they make a reservation or not.  This is the same product the OTAs are competing against your hostel with so if you work with OTAs that also work with TripAdvisor the cost you will need to pay per click to appear on top will increase because these OTAs will drive the bidding up.  Think about it: the Return on Investment is entirely different for an OTA because even if the guest fails to make a reservation at your hostel they might make a reservation at another property on the OTA's website.  In the case of Pacific Tradewinds Hostel, this is the product we use.  And, since we only work with small OTAs that tend not to play the bid for advertising game so we can bid less for our Cost-Per-Click placements. 
TripConnect Integration Partners
One thing to note: As far as I know, the TripConnect product will only link to an authorized "Integration Partner" website and not your own website.  We would very much like it if our TripConnect Cost-Per-Click campaign could redirect the guest to our HostelSnap direct booking page because it would increase our conversation rate.  But at the moment, this does not seem to be possible. 
The analysis after one year. 
Using our PMS system, HostelSnap, I pulled our various marketing source reports to compare numbers. To be clear, I decided to compare 2 date ranges:
1. The first analysis covers the entire year that we had Business Advantage. I compared the same date range from this past year's campaign to the year before, where we had not purchased Business Advantage.
Including the commission based bookings from TripAdvisor, (i.e. Tripconnect Cost-Per-Click), from 1 June until 31 May 2018, we did see an overall increase in revenue from TripAdvisor's various points of sale by having in the Business Advantage.
Removing the commission based bookings from the equation, because we likely would have received those bookings even if we did not have Business Advantage, we see a very different result. Compared to 2017, there was hardly a difference in bookings derived from TripAdvisor sources.  See the video below for details.
2. The second analysis is the exclusion of high season, May - October, when we are 100% full anyway. We do not feel that we need TripAdvisor during this time because we would usually fill up from other sources.  My primary objective with Business Advantage was to receive more bookings during the slow season when we need beds filled. My hope was that Business Advantage would serve that need, improve our winter numbers.
Excluding the same commissionable sites as before, Pacific Tradewinds Hostel only received 16 bookings from TripAdvisor during our slow season months.
The cost of using TripAdvisor's Business Advantage for the year was more than what the hostel took in as a direct result from using the feature.  
Watch the video below to see the exact analysis for Pacific Tradewinds Hostel
 
Loss of TripAdvisor Analytics Suite
One thing I will miss is access to the TripAdvisor Analytics Suite. This tool enabled us to see how our hostel's reviews were doing in comparison to our competitors both in terms of quality and quality.  However, we think a service like ReviewPro or Revenate will do the same thing across all review platforms for a lot less money that TripAdvisor Business Advantage.  We are still trying to get no-nonsense sensible pricing from both of those companies.  In the absence of ReviewPro or Revenate we might pay for the TripAdvisor Analytics Suite as a stand-alone product if it were ever offered for a few hundred dollars per year. 
What do you think? 
Was my analysis accurate?  Let me know if I've done anything wrong, any flaws in my analysis, I would really appreciate that. Also, have you tried TripAdvisor Business Advantage?  I would love to hear from other hostels about this and what their experience has been with TripAdvisor Business Advantage. 
-------------------------------------
Here are some more articles about OTAs, if you would like to keep reading: 
<< Online Travel Agencies: Booking.com