What is Airbnb?
Airbnb is a very social booking platform that can be very useful to connect your hostel with potential guests. It isn't just for private holiday homes or B&B's. Airbnb appeals to a wide variety of demographics: business travelers, long term digital nomads, and backpackers who are doing their homework on all the possible accommodation options before giving their credit card details.
Hostels have generally reported that Airbnb guests match their target demographic better because these guests tend to be more social than guests from traditional OTAs.
There are also good opportunities to interact with your Airbnb guests before the booking. In fact, Airbnb encourages communication in advance of the booking which is different than other OTAs who have a "take whatever guests we give you attitude". This extra step in the booking process goes a long way in helping you achieve a lively and community-based atmosphere in your hostel.
But will people book a hostel via Airbnb?
The short answer is yes! To give an example, Pacific Tradewinds Hostel has been using Airbnb since 2011, and no longer uses the bigger OTA's. For this hostel, during the first year of being a host, the Airbnb guest numbers were maybe one or two a week. But after seven years, Airbnb has become a huge contributor to PTW's guest list. So much so that it is necessary to check Airbnb email interactions at least ten times a day.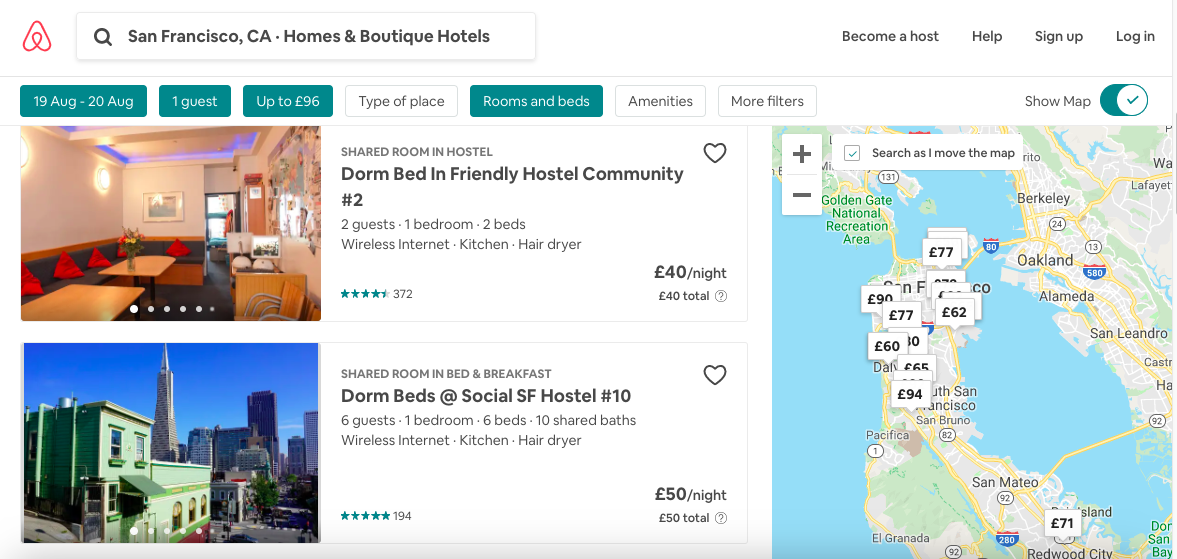 However, this is also a concern. The hostel owner or manager should be wary of any marketing or reservation source that produces more than 25% of their bookings. When you become too reliant on a single source of guests, something can change and the hostel is left scrambling to make up the loss. For example, in 2017 Pacific Tradewinds Hostel was left scrambling for a solution when Airbnb begin auto-filtering results in favor of Instant Book hosts.
This is another reason why direct booking is always best for your hostel!
Things to consider
Time Management: If you want to have a successful Airbnb hosting experience, one that could give your hostel lots of great reviews that you can then use on your own website, then you will need to consider time commitment. 

Airbnb does require a little more work than other OTAs, because unless you have Instant Bookings turned on, a guest cannot just book your property without messaging you first. As stated before, the messaging is a great way to get to know the guest; however, email is more time consuming than direct or phone call reservations. So you will need to factor that into your time management.
 

Channel Manager Integration: Also, due to the lack of what Airbnb calls "Representative Listings" and due to their lack of APIs, it's not easy to integrate Airbnb with any Channel Manager or PMS system for dorm room accommodations. We have not found a way to have a representative listing on Airbnb that represents the actual number of available beds in a hostel. So, make sure that if the guest has booked 2 persons that you have 2 beds to put them into. Otherwise, you may overbook your hostel.

Because Airbnb does not integrate well with hostel PMS systems, you may need to manually enter these reservations into your PMS system. However, for smaller hostels, this is usually not a huge task.

Until this shortcoming is fixed at Airbnb, only the following types of hostels are likely to benefit from listing their dorm rooms on Airbnb:

Hostels located in areas that do not have a lot of Airbnb hosts already
Hostels that have low occupancy and are generally not concerned about overbooking
Small hostels that can manage the additional work
 

Laws: One more very important aspect to investigate before you sign up with Airbnb is the law and any restrictions in the area your hostel is located. Recently, there have been some super strict laws and taxes implemented on proprietors, and hefty lawsuits filed at Airbnb from various European Countries.

Airbnb does have some helpful information on their site regarding laws. However, it pays to do some more research within your region and even to speak with your lawyer before you get hit with a fine.

For example, in San Francisco, Airbnb works with the city to collect a hotel tax called TOT. This is fine for your typical Airbnb host; however, depending on their location, commercial hotels and hostels are also required to collect other hotel taxes called TID and MED. This needs to be calculated and paid individually by the hostel.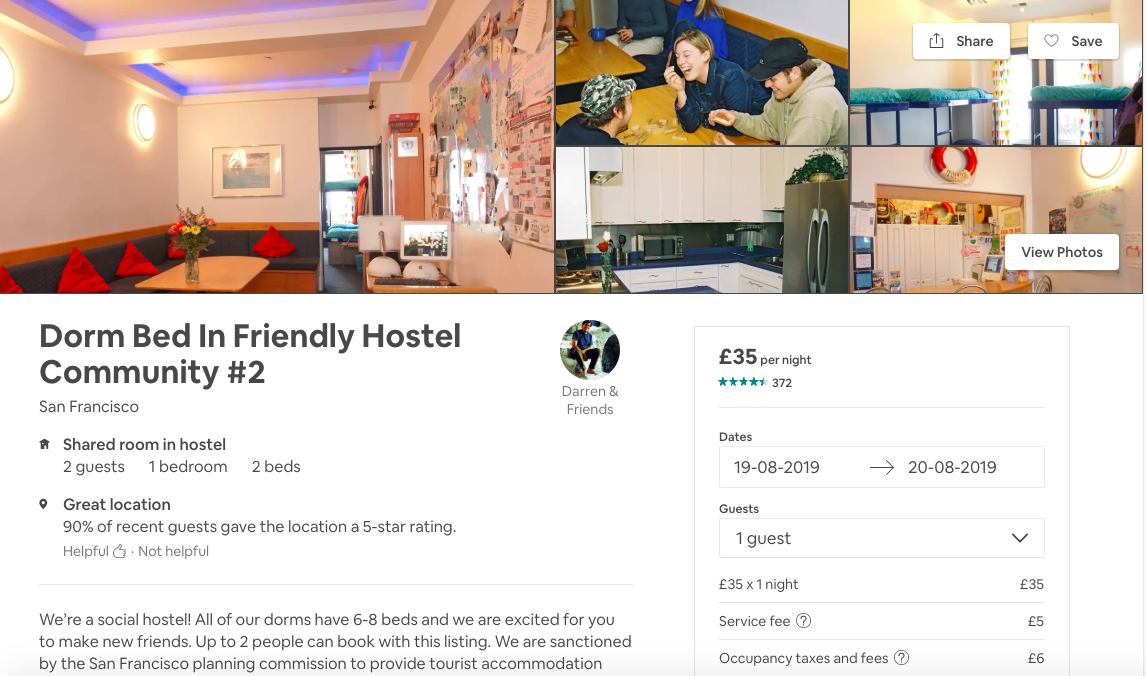 Host Fees
"The host service fee for accommodation is generally 3%, but may be higher for hosts in Italy or hosts who have a Super Strict cancellation policy. This fee is calculated from the booking subtotal (the nightly rate plus cleaning fee and additional guest fee, if applicable, but excluding Airbnb fees and taxes) and is automatically deducted from the payout to the host"
Guest Service Fee
"The guest service fee ranges between 0% and 20% of the booking subtotal (the nightly rate plus cleaning fee and additional guest fee, if applicable, but excluding Airbnb fees and taxes) and is calculated using a variety of factors—these include the reservation subtotal, the length of the stay, and characteristics of the listing.
In general, the service fee gets lower as the reservation cost gets higher. Guests see this fee on the checkout page before they book a reservation.
If Airbnb is required to collect VAT, the service fee and VAT amounts will be combined on the checkout page, which could make the service fee appear to be higher than 20%."
Airbnb Guest Service fees can be significant but most guests who book on this platform don't seem to mind.
Do you use Airbnb for your hostel and is it useful? Have you had any roadblocks or problems with using them? And how have you dealt with the problems? 
We have more articles about other OTA's, if you are keen to compare them.