TripAdvisor is a name that invokes both familiarity and trepidation. It is both a trusted source of user reviews and yet beckons those of vindictive spirit if even the rain happens to fall while they are on holiday. No doubt TripAdvisor is a powerful online tool-slash-weapon, like a sharp butcher knife, and just about every hostel, hotel, restaurant, and tour company on the planet are in the kitchen, like it or not.
No matter how you feel about it, if you are computer literate, chances are good that you have used TripAdvisor in the past and will use it again. We use it to gauge whether we should try the Italian restaurant on the corner, and we look for advice on where to stay in Sri Lanka before we depart. We also click on to see how our hostel is fairing, and if there are any wayward reviews that have not been dealt with accordingly.
Business History
TripAdvisor started in 2000 as a kind of online guidebook, like Lonely Planet, but the "user review button"  became the main focus very quickly. Little did they know that user-generated content would make TripAdvisor the most sought-after "advice column" online.
It was purchased by InterActiveCorp in 2004, which is a mega-media corporation and has holdings in some huge names, like Home Shopping Network, Hotwire.com, and Priceline.   TripAdvisor was bundled up into the travel related sites and umbrella'd under the name Expedia. By 2011, Expedia and TripAdvisor had ballooned in size and importance, so they decided to split into two companies in order to "operate with the proper amount of focus to grow respectively."
And from that point, kaboom! TripAdvisor became the world's largest travel site.
How do TripAdvisor's stockholders make it rain money when TripAdvisor is a free site and user-generated reviews are hard to monetise? TA's business model uses Cost per Click, Instant Booking widgets, subscriptions and display based advertising to create their revenue. 
Cost-per-click is when the guest clicks through from TripAdvisor to your website in order to make a reservation (or at least read more). This is easy to set up with your channel manager via TripConnect and is a cost-effective way of driving traffic to your website, provided the search yields an actual purchase. While you do not pay commission to TripAdvisor, you would pay the cost per click and possibly an additional monthly fee to your channel manager for the service.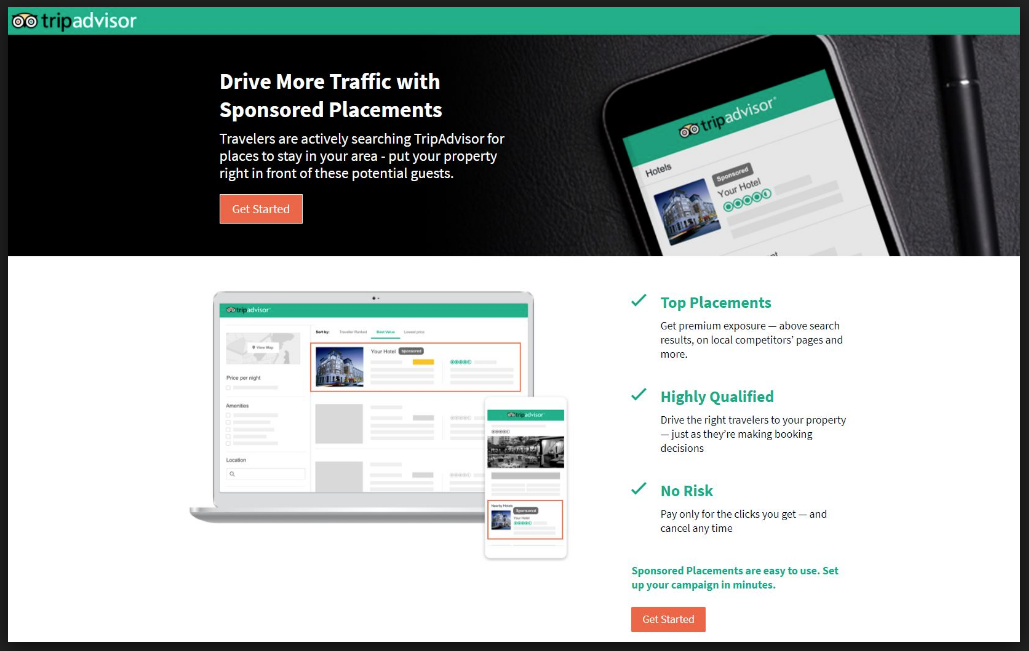 There is also Business Advantage, which is a paid scheme offered to businesses that will allow them "sponsored placements" on the site. Business Advantage allows the accommodation to enhance their profile on TA, and receive more in-depth statistics. This offer also features a Click to Call option for mobile users, making it easier for potential guests to contact your property if they like your enhanced profile. Nifty.
Managing Your Hostel on TripAdvisor
Chances are good that you already have an account on TA for your hostel. If you do not, then you should think about looking through TripAdvisor anyway for your business name. Since TA is user-generated, anyone can list your property and put up a review about it on the site.
Create a personal account on Trip Advisor. Deciding if you need and want to pay for Business Advantage isn't necessary right off the bat. You can always add it later. 
Find and Claim your Listing. If your listing is not already on the site, then you can create a new listing.
Make sure your information is accurate; if it is not accurate, reviewers love to point out what is not accurate and lower your review score for it. Post interesting photos of the property, the rooms, and the fun people in your common area.
Respond to reviews. Some people only respond to the bad reviews, but it is encouraged by TripAdvisor to respond to all reviews, even if it is just "Thank you for your review, Sam. Safe travels."  This is a good opportunity to mention things about your hostel that you couldn't when creating the description, like local restaurants, or the public swimming pool. - After all, we are talking about TripAdvisor. Reviews are what their searchers are searching for!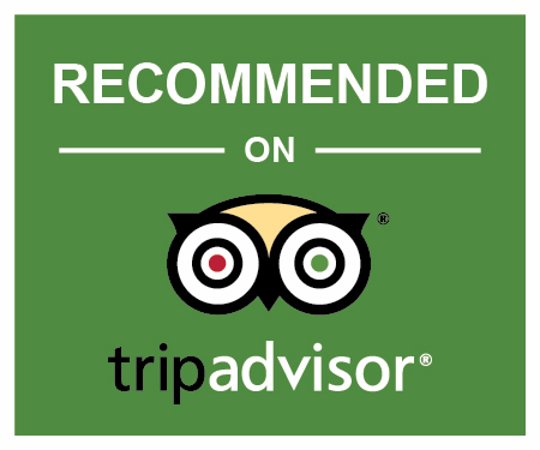 Sort Results and Placement
Case study: Pacific Tradewinds decided a few years ago not to use OTA's anymore due to overzealous T&C's trying to force them to conform. Instead, Pacific Tradewinds decided to use their #1 placement on TripAdvisor's Review status to help put them at the top of search results for hostels in San Francisco. This worked great... until TripAdvisor changed its sort algorithm so that all accommodation providers are under one Hotel category: Hotels, B&Bs, Hostels, Specialty Lodging, and even Campgrounds.
Hostels have a hard enough time competing with the big hotels and OTAs on Google. There was a time when it was thought that TripAdvisor, as a company, would generate relatively unbiased search results and could help direct travellers to the places, big or small, with high review scores. But reviews are not the main component for placement any more. Clickability is the name of the game.
As stated earlier, TripAdvisor does have stockholders who want to get paid. Who doesn't? Clearly, there are more opportunities for guests to click on properties that have a lot of availability, like large hotels and online travel agencies, with their massive inventories. So, it makes financial sense that TripAdvisor would reward that clickability more favourably, and place those vendors higher on the list.
The sorting defaults to Best Value, which is described as "Properties ranked using exclusive TripAdvisor data, including traveller ratings, confirmed availability from our partners, prices, booking popularity, location and personal user preferences."  In speaking with TripAdvisor agents throughout the years, it's evident how closely they guard the specifics of that information. (Like a handcuffed briefcase in a bad, made for TV, FBI drama).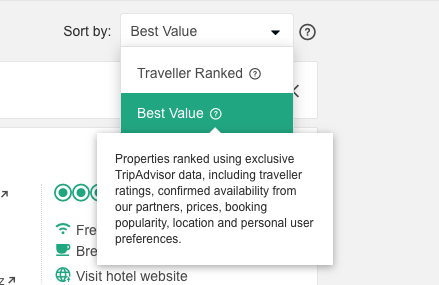 Clearly, you can modify the results to Traveller Ranked or Lowest Price via a drop-down menu, use a sidebar with various categories to refine the search, or just click on the search bar to put in your own criteria. But like most sites, TripAdvisor uses your search history to generate what results you see, and it is possible that properties that do not necessarily fit your specific criteria will also pop up in the results. This means that even though 2 different persons put in the same criteria, their results will often skew to their search history.
Speaking of odd search results, Best Value does not mean that the best-ranked businesses are necessarily listed first, or even on the first page. Often, TripAdvisor will list a fantastic hostel below a poorly reviewed one. I suspect Best Value actually means better for TripAdvisor due to their "exclusive TripAdvisor data". 
Can you influence your placement on TripAdvisor?
Somewhat.... but not really. As stated before, you can be the #1 traveller ranked property in your area and possibly still not be on the first page of search results. But here are a few hints to try anyway.
1. Good Reviews! Encourage guests to write reviews after their stay, especially when you know that they had a good time. Create a departure email survey that is sent to every guest, including either a reminder or a direct link to your listing on TA. TripAdvisor likes a lot of original and organic reviews.
2. Answer the reviews, both good and bad. TripAdvisor likes to see that you are participating.
3. Availability and lots of it. Make sure they have your live availability. Having your site listed on an OTA seems to help quite a bit in placement. TripAdvisor rewards clickability!
Reviews
How about the reviews themselves? We all know reviews could potentially make or break a business, especially when first starting out. I know I have written a few reviews about restaurants and hotels in the past, and some of those reviews were not very good. Besides the people who have a legitimate gripe about their experience, I mentioned earlier about the vindictive spirit.
Who hasn't had a naughty guest threaten to write a bad review if something didn't happen their way? Perhaps you received a scathing review from a guest who was disruptive or violent and had to be removed from the property? Or could be a guest who did not read the part in your description that states you are 4 kilometres from the town centre, and gives your property a one-star review because that was too far to walk? 
Regardless of the petty or legit reasons, those reviews are there to stay, I'm afraid. You cannot delete reviews unless you can prove to TripAdvisor that that person never stayed at your property, and to say that is a tough undertaking is an understatement. I think even with your Business Advantage Agent it can be super tricky to remove slanderous reviews.
The good news is that the good hostel owners will put some effort into their accommodation and thus, will receive more good reviews than bad ones. And most review seekers are capable of critical thinking and will read those bad reviews with a grain of salt. TripAdvisor does recognize the efforts business owners put in and will reward those businesses with Certificates of Excellence each year to hang on your wall. Well done, you! 
I am continuing some articles about my experiences with online travel agencies. If you would like to have a read, you can follow along here: 
What has been your experience with TripAdvisor?  Do you subscribe to the Business Advantage plan, and have you been successful in removing a particularly bad review? Please share with us if you have any insider tips.