Oh, complaints. In terms of enjoyment, they are right up there with clogged toilets and overbooking on a festival weekend. For some, a close tie with an extended visit from the in-laws. Some complaints are warranted, while others are just nit-picky. No matter the reason, they are rarely fun to deal with, though there are exceptions. For example, the complaint I received on our anonymous post-stay survey that said "You should have supplied a guide to scoring the best green in the city." My first thought was to simply respond, "It's San Francisco, buddy. Just walk outside and sniff the air." But perhaps I wouldn't be doing my job properly without further research to resolve that one. It's up for debate.
I spoke with Peggy at the Arts Factory Lodge in Byron Bay about the ups and downs of their hostel. She said the biggest challenge over the years was everything disappearing and growing legs. Guests now have to put a deposit or ID down for a mug. Though she realizes it's not ideal, mugs were disappearing faster than they were put on the kitchen shelves. If you think it's hard enough to keep track of cups or glasses around a traditional hostel, imagine finding them scattered amongst 5 acres. Besides the obvious cost, having to order new inventory every week was a nightmare. Easy enough to understand why they switched to a deposit system.
They also started putting deposits on pots and pans, though this was more in an effort to keep them clean. I've spoken with many hostel owners who are fighting the uphill battle of guests properly cleaning their pots and pans. Many solved this by having them hanging or somehow exposed, as guests are less likely to put a dirty pot out in the open. However, AFL is largely open to the outside. Summer heat in Australia combined with the bugs of the bush setting were making dirty dishes laying around a disaster. The easiest way to fix it was only giving a deposit or ID back if the pot was returned clean.
Unfortunately, guests don't usually think past an initial annoyance to the 'why' factor. They either end up complaining to each other, complaining to the staff, or the worst: complaining online. Peggy said they will get negative reviews about the deposits but just wishes the guests would ask them why they do it whilst they are still at the hostel. I'm sure each of you can think of something you consistently get negative or questionable reviews or comments about that actually has a good answer.
Like almost any issue in life, it's often easier to prevent complaints than to fix them later. Though doing damage control can be a skill in itself (just look at Lindsay Lohans career), why not work to prevent a complaint from happening in the first place? If you can't or choose not to change what is being complained about (i.e. a deposit on pots), consider a different approach. One great tip I picked up from my stay at Adventure Queentown is pointing out those things to your guest up front, which allows you to also explain why you do it.
For instance, AQ has large backpack sized cubbies below each bunk, but they don't actually lock. When the staff member checking me in first showed me this, I thought 'Oh, that's a bit weird'. I'd been in dorms without lockers, but never in a dorm with lockers that didn't lock. But then he quickly showed me their luggage storage room, which was also filled with free lockers. He explained that they have the lockers separate on purpose because it allows them to keep a security camera on the entire area. It also allowed them to install power points inside each locker (giant convenience!).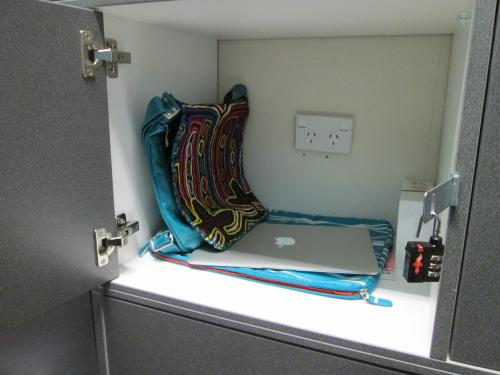 Secure laptop charging= happy me
Lastly, they realized the noise of people trying to open up lockers late at night or early in the morning often disturbed others in the dorm. AQ said this last point is where guests often have that 'Ohh man, you're so right, that is annoying!' recognition of something they hadn't previously thought about. Now that 'weird' idea of not having a locker in your dorm suddenly seems quite smart. Pointing out differences from the norm also gives you the chance to show how you are unique from your competition.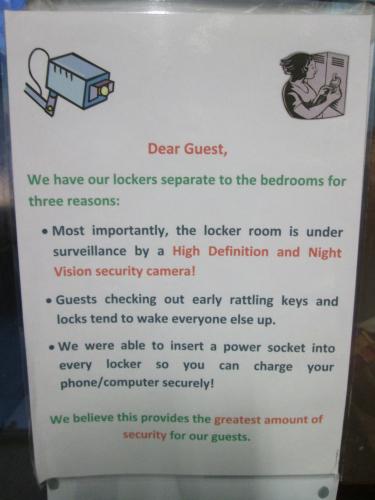 What a great idea.
It's kind of like questioning wine out of a bag, until you realize it can double as a pillow. Genius.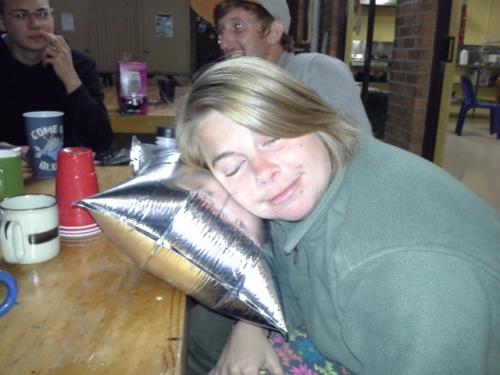 No goon was hurt in the making of this photo, but one liver may have been.
Another example is one floor of dorms at my hostel in San Francisco. The walls don't actually go all the way up to the ceiling, which many guests find a bit strange. Rather than see this written on a review later (usually in a confused 'not sure why would they do that?' sentiment), I try to explain upfront that it is a tricky thing due to building code. It also gives me a chance to let them know we offer free ear plugs. Since noise can be an issue on that floor, this can help thwart potential complaints.
I noticed Albatross Lodge in Kaikoura, NZ did the same thing in their welcome tour in regards to their physical set up. The showers are on the opposite side of the hostel from the rooms. They explain that the building was actually the original post office in town, so the different sections of the hostel were basically put where they would fit. Now instead of being annoyed at that potential negative, many guests think 'Oh, that's kind of neat'. I mean, vintage is a thing these days, right? Maybe one day Albatross will be saying "Yea, our showers are so hot because they were put on the opposite side of the building before it was cool..." The original hipster hostel, if you will. Ok, it's a reach. I tried.
As you know, complaints will happen that don't fall into these "regularly moaned about" areas. However, you can still work to "smell smoke before fire" and prevent them. I think one of the biggest ways is simply not becoming complacent. Try to keep up on, well, everything. Easy enough right? Ha. Really though, so often complaints are completely preventable issues. Delegate to your staff as much as you can to make sure all areas get covered. From checking bathrooms regularly for TP (especially since half of it gets taken) to ensuring a guest's room switch was taken care of, and everything in between, many complaint-thwarting tasks can be done by your staff.
Lastly, be sure to talk with your guests. It's quite simple, but so often issues only come to light when a guest is asked. Once a girl walked by me out of the bathroom. Just making small talk I asked, "Did you have a nice shower?" She replied, "Actually no, I haven't had hot water the last two times." It was only then I realized we were having issues with our hot water heater. You would think a guest would come tell you if they are having the equivalent of a naked polar bear plunge in February, but it doesn't always happen.
This is another classic example of something I swear I'll do as a guest...and then don't. For days I stayed in a dorm where the ceiling light was flickering constantly. I fully intended to tell reception every morning, knowing others probably hadn't. And yet every morning, by the time I passed reception, I was already thinking about something else. Likely where I was having my next pint, since this was in Dublin. I guess beer won over florescent lighting in my mental priorities. I blame the hostel management.com Unconference. ;)
At the very least, when a guest is checking out, be sure to ask them how their stay was and if they had any problems. This is your last chance to talk to them about it in person. Don't skip the opportunity, or you may miss out on vital feedback until you see it online later. For instance, perhaps I could have started major renovations on the spot if I had heard "The entrance to the building should be more winning and beautiful" in person, instead of on HostelWorld. Or maybe I just would have smiled and said that I personally find 4 flights of stairs an epic win for tightening your butt, which may make you more beautiful, but who knows.
Of course, if your guest had a great time, this chat also gives you the chance to ask them to tell others about their great stay. No point in preventing complaints from guests if you don't have any new ones to begin with, so don't forget to encourage this free marketing. Ask them to write a review, tell friends, shout it from the rooftops, send carrier pigeons to other countries, whatever. Unless he was the smelly kid. Think twice before telling the smelly kid to bring more friends.
Sometimes no matter what you do, complaints will still happen. Be sure to check out Part 2 on dealing with these, coming soon!
What do you do to prevent complaints from guests? Do you find most complaints are preventable? Sign in and comment below. Then click on my next post for Part 2 on dealing with complaints.
**I know many of you comment on these blogs on the site's FB page, which is great, but it would be even better to have the comments directly on here for everyone to read. Thanks for your input and helping to further our knowledge!**
Keep following along:
<< My previous post: A Legacy of Love: The Arts Factory Lodge
>> My next post: Complaints, Part 2: Keeping the Peace
Just joining the show and don't know who I am? Check out my introductory blog post.
As always, send any suggestions, questions, or thoughts on the blog my way by emailing me here.
Peace & love,
Courtney
P.S. Don't miss out! Follow HostelManagement on Twitter if you would like to receive updates when new my blog posts are made.