My last post was about why every manager should take a break. And take a break I did! Multiple days of lounging in the sun, sipping on coconut drinks, and a scattering of activities like diving and surfing left me feeling refreshed, and looking several shades darker. Meeting new friends for cultural exchanges was of course also crucial to having a great time.
Hola Argentina 
I hopped on my first flight with the notion that I wouldn't talk about work at all, that I would only be a traveler. It's almost laughable to think I could hold to this, when all I seem to do is eat, breathe, and live hostels. Not to mention that I would be staying at the hostels of owners I have met through HostelManagement.com. However I also got just as much from being on the other side again. I mentioned this as one of the reasons you should get away, and it did not disappoint.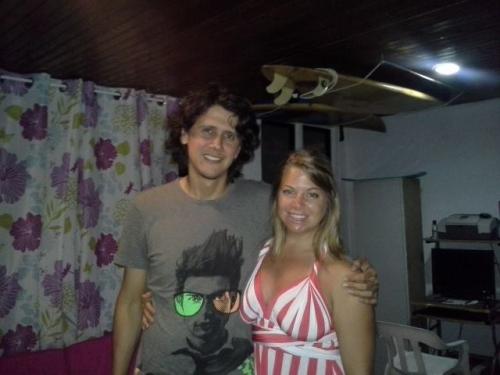 With Juan, owner of Blue Almond Hostel in San Andres Island
One experience in particular reminded me of a struggle we have at my hostel and the gears started running of why that happens and how to prevent it. I had a one day stop over in my journey and stayed for a night at a great hostel. It was the only hostel I didn't have a connection with, and didn't regret my choice to stay. Over email, and upon arrival, I enquired about an activity they had posted on their website, wondering if I would have enough time to squeeze it in before my next flight. The receptionist was very kind and helpful, giving me general info on the area. However, he really didn't have any idea what I was talking about with this specific activity. I was equally as confused, assuming that if it's something they are advertising on their website, he would know about it or where to find the info.
I ended up on a different activity for the day, and thoroughly enjoyed my time. But I kept coming back to that encounter in my head. How I had experienced it before both as a traveler, and as a witness at our own reception. I remembered once at a hostel in Australia, when I asked the receptionist about some things in the area and she sheepishly said "Sorry, I just moved here this week, and I have no idea."
It's logical that if someone just arrived recently, they are not going to know much. And seeing as hostels often hire travelers, especially in an area with a high number of work/travel visas, this will always be an ongoing issue. However from the guest perspective, this person behind the desk represents the hostel as a whole and all the years of knowledge accumulated about that city. That may sound intense or ridiculous, but think about it: In this context, they are the visitor, and you are the local...whether you've personally been here ten years or ten days.
If a guest comes during high or low season, whether they are the first or last to breakfast, or whomever they are speaking to-- every guest should get a consistent experience. During a crazy high season day, that guest should still get a level of service that a quiet afternoon would more easily allow. The arrangement and cleanliness of breakfast should look just as presentable for the hungover guest rolling up at 11am as it did for the way too cheery girl at 7am. If a guest is talking to the organizer of an activity, or a person who just came on shift, he should feel confident his questions will be answered, and accurately.
Yes, this is all 'in a perfect world' type stuff. However, the point is that the burden is not on the guest to understand a hostel's limitations. It's the responsibility of the hostel to put systems and procedures in place which allow them to deliver to the best of their ability.
In the activity example, it seemed there was a simple lack of communication. Maybe the owner organized it but never passed on details to reception. Perhaps the webmaster put it on the site, but never alerted anyone. Somewhere there was a breakdown. I thought about all the elements that change regularly, beyond the static information we train new staff on. Rate changes, promos on the website, new partnerships and tours. A good hostel will have procedures for all of the usual situations. However, what systems do we have in place to ensure that this changing or new information is continually being disseminated, and therefore allowing us to give a consistently knowledgeable guest experience?
The memory of the new girl on reception also made me think about how we train new staff, and in which areas. To be honest, my staff training has always been 'hostel focused'. How our PMS works, how we respond on Airbnb, what cleaning checklists to use and when, etc. etc. I realized I spent very little time training them on city knowledge. Not just where the tourist highlights are, but also logistics such as the closest pharmacy. Or perhaps more important to many travelers, the closest liquor store and its closing hours.
I remember being really surprised when once a receptionist couldn't tell me where an ATM was located. To me that was pretty basic traveler information. Yet it's something I have rarely thought about in terms of staff training. Between forgotten information and regular changes, I've realized (in an obvious but slow burning light bulb moment) that if you want your hostel staff to consistently be knowledgeable, you must continually be giving them the tools to do so.
A hostel should also be consistent with their quality and service, as evidenced by the high vs. low season example. I strongly believe your atmosphere and style will dictate what your quality standards are, and how they are met. Take a case of overbooking, for instance:
One hostel may dictate that keeping high quality and service means not filling the hostel past normal capacity, as to not cramp current guests or divide personal service. They may also not want to give the incoming guests a poor experience, and find that relocating them to an equal (or better) place is the best level of service they can offer.
Another hostel may maintain that all of the guests chose their hostel for a reason, and providing the best service would be finding a way to include everyone as part of the community (using an overflow spot, for instance) and not turn anyone away to a place they didn't choose. Their emphasis on a communal and inclusive atmosphere may be more central to a high level of service than reducing the need to share a little bit more than usual. Neither of these two ways is inherently better or worse, but keeping consistent to your values will provide a constant level of high service, even when things don't go as planned.
In the end, being consistent on areas like knowledge or service means always following your purpose and culture. Centering your standards and procedures around your overall motivations is, what helps keep everything you do consistent. WHY are you doing what you're doing? Are staff trained to keep this question in mind when making decisions? If you keep true to this, then everything else will eventually fall into place.
How do you keep things running consistently in your hostel? Have any advice? Sign in, comment below, and share the love!
**I know many of you comment on these blogs on the site's FB page, which is great, but it would be even better to have the comments directly on here for everyone to read. Thanks for your input and helping to further our knowledge!**
In case you missed it:
<< My last post: 5 Reasons Why Hostel Managers Should Take a Break
Just joining the show and don't know who I am? Check out my introductory blog post.
As always, send any suggestions, questions, or thoughts on the blog my way by emailing here.
Peace & love, 
Courtney
P.S. Don't miss out! Follow HostelManagement on Twitter if you would like to receive updates when new my blog posts are made.