The scope of a hostel manager's job is about as wide and varied as country flags on an aged backpack. I know there are a lot of jobs where people say 'every day is different', but how often are those people doing maintenance in the morning, accounting in the afternoon, and marketing the next day? Yes, a hostel manager's job is extremely varied, but rarely is someone a stand out in every element of the business. So then what?
You get creative. Sure, you can call on a professional to help with a problem. However, this is not always possible or a big enough issue to necessitate that. In the end, you plus a little creativity may be your best bet.
I believe creativity with problems is broken up into 3 main categories:
Problems you want to prevent.
Problems within your control.
Problems outside of your control.
Some examples below are new, while others I have written about in posts from last year. All seem worth mentioning again, so I hope they get your creative juices flowing like the whiskey in Ireland or the goon in Straya. ;)
Problems you want to prevent:
Hostels often complain about getting the wrong type of guest, but many struggle with what to do about it. The Bivvi, a hostel/ ski lodge in Breckenridge, Colorado, USA went with a more direct approach. Since they are in a ski area also filled with many higher-end guests, it's important people understand what they are getting: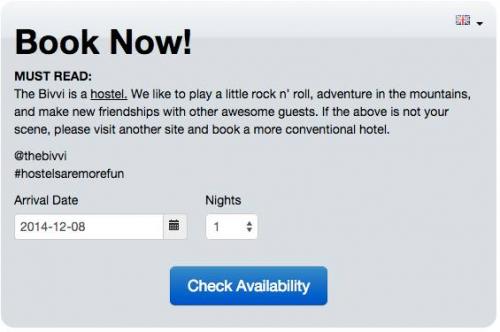 The Bivvi: Breckenridge, colorado
Personal lockers in dorms are now standard and expected. So why would Adventure Queenstown, a brand new hostel, not do this? Well, they did, but in a slightly different way. While their beds have large backpack sized cubbies below each bunk, they don't actually lock. On the other hand, their luggage room has a whole wall full of small lockers. This separation was well thought out. With this setup they are able to keep a 24/7 security camera on the locker area (unlike in a dorm), the noise of opening/closing heavy lockers doesn't wake others, and they were able to run electricity to every locker for secure charging.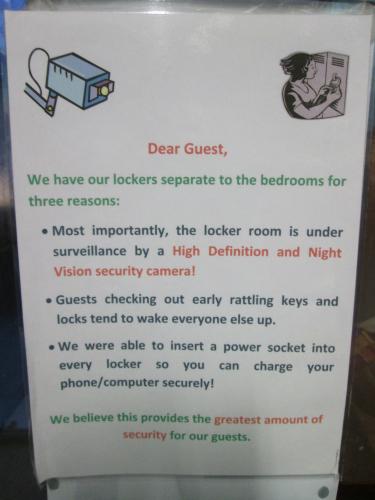 Adventure Queenstown: Queenstown, NZ
What stood out to me most about this was not the genius set up, but that they explain it all immediately while taking you to your room. This helps prevent complaints of those travelers expecting the locker in the room, while also showing how they are unique from the competition. It also helps prevent noise complaints. At my hostel, we either get praised for such sturdy, safe lockers (solid steel), or complaints because they are loud and heavy. The cameras over the lockers at AQ also help prevent theft, which obviously would be a huge complaint and issue.
You can't be everywhere at once, and this is especially true of busy reception shifts. Murphy's law #78: No one will come to the desk for an hour, then as soon as you need to show someone their bed and change the laundry in the other room, four people- unbeknownst to you- are waiting at reception. You don't want to miss potential walk ins, nor ignore your current guests' needs.
This one may seem obvious but it was a great lightbulb moment for me of how to (easily) solve an ongoing problem. Prince Albert Backpackers in Nelson, NZ, put the charge station on the reception desk when they were around cleaning during the day. If you needed them to come, you simply pressed the page button for the phone. Previously I had only used this feature to find the phone, since without fail, I would set it down somewhere and forget 10 seconds later where I left it. (I'm not sure why I put that in the past tense; I still do that at least twice per day).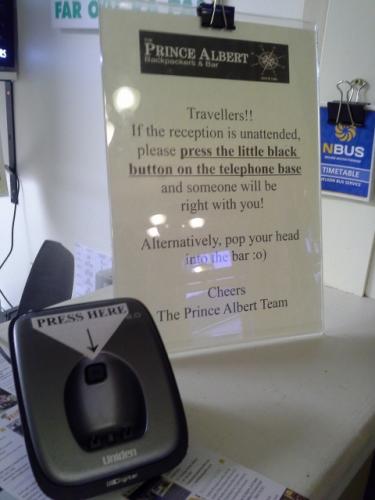 Prince Albert Backpackers: Nelson, NZ
Problems within your control
Sometimes minor annoyances, sometimes bigger problems. They all come up, but a little creativity and they can all be solved. For instance, there may be building code laws to be followed, but that doesn't mean your place has to look sterile because of it. Bounce Sydney has 4 floors of emergency escape mandated stair wells, but that didn't stop them from dressing them up a bit.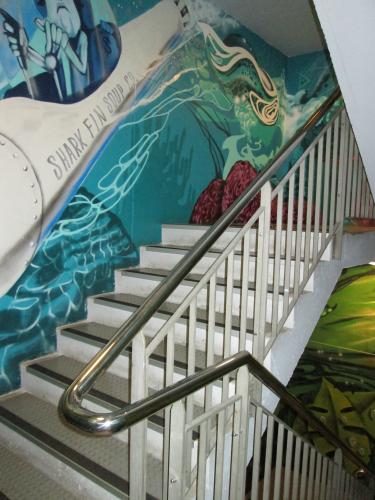 Bounce Sydney: Sydney, Australia
No one likes the smelly guy, and while not initially in your control, there are opportunities for you to make it better. Our hostel, Pacific Tradewinds in San Francisco, offers a free nightly sock wash. We do this more to be nice, and for the fun community exchange while gathering the clean socks later, but it can also help with this issue. We throw them in with the next load of laundry, and in reality only get asked about once a week for the service. However, it's also made for an easy excuse to walk through the hostel and get some really smelly stuff to the wash immediately. "Hey, we are doing our free sock wash, what can I throw in for you?" "Our free sock wash load is pretty light tonight; do you want to throw in a few pieces of clothing on the house?" (On a side note, anyone have advice on how to get a weed/ patchouli/ haven't showered in 6 days stench out?)
Here's a clever one from Hekerua Lodge on Waiheke Island, NZ. How many times have guests complained about lack of space in the fridge, and you open it up to 4 cases of beer taking up all the room? Not only did they expand the space with a 2nd fridge, they located it outside on the patio/deck/terrace/pick your slang and made it "Beer Only". Awesome. They also had a great kitchen hack. Ever have those plastic silverware/cutlery trays that never seem to hold enough or be the right size? They just made their own large partitions. Easy.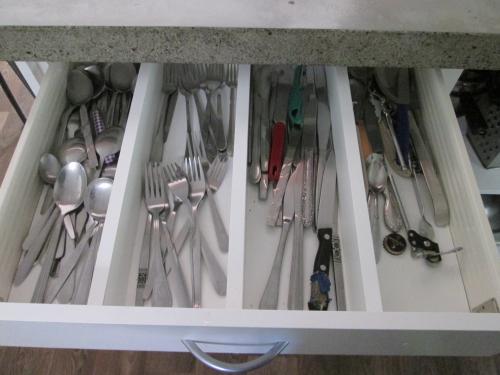 Hekarua Lodge: Waiheke Island, NZ
Problems out of your control:
These problems take a bit more work, since you can't change the situation and must instead adapt to it. One example would be natural disasters, such as the major earthquake in Christchurch a few years ago. The city was still recovering when I went in summer 2013, and word on the backpacker trail was 'don't bother'. The hostels that were still there certainly felt this, as they had become a place to crash before/ after a flight and moving on. Convincing guests of things to do or attractions was difficult. One hostel there, Old Countryhouse, had a creative way of introducing guests to the hidden gems on their city via a hostel-made scavenger hunt. It led you all around town, with questions to answer and riddles to solve. Any hostel for any city could do this, but I thought it an especially great idea if your town is not "known" for many things.
Another example would be political instability. For those who saw our December Panel Discussion, you would have heard Yaron from Abraham Hostel in Jerusalem speak to this. As tourism dropped off, bills and staff still had to be paid. As he said, they got creative. They rented rooms to therapists in town. They held private events at the hostel since they had the space. They even turned one dorm into a playroom for children, since many Israeli families with kids were now coming to stay instead of backpackers. Not what you typically think of for an infamous hostel, but clever thinking and creativity worked to get them through a rough period.
These are all great examples of creativity in hostels and problem solving, and hopefully they've sparked some ideas in you for your own challenges. In the end, however you choose to deal with a situation, my advice would be taken from the picture below. Do your own thing, and be true to yourself.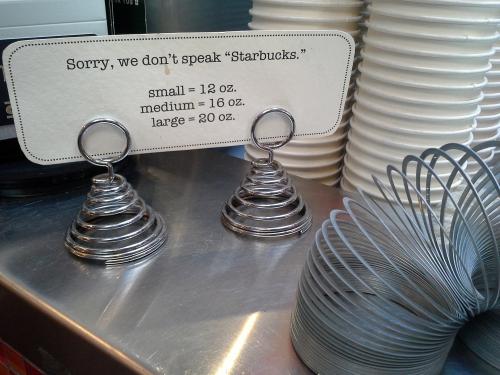 Ahh hahah glorious.
In what ways have you used creativity for problem solving? Did any of these strike particularly useful to your situation? Share the love. Sign in and comment below.
Want to hear from other hostel owners & managers about how they use creativity? Join us for our live streaming December panel discussion, Wed. Dec. 17th @ 18:00 GMT.
**I know many of you comment on these blogs on the site's FB page, which is great, but it would be even better to have the comments directly on here for everyone to read. Thanks for your input and helping to further our knowledge!**
In case you missed it:
<< My last post: The Depths of Creativity, Part 1: Setting Hostels Apart
Just joining the show and don't know who I am? Check out my introductory blog post.
As always, send any suggestions, questions, or thoughts on the blog my way: [email protected].
Peace & love,
Courtney
P.S. Don't miss out! Follow HostelManagement on Twitter if you would like to receive updates when new my blog posts are made.