There are a lot of aspects about my life that I consider very fortunate, if not lucky. I do work hard to make things happen, but sometimes a bit of fortune comes along that makes me say, 'Hey, this is awesome.' Like the time I was hitching in Greece and a car filled with three adorable puppies bouncing around stopped to pick me up. Best. Ride. Ever.
Or the luck of discovering at an early age the magical mix of pouring two cereals together, because one flavor of sugar is never enough. A few weeks ago- actually, while eating a giant bowl of sugar disguised as cereal- I had another one of these moments. I was looking up hostels who had replied they were interested in hosting me and found one with the description 'Life on a tropical island just 35 minutes from Auckland.' Um, yes please! Fast forward to last week, and my lucky moment was about to become reality.
As I kicked back on the ferry and bid Auckland adieu, I popped onto the website of Hekerua Lodge on my phone. I intended to quickly check the directions to the hostel and put it away, but couldn't help spend a few extra megabytes of data scrolling through the 'things to do' and photos. And I started getting pretty stoked. A hostel nestled in the bush, on an island dotted with vineyards and wineries, with a coastline of beautiful empty beaches. Oh, and there was also a rock walled pool, jacuzzi spa, and huge veranda deck to hang out on. I hadn't even arrived yet and I already knew I was going to love this place. Though it probably helped that it was warm(ish) and sunny when I thought that. To be fair, it's a bit harder to be enamored by an island when it's pouring rain, which it routinely did, but I certainly came close anyway.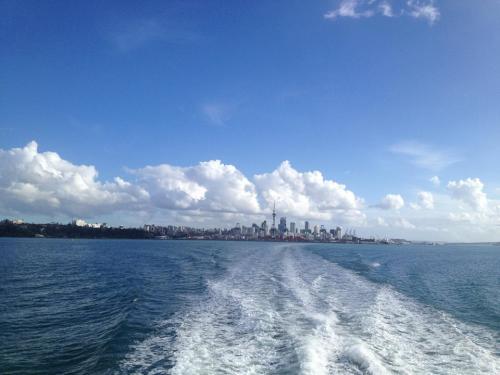 Goodbye Auckland, Waiheke Island here I come!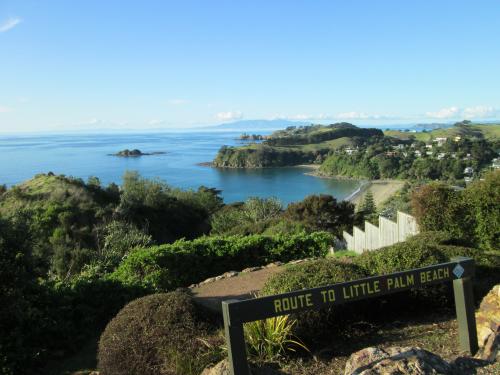 One of the many gorgeous walking paths along the island.
Hekerua Lodge is hands down, a fantastic hostel. I realize this is very subjective. I also realize that since the main focus of my posts is what each hostel is doing really well, this is certainly not the only great place I will right about. But before I write about Hekerua Lodge's 'best practices' in my next post, journalist integrity (or perhaps blunt honesty) is telling me I should first share my personal bias in this one.
I've stayed in a fair amount of places since I first got the crazy idea that trekking around the world with half of my possesions on my back is fun and culturally enriching. I do question this sentiment from time to time, usually while in transit. For instance, when it's pouring rain in New Zealand and I'm trying to find the bus, 'fun' isn't always my adjective of choice. I think it often gets replaced with an expletive or two, but you'd have to ask an innocent bystander to my verbal antics. And is it just me, or is it always the foreigner getting soaked while the rain seems to act like fairy bubbles on everyone else, softly floating down but never making them wet? I don't feel any more culturally enriched looking like a wet shaggy dog. But besides occasional crappy weather, I have loved my backpacking over the last six years. And like most travelers, I have also discovered a few favorite gems along the way.
So, blog aside, it's only fair to be honest that Hekerua Lodge has been added to this list. It was one of my favorite hostel experiences in the many moons I've been traveling, and I think for the reasons most backpackers end up with a favorite hostel or two. It combined the style of hostel I like (small, owner operated, full of atmosphere), a location I like (I did mention this was an island covered in a certain alcoholic beverage often disguised as a classy drink, yes?), and a group of awesome people that tied it all together. The hostel itself had great facilities that lent naturally to community connection. The common room was small enough to be cozy without feeling cramped, and the fire place gave it that extra warmth and ambience so loved on a chilly island night.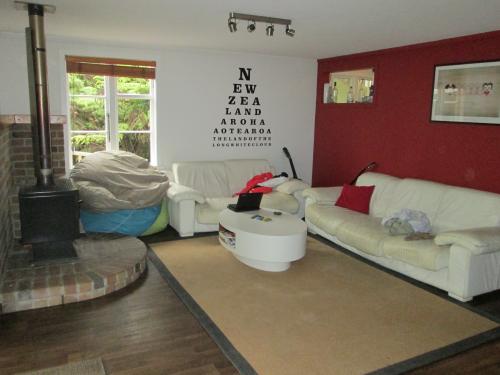 The double doors from the common room opened straight onto a large veranda/deck area that covered the entire side of the building. A long wooden communal table was waiting for a meal shared by new friends. Or a crazy drinking game from time to time. After all, a 10 person long boat race may not seem conducive to cultural exchange, but when it leads to half a rugby team of Maori guys doing the Haka one meter from you, you'd be amazed at the culture enlightenment you feel. Or perhaps it was the vodka; tough call, that one. I found the rooms to be airy and light, the kitchen and bathrooms spotlessly clean, and a beautiful pool and spa awaiting me after a long afternoon of exploring. None of this would have really mattered to me, though, if the atmosphere wasn't there. But all those positives along with friendly, personal attention to every guest and a general chilled out vibe made for quite the place.
The staff were all wonderful. Thomas, the owner, is energetic and lovable with a clear passion for what he is doing. He has owned Hekerua Lodge for 2 1/2 years now, and I really enjoyed speaking with him about the joys and challenges of owning your own hostel. Peter, Tom's right hand man, was about as friendly as you get from the minute he introduced himself. Always smiling, he is one of those people who genuinely means it when he asks how you're doing. Which he did often did with the guests, as he'd walk by or pop down for a chat. I was originally checked in by Max, a lovely Frenchman, who turned out to not only be a friendly receptionist but a chef by trade. He kept our mouths watering with a couple of gourmet meals he whipped up out of kindness. Fresh caught snapper and pizza made from scratch were probably the best breaks to rice and noodles I'll have this entire trip. Luckily I have already re-developed my love of peanut butter and jam in the last two days, since the chances that a professional chef will be hanging out at every hostel I stop by are, sadly, very little. There were also a solid handful of work for accommodation/ backpacker staff. Though a tight-knit group, they were friendly and pretty good about reaching out to all of us coming just for a few days.

Max making the pizza dough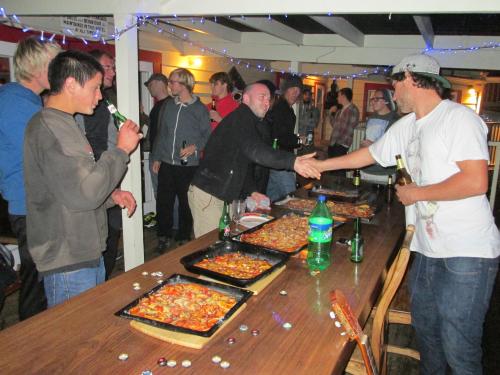 Thanking the chef for this amazing meal!
There are many activities to do on the island, and though I did some, it was easy to get delightfully stuck in the hostel environment, too. Which is not a bad thing from a management standpoint. As I mentioned in a previous post, more things for a traveler to do can equal more bed nights for you. But having a wonderful inclusive atmosphere can do just as much for extensions as 40 different activities. I am definitely not the first person to get sucked into Waiheke Island, or more specifically, Hekerua Lodge. It gave me the perfect mix of activities to experience the island and chill days to work on my writing. Even the pouring rain wasn't horrible since it gave me a chance to catch up on my writing while curled up in the common room by the fire. So yes, I loved this place. Exactly my cup of tea. Close to a big city if you want it, but far enough away that it feels like a whole other world. It was small, cozy, personal, and owner operated. Hopefully one day I'll own a place very similar, but until then I'll keep managing, learning, and growing. Who knows where I'll end up next, but this trip is only reminding me more and more how many wonderful hostels are out there and how I hope mine is among them one day.
What is your definition of a perfect or favorite hostel? What do you think makes the most difference to your guests? Anyone have a memory of a favorite place, and more specifically why it grabbed them so much? Sign in and comment below!
Keep following along:
<< My previous post: *A Newbie to the Family at Coogee Beach House
>> My next post: Polar Bear Swims, and Other Hostel Handbook Rules
Just joining the show and don't know who I am? Check out my introductory blog post.
As always, send any suggestions, questions, or thoughts on the blog my way: [email protected].
Peace & love,
Courtney
P.S. Follow HostelManagement on Twitter if you would like to receive updates when new my blog posts are made.