In bold. Highlighted. In bright colors. Underlined. Capitalized. With exclamation points and background cartoon stars. Just some of the many ways you are bound to see the word 'free' made eye-catching in the long but sometimes monotonous list of a hostel's amenities, facilities, and offerings. And for good reason. It's no secret that advertising freebies and discounts can help bring guests to your hostel. Backpackers are drawn to free things almost as much as they are to 3rd world country beer brand tshirts.
Yep, I'm that girl. But just sometimes. Like when I have a 'mojito' that was most likely scooped up from the Mekong river...
In your guest's eyes, freebies can add a lot of value to the price they are paying for that bed, and persuade them to choose your hostel over the competition. They may also not feel as 'nickeled and dimed' once they have arrived. There are numerous free amenities, services, or products that hostels offer for free, but several are becoming a more standard inclusion. Free linen, towels and wifi still add value, as not every hostel offers them at no cost, but they have certainly lost a bit of the value-wow factor over time.
I have found a few, however, that stood out to me over the past weeks. One of these was breakfast. Normally this wouldn't have made an impact on me, but less than a quarter of the hostels I've stayed at offered free breakfast. Interestingly those that did were all in the same city, something I noticed with the hostels who offered free wifi as well. All of the breakfasts were backpacker basic (some combination of cereal, toast, spreads, juice, or pour-your-own-waffle), but they were a nice touch since it wasn't very common. They also saved me a few bucks. In my mind, one free breakfast can equal one free beer. Awesome.
The freebies that really stood out to me though were the homemade, hot out of the oven chocolate pudding and vanilla ice cream served at 8pm every night at Tasman Bay Backpackers and the homemade soup and fresh bread served at 6pm every evening at Paradiso Backpackers. Perhaps not so surprising, these hostels are only a couple minutes walk apart on the same street in Nelson. I'm not sure who started with their evening freebie first, but delicious props to both! Paradiso also gives every backpacker a pack of 2 minutes noodles at check in, which I thought was a great idea. They said it originally started because a bus would drop off a load of guests around 3pm, and it was a way to get them a quick snack after their journey. Brilliant.
Some other freebies I have found along the way include free baking supplies at Chez La Mer in Akaroa and Albatross Backpackers in Kaikoura. I mentioned in an earlier post that I made homemade bread at Chez La Mer; I also made brownies from scratch at Albatross with a recipe from their hostel cookbook. It must have only cost the hostels a small amount of money to provide some flour, sugar and other basics, but what a treat while on the road! I've also seen some hostels offer free dinners, such as at Around the World in Christchurch and several offered free washing powder for guest laundry.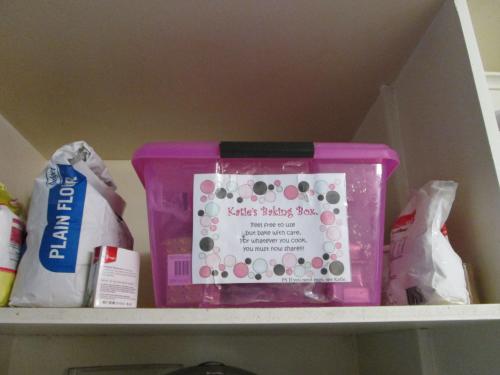 The free Baking Box at Albatross Backpackers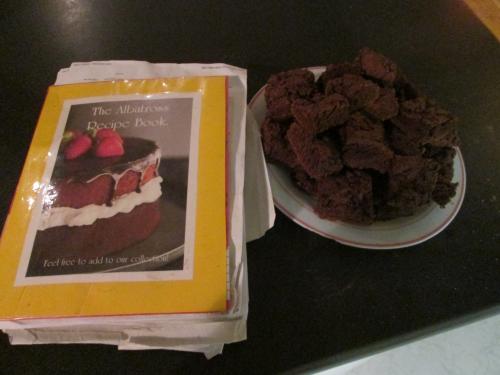 My after product! I even kept to the must-share rule, a big step for me and my relationship with brownies.
Some of the freebies I mentioned above, such as the pudding at Tasman Bay and the baking box at Albatross, were advertised on that hostel's website. Others were surprises on arrival, including the noodles at Paradiso. There are a few advantages to not advertising everything you offer free. While it can help you bring guests in, it can also bring the wrong type of guest. Many great hostels are seeking guests who want more than just the cheapest bed in town, including the one that gives away the most stuff free. For instance, Adventure Queenstown gives away free wifi (a luxury in many parts of New Zealand) but doesn't have it big and bold at the top of the page. A potential guest who sees it has probably spent some time really looking at the site, not just the price.
Not advertising everything can also help retain guests once they have arrived, especially those who only booked for one night to first check the place out. If they were a bit unsure before arriving- or even if they were stoked to begin with- having an extra surprise or two can give a great first impression. Sometimes that can turn into a lasting impression as they extend their stay. This is a specially helpful in low season, which is when many freebies and discounts are offered. Tasman Bay, for instance, does the pudding year round but breakfast only in winter as an extra incentive to come and also to stay. Of course not advertising something also gives you the ability to take it away at any time, or adds insurance if you suddenly run out unexpectedly.
Many hostels also give discounts for various activities, tours, restaurants or services. I found a great example of this at Price Albert Backpackers in Nelson, which I already spoke about a bit in my last blog post. Every guest receives a bracelet at check in which entitles them to discounts at the the hostel bar, as well as discounts around town. There are extra advantages to the bracelet besides the money savings the guest receives. Like the freebies mentioned above, it can help retain guests who didn't know about the discounts before booking. It can also offer ideas of activities for guests to do together, such as the free brewery tour it includes. Bringing guests together was part of the reasoning Paradiso does the free soup in the evening. It's a fairly big place (120ish beds) and with many places to hang out, guests can get scattered. But come 6pm when that fresh bread was put out? I don't think even seagulls flock together on picnic leftovers so fast. Same with the line that would form outside the kitchen door at Tasman Bay every night at 8pm. Free food --> guaranteed community.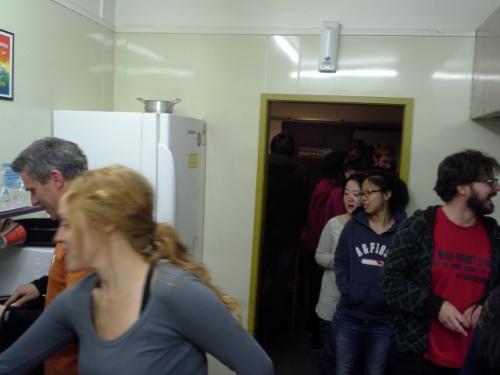 Check out that line out the door. Free chocolate pudding, totally worth it!
The discount bracelet, along with the free pudding and soup, could also be great word of mouth advertising. I know I heard from more than one traveler when asking about hostels in Nelson, "Well Tasman Bay does amazing chocolate pudding...and it was FREE!" They weren't kidding either. It was stupidly good. Prince Albert also talked about doing a type of referral program where if a guest left and passed on their bracelet to a new friend in the next city, the new guest would get a discount checking in. I've heard of referral discounts like this before, but I thought adding in the visual of the bracelet would be a nice extra. It should hopefully bring good quality guests as well, since no one wants to give a discount to a jerk. That guy who found half a jar of Nutella on the free shelf and didn't share one spoonful? Guess again buddy. Full price for you. (If anyone else automatically read that last line in the Seinfeld 'Soup Nazi' voice, as I did while typing it, high five.)
Everything comes at a cost, and I'm not suggesting you start offering a free puppy to cuddle with to every guest that checks in (but hot damn if that wouldn't be the BEST hostel. Ever). Offering a little something more to your guests, however, can certainly put that extra touch in their experience as well as set you apart from your competition.
What free extras or discounts do you offer at your hostel? Do you find they make a difference? How do you factor your ROI on these extras? Do you just consider them the price of doing business or do you look into how they will directly influence your bottom line if implemented? Sign in, comment below, and share the hostel knowledge love!
**I know many of you comment on these blogs on the site's FB page, which is great, but it would be even better to have the comments directly on here for everyone to read. Thanks for your input and helping to further our knowledge!**
Keep following along:
<< My previous post: Help Guests to Think Globally, But Spend Locally
>> My next post: Honesty: Does It Pay?
Just joining the show and don't know who I am? Check out my introductory blog post.
As always, send any suggestions, questions, or thoughts on the blog my way: [email protected].
Peace & love,
Courtney
P.S. Don't miss out! Follow HostelManagement on Twitter if you would like to receive updates when new my blog posts are made.