There's no question travel can be fun, rewarding, and exciting. However anyone who's traveled will tell you it can also be frustrating, lonely, and exhausting. Sometimes missing certain comforts of home can cause some unusual behavior. Contemplating €12 as a good price for a box of Lucky Charms at the expat shop wasn't my usual routine on a Tuesday, but who's to put a price on homesick-induced diabetes? (Apparently even I can, that's a ridiculous price for cereal. So I went for the overpriced $3 Reeses cups instead).
Even when thoughts of home are miles or kilometers away, and you're flitting around the world having a blast and going with the flow, travel can be trying on your patience and attitude. I once traveled by minibus from the south of Laos to the capital of Cambodia. At 8am, the guy selling me the bus ticket assured me I'd get there by 5pm without a problem. I had been in Southeast Asia for 6 months at this point, which is about 5 months and 3 weeks long enough to know there was no way in hell or nirvana I was going to make it by 5pm. If you've ever been to the region, you know what I'm talking about. But I was reuniting with my then-boyfriend for the first time in 6 months, so optimism grabbed tight that day. You probably could have told me that the street meat sitting out in the sun for 3 days never made anyone sick and not only would I have believed you, but asked for an extra box for take away. So I enthusiastically hopped on the bus for the supposed 9 hour journey.
After two broken down busses, extra people riding on the roof, stops in random villages to sell fruit out the window, and talking my way out of bribes at 3 different border posts, I finally made it to my destination 15 hours later. I was exhausted, starving, cranky and probably had smelled better in my life. So basically, exactly how I pictured that romantic reunion. Ohhh travel. You just give and give!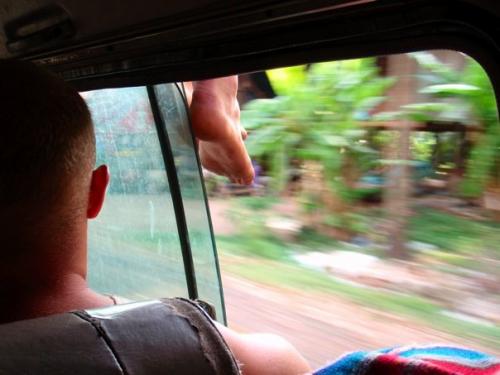 Yep, those are the feet of a dude riding on the roof because we couldn't squeeze one more person inside.
Yes, travel can be tough. In those moments, it can make us question why we left home in the first place, where everything was easy and made sense (at least in our irritated, selective memory). Which is one of the many reasons that a good hostel can make a lot of difference in a journey. The joy of finding a place that you can settle into instantly and feel the pressures of travel ease away is parallel to none. If you've had a rough few days of unexpected events and need to decompress, finding a comfortable and cozy hostel can feel like a lifesaver. If you are currently rockin the travel world and just want to keep the good juju going, finding a hostel that makes you feel relaxed and welcome can be a reminder that home is everywhere and more than where you lay your head at night.
Attitude and personality of the owner, manager, and staff make a huge difference to the feel of a hostel, but the physical set up is just as important. However, sometimes it can be hard to wrap your head around how to create a certain atmosphere out of tangible objects. How does one physically create that 'home away from home' feeling? Well, how do you define home? For some that might mean a family meal cooked by mom or a quiet corner to read in. For others, it might mean that place where your older brother tries pushing you down the stairs inside a box trunk because it will be funny and "all those pillows at the bottom will break your fall". (Yea, they don't. Perhaps skip that exercise in atmosphere at your hostel.)
Sibling rivalry and general family chaos aside, I think most of us can agree that home evokes a feeling in us all of comfort, ease, and understanding. I don't think the answer to 'How do you make a hostel feel like a home?' is about a specific this or that, but rather what you can do in your specific situation to evoke those feelings. So while this will certainly vary from hostel to hostel, I found that Oaklands Lodge in Auckland is getting it pretty spot on.
From the minute you walk in, you get a feeling of being home. Which isn't difficult, since the hostel itself is in a large wooden Victorian house. I often find that the atmosphere of a certain place matches the physical exterior of the building. It doesn't always happen, and you shouldn't judge a book by it's cover and all that, but I'm talking generally. Walk up to a swanky hotel, and you're probably going to find a posh atmosphere inside. Swagger up to a pirate ship, and it's likely in a few minutes you'll be sharing a bottle of rum with some guy named Sticks who is missing 3 teeth and has an unusual amount of interest in artificial limbs. You get the idea. Yes, sometimes you're only given so much to work with and put the rest in the power of the remodeling gods. But if you want a homey atmosphere and can put your hostel in... a home…it's a pretty good start.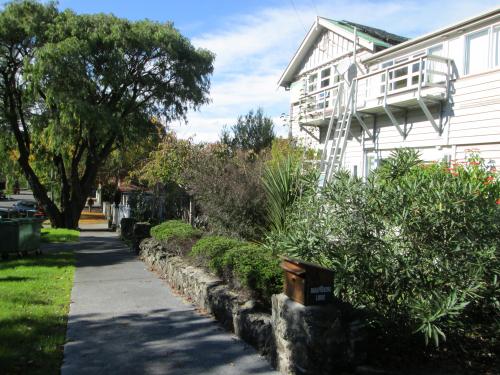 The outside of Oaklands Lodge
I found the location of the hostel to be an added benefit to the atmosphere as well. Though located only 3km from Auckland city center, the hostel is tucked away nicely in the quaint village of Mt. Eden. A short walk down a tree lined street and you will not only find the usual cafes and bars nearby, but also small independent shops like a butcher and a bakery. This quiet neighborhood location also helps with creating the overall homey atmosphere.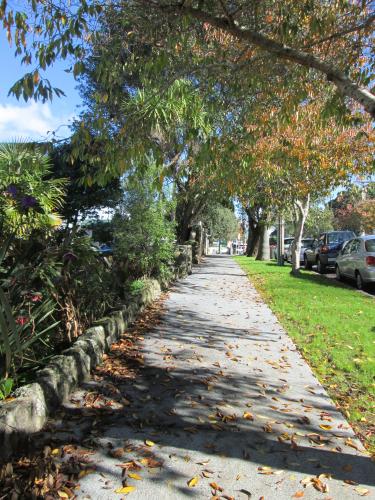 The beautiful tree lined street the hostel is located on in Mt. Eden.
Once inside Oaklands Lodge, I found the physical space inviting and cozy. The hostel has a nice warmth to it that has nothing to do with the temperature. I can attest to this since Auckland was cold and raining while I was there, and did not exactly make me happy. Luckily once I got my soggy, wet self home (yes, it felt like home!), I was able to thaw out in a cozy common room with other travelers. All hostels have common spaces, but I found the one at Oaklands to be particularly inviting. The lighting was soft and warm, the couches were big and had that perfect comfy balance of worn in without being worn out, and bookshelves lined different parts of the room.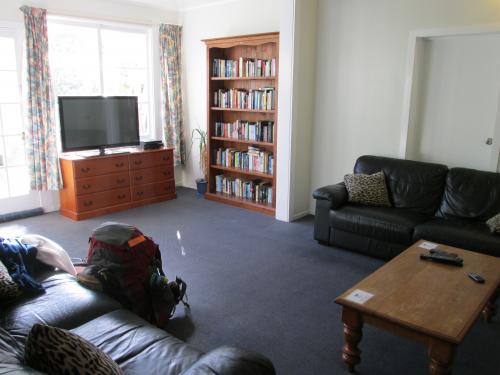 Every night this space would fill with people sprawled on the couches and comfy floor, chatting and relaxing.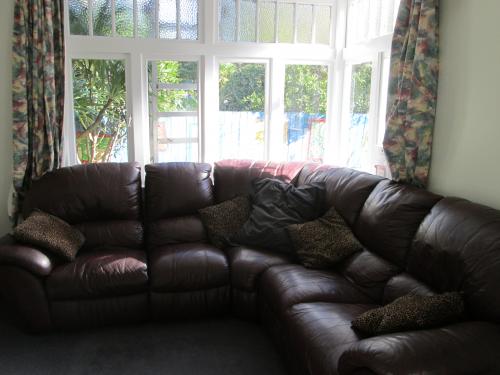 The coziest corner in the hostel, especially for reading!
Even the carpet throughout the hostel was, how can I say,…squishy. Yes, squishy. It almost felt like you had a soft spring in your step. I said this to Jonny, the lovely manager, while he was first showing me around. He kind of laughed and said 'Oh, ok. Well…great!' Then the next day he came up to me and said "No one ever mentioned anything about the carpet until you but just today another new guest said the exact same thing!" Well, there ya go. Never underestimate the power of comfortable feet. It's why people pay $150+ for Ugg boots instead of $10 knockoffs. Feeling like you're simultaneously walking on a cloud while the Snuggle bear cuddles your feet is really, really nice. Even if I am literally a walking cliche wearing them down here.
Many parts of Oaklands Lodge have a personal touch. Even the events board had a creative, homemade touch to it. This isn't an incredibly unique idea, but I have come across quite a few standard or generic events boards and thought this one was sweet and refreshing. It was colorful and eye-catching, but also, like the rest of the hostel, unpretentious and inviting. It also had one element of an events board that can be very important, depending on your situation: space for people to sign up. Though it can be hard to get that first initial person (cheat sheet- put the name of a staff member that will be there!), a new guest is much more likely to attend an event if they know others are already participating. Even guests who aren't shy may jump on an activity if lots of names are down simply because they don't want to miss out on something that must be really fun. It's also a nice visual way for both staff and other guests to learn names.

The weather icons on the side of each day were a nice touch
Another homey aspect I found at Oaklands was their 8 bed dorm. Rather than 4 steel bunk beds which can sometimes look a bit…hostel industrial…this room was filled with 8 individual beds. All of them were real single beds with solid mattresses, rather than 4 bunks taken apart into 8 beds. They were extremely comfortable and overall gave the room a very relaxed, homey, lived-in feel. The decor in the room also felt like it was more of a shared room in a home than a hostel.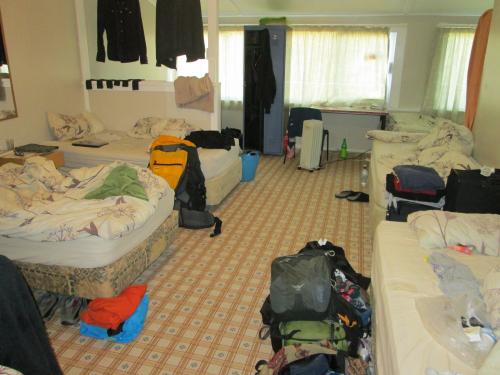 Backpackers are often a bit messy but I really loved the homey, cozy feel of this room
The manager of Oaklands Lodge, Jonny, is a genuine, lovely person who clearly takes a lot of pride in the hostel. He was always ready to help a guest any way he could and had a relaxed but caring attitude. We had some nice talks and I could see he is interested in always improving and progressing forward with the hostel. He was also great with his staff, often interacting in a friendly and teasing manner but more serious when he needed to be. In a small, independent hostel like this one where staff quickly becomes family, I think this is so important.
Ironically it took me about 1 week running a hostel to realize I had turned into my own mother while interacting with my staff. [Overhearing a crash, followed by stifled laughter] "Boys, what are you doing?" Um... nothing! "That doesn't sound like nothing..." As the words came out of my mouth, I was suddenly 30 years older, horrified and simultaneously understanding why my mother was exasperated with me all the time. Sorry mom, I get it now. And no, whatever it is I'm sure it doesn't belong there (as if the contents of my school backpack ever belonged scattered across the living room floor), but thanks for asking. And yes, I'd love to put it all away in the proper spot. Just like I'm sure my staff would love to clean out the reception area of their personal trinkets, even though having an arsenal of toys, gadgets, and general random crap can make for some entertaining slow mornings. The remote control helicopter was indeed pretty fun for the 3 minutes it worked, and finding a book on threesomes quickly made 8am on a Monday feel slightly less mundane.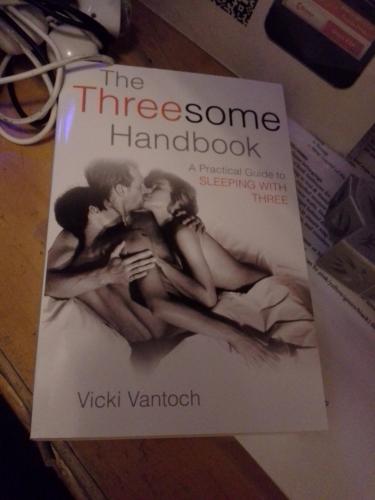 Yes, really. That happened. Ah, hostel life
What kinds of things do you physically do in your hostel to make guests feel at home? On the other hand, not every type of atmosphere is right for every place. If perhaps a feeling of home is not what you're shooting for, what kinds of physical set up do you do to create a different type of atmosphere? Does anyone have an example of not having a lot to work with but physically changing things significantly? Sign in and comment below, we'd love to hear your thoughts!
Keep Following Along:
<< My previous post: Polar Bear Swims, and Other Hostel Handbook Rules
>> My next post: "The Hostel To-Do List is Complete!" Said No One, Ever.
Just joining the show and don't know who I am? Check out my introductory blog post.
As always, send any suggestions, questions, or thoughts on the blog my way: [email protected].
Peace & love,
Courtney
P.S. Don't miss out! Follow HostelManagement on Twitter if you would like to receive updates when new my blog posts are made.