At some point in my childhood I discovered that my mother had a life before I came along (yep, really!). As a wee one, this both surprised and fascinated me. Her travel adventures were especially exciting. I loved hearing how she quit her job, put all of her stuff in storage, grabbed a backpack and set off for Europe for 3 months. Naturally when I started traveling, it gave us something in common. But over the years, we discovered that when it came to hostels, the similarities in our experiences stopped short. Man-oh-man have things changed in 30 years, and they aren't stopping there.
Last week I had the pleasure of staying at The Old Countryhouse Backpackers in Christchurch, NZ. It is a beautiful hostel, made up of four different original colonial villas. The owners of 15 years, Andy and Gerti, have spent extensive amounts of time and energy refurbishing these buildings to their original grandeur, and it clearly shows. The paint is bright, the architecture charming, the kitchens homey, and the entire hostel has a wonderful country feel to it.
Andy and Gerti spent a lot of time chatting with me, and I really enjoyed learning about their journey over the years. They added on buildings one by one as they grew, as well as additional facilities. We talked a lot about the importance of not trying to perfectly plan everything from the beginning to allow for both organic and necessary change over time.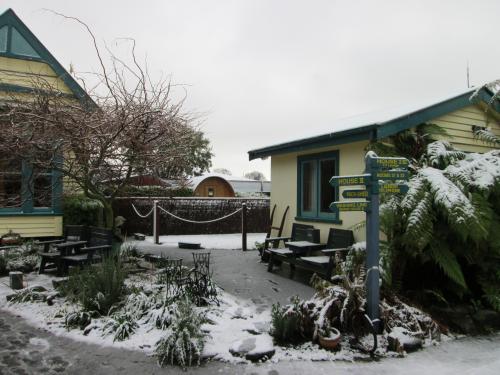 The freshly fallen snow made the buildings of the Old Countryhouse look even more homey.
One idea stuck out to me especially, which I had a feeling many other hostel owners could resonate with. They talked about how after the very beginning, when they first got going strongly, there was a point in time where they felt like they knew all they needed to know. Kind of a "Alright, we've got it. We understand what works now, it's successful, and we're solid from here on out." Then a new situation would come up, and they would need to learn something new, adapt, or change. Fifteen years later, and they said they are still learning and growing.
I really liked their open attitude to this concept: that even though they have a successful business and extremely solid product, they are open to new ideas and change. Not only open to them, but actually take them on and continue to improve. I can imagine that once you start having some continual success, it would be easy to kick back and think 'Ok, we're good, no need to do anything differently.' But especially since the hostel industry is rapidly changing and evolving, it's important not to become complacent.
This is a concept I'm actually quite curious about for my upcoming trip to Australia. The general consensus among travelers I've met in New Zealand is that many hostels in Australia just don't compare. Of course there are some really nice ones, and I look forward to finding these. Many backpackers I've talked to, though, feel like the majority of hostels in Oz are simply mediocre. Not bad, but not great, and fairly basic.
I have been quite surprised to hear this, as I know the backpacker route in Australia is well trodden, and has been for many years. Which led me to wonder if complacency is playing a role. Perhaps there is so much business coming in anyway, the hostels don't have as much motivation to 'up their game'? I don't mean to knock the hostel industry in Australia. Quite the opposite, in fact; I really hope to prove these rumblings very wrong and find excellent hostels in Australia. Just curious why I have heard this multiple times, enough to wonder about this generalization. So, Aussie hostels, if you're reading this and think I'm wrong, please contact me! This blog is about finding those who are doing things right, and I'd love the chance to visit and set the record straight.
Another interesting point about this lackluster view of Australian hostels: many of these travelers had also been in Asia before coming down to Australia and New Zealand. As they described some of these ultra modern backpacker and flashpacker hostels they have come across- spacious, clean, full of amenities- it reminded me once again how much the industry is changing. I assumed these travelers were talking about places like Japan rather than Thailand, but that was also not the case. It was only 5 years ago that I was in Southeast Asia, but my memories of accommodation were not matching up to their recent trips. My hostel/guest house experiences were more along the lines of Richard's Khao San Road stay in the book The Beach, a la exposed light bulbs and wiring, rickety furniture, and plenty of cold water showers. And I loved it, as did many of my fellow guests, because that's what we saw as standard there and expected little more. But what about today?
Perhaps something similar has happened in Australia. For instance, maybe many of those hostels which are now seen by backpackers as very average would have been some of their favorites 10 years ago. Even travelers who still strongly identify as old school backpackers versus the flashpacker of today have changing needs. I would say I'm one of them. Rarely would I ever seek out a sleek hostel over a worn-but-character filled one. It's just not my style, and probably never will be.
But my reality is also that I travel with a laptop and find lockers with power points wonderful and secure. And not to be a sell out, but from time to time I do still want to feel like a girl rather than a backpacker, especially while in a city. Even though I want to date a guy who travels, who probably wouldn't care if I hadn't showered in 2 or 3 days (spoiler alert: bigger chance of my reality on the road), having access to a hair dyer or straightener from time to time can make me feel like a million bucks. Or baht. Or pesos. Guys, your Y chromosome probably doesn't get that concept, but just trust me on this one. Point being, when I find a hostel that has truly managed to retain old-school backpacker atmosphere while squeezing in a few modern extras, it's like hostel jackpot.
Sometimes I feel like it can be a rat race to keep up in the hostel industry, which is ironic. The very reason many people come into this business is to escape the '9-5 rat race' of many other jobs and choose this lifestyle instead. I think it's up to the hostel to decide what is right for them in terms of growing, adapting, and changing to the market. Not every backpacker is looking for a sleek, modern hostel, nor does every hostel owner have interest in providing this type of accommodation. But it's no secret that the industry as a whole is evolving- and quickly.
What are your experiences with the changes in the hostel industry? Besides the emerging flashpackers, do you find traditional backpackers are also changing their wants and needs? In what ways have you changed your particular hostel while still keeping your original atmosphere? On the other hand, does anyone feel it's not really necessary to change? Sign in and comment below!
**I know many of you comment on these blogs on the site's FB page, which is great, but it would be even better to have the comments directly on here for everyone to read. Thanks for your input and helping to further our knowledge!**
Keep following along:
<< My previous post: If Disaster Struck, Would You Be Prepared?
>> My next post: The (Hostel) Times, They are A-Changin
Just joining the show and don't know who I am? Check out my introductory blog post.
As always, send any suggestions, questions, or thoughts on the blog my way: [email protected].
Peace & love,
Courtney
P.S. Don't miss out! Follow HostelManagement on Twitter if you would like to receive updates when new my blog posts are made.