How do I even begin to describe the magic that is the Arts Factory Lodge? It may be unlike any other hostel in the world. Word on the street was you either love it or you hate it. I arrived to nature surrounding me, backpackers drumming or twirling poi, and I drifted off to dreamland each night in a teepee. Yes, an Indian teepee. As I relayed this to a good friend back home, he laughed and said "Your inner hippie must be going absolutely crazy right now." You could say I was on the love-it side of the Arts Factory divide.
My timing was a bit serendipitous, as I arrived just in time for the 20th Anniversary Birthday Bash of AFL. Being a hostel event, I assumed it would be a pretty good party and didn't think too much beyond that. However, there was an overwhelming sense of pride and legacy permeating the entire day. Arts Factory is a beautiful property sprawling over 5 acres of bush, with accommodation for nearly 200 people and a permanent campsite site housing 150 tents. When I first walked in, I thought "Wow, this is a small village unto itself." That was only affirmed after experiencing the event. It was clear this was not just 20 years of a business, but a summation of thousands of memories, stories, and milestones of a hostel family and community. Dozens of people involved with AFL over the years, including several couples who met there, returned to attend the event with families and kids in tow. I didn't even know these people, but I loved watching them reunite and hearing them reminisce as they walked around the property. It reminded me of Miniwanca, a summer camp I used to attend and then later worked at. People would return year after year, building up a beautiful and strong tight-knit atmosphere. Though a different context, to see that feeling cultivated in a hostel was simply awesome.
Before the drinks really got flowing later, a few speeches were made. One was given by Bob Lowry, who bought the Arts Factory Lodge in 1993. He, his wife Pat, and his son Sein essentially turned it into the unique place it is today. However, one of the first things he pointed out was that the AFL was truly created by everyone. Early on when making decisions they chose to ask the backpackers what they wanted. They then went a step further and asked those same backpackers how they thought it should happen. Before Bob and co. could barely say yes, travelers were constructing, painting, and creating multiple facets of the property. Arts Factory has a unique vibe because it has literally been a work of art and labor of love from people all over the world, over a span of many years.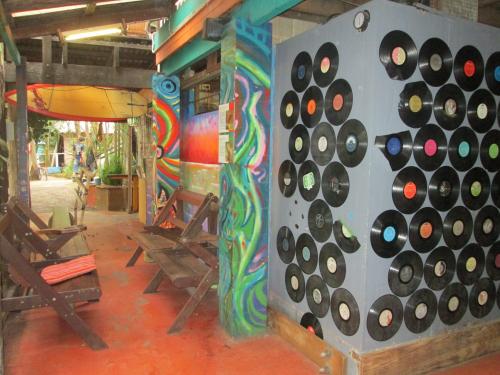 There's colorful painting around every corner, created by guests over the years.
At the end of the night, I found myself being introduced to Bob while I was on my way to the bathroom. Being the massive nerd I am, I forgot about the toilet and pretty much geeked out in my head that I was meeting the man who started all of this. What. A. Legend. At least, that's what the beer in my head was saying. Hopefully I appeared a lot cooler, but after the amount of booze I saw consumed that night by…mmm, everyone..., pretty sure no one could have told the difference. I was near fascinated with hearing his story, and started thinking 'Crap, I better remember what he's saying, this is good stuff!' Luckily for me, Bob told me he'd be more than happy to sit down later and share some advice and knowledge with me. Which was great, since after that 20 minute chat I still really needed to pee, and I had sort of forgotten about the guy I told 'Going to the toilet, be right back'. Temporarily forgetting about a hot Aussie guy I've just met because I'm so eager to hear about a hostel owner's journey? Damn, it's like I don't even know who I am anymore! Good thing my memory came back pretty quickly. :) 
When I met with Bob a couple days later, I wanted to know more about his vision and how the AFL evolved. He said he wanted it to be a destination, somewhere where backpackers could spend very little money but stay for prolonged periods. That's one of the biggest reasons the campsite was born. Having spent years on the road himself, he said "There's always a time when, as a backpacker, you begin to wonder what you are doing and where you are going. What is your life's purpose." Arts Factory was always supposed to be a place where travelers could just chill while they figured those things out.
Walking into Arts Factory is like stumbling upon some kind of incarnation of all the quintessential hippie backpacker places of the world rolled together. Which makes sense, since Byron Bay itself is by far one of those places. Watching other guests practice fire twirling and poi on the sand volleyball court suddenly took me back to consuming questionable beverages in buckets on a beach in Thailand many (full) moons ago. Sitting around drumming on the djembe with other travelers stirred herbal-induced hazy memories of travels in Africa. Though once I saw didgeridoos laying around, I was reminded that I was actually in the backpacking mecca of Australia. Arts Factory was like being in a backpacker bubble. It offered the chance to be inside the traveler world, yet without the exhausting downsides. Overall, AFL is exactly as Bob envisioned: a destination to completely relax and be at ease.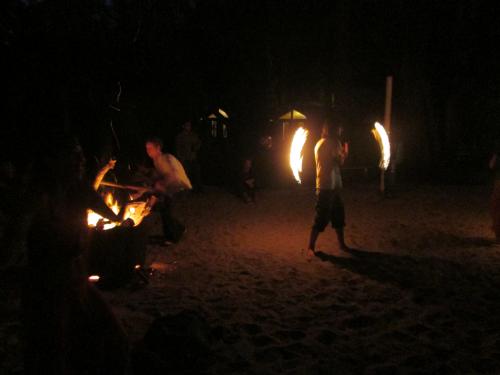 Fire twirling and poi at the 20th Anniversary Party
I asked both he and Peggy, the GM of 9 years, how they are able to strike the balance between keeping the uber relaxed vibe, yet still have rules enforced. Bob said that from the very beginning, the hostel manta has been "The rules are few, but they apply to you." I thought this was brilliant. Especially as he said it was quickly followed with "And if you don't like them, we'll send you back to where you came from." He said when they first took over the place in '93, they had problems with people pushing the limits, but they were quick to nip it. Once people saw they were firm and really meant business, they had very few problems. Word of mouth helped them quite a bit as well, not only in the traditional marketing sense (which was also huge), but in expectations of behavior as well. Word spread quickly that the crap of the past would not be tolerated.
It's clear that I loved my Arts Factory experience, but I can understand why it wouldn't be for everyone. From what I could see, besides the overall unique vibe, one of the biggest differentiating factors from the other hostels in Byron is the amount of long termers living at Arts Factory. Generally, this would be a hesitation of my own, as I want to meet people while traveling solo and long termers don't have the best reputation for reaching out to new, short term guests. However, I actually felt quite the opposite at Arts Factory.
I could tell on arrival that many people knew each other, but it was much more in a sense of communal living rather than a hostel clique. Those that had been living there for awhile didn't necessarily jump out and start with the traveler small talk, but there was an air of relaxation and welcoming amongst the entire place. So much of the Byron vibe is just living and experiencing what's around you, and this is how I found the other guests at AFL. They may not have asked right away where I was from and how long I was traveling (fine with me, I was over those questions 2 months ago) but if I grabbed a djembe and joined in a drumming circle or chilled around a fire pit telling stories, I was welcomed.
I think this atmosphere, both intriguing and inviting, is why I heard from so many people "I came, and I just stayed." For some it was 10 days instead of a weekend, while others turned 3 weeks into several months. Either way, it was clear people come to the Arts Factory and stay to experience it, not just pass through it. It also helped explain why the long termers didn't feel like a negative- so many people simply turn into them as well!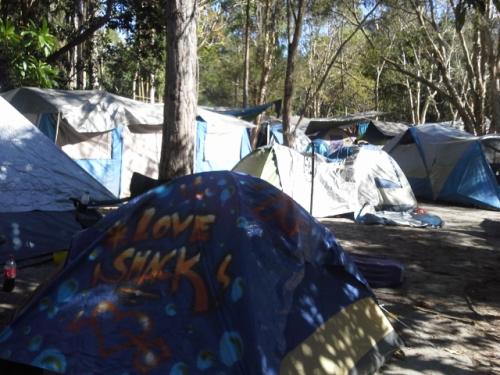 The permanent campsite at Arts Factory, a truly magical village of sorts
As Bob explained in his speech, so much of the hostel was created by these very travelers. I asked him if it was hard to 'let go'. He responded, "So many talented and creative people would come through the doors, why not use them?" Even writing 'use them' feels a bit strange. Hearing the stories it was clear that these backpackers were just as eager, if not more, to leave their mark on the Arts Factory. They desired to be a part of it.
In a previous post, I mentioned my dad's lesson 'Never be afraid to hire people smarter than you'. Talking with Bob, I was reminded of it again in a new way. It's easy to think 'I'm not the best at fixing plumbing, I should probably hire someone before my entire bathroom is flooded.' I imagine it's much harder for many people to let go with their creative vision. I know I personally have tons of ideas for what I want my future hostel to be and feel like, but found the direction of AFL very inspiring. Just because I have a certain vision doesn't mean I'm actually the best or only person who can create it. How amazing to give opportunity to those talented travelers who want to give back, as well as have your project on the receiving end of that collaboration. I don't just love Arts Factory for the chilled out hippie vibe, or the great Byron Bay setting, but largely because of what it stands for.
Like with so many others on this trip, I'm very grateful to Bob for taking the time to meet with me and share his story. Originally American, I enjoyed learning about his arrival in Australia ("2 bags of dirty clothes, a pregnant wife, and $16 in my pocket!") and how he worked his way up. Having not much more than $16 in my own pocket at the moment, hearing stories like this always reassures me I can still make my own dreams happen. I had a good laugh at how his own backpacking days began as well. While first traveling in Europe, he had all of his stuff stolen in Spain. He had to hitch to France to get money and said that journey opened him up to 'real traveling and backpacking', changing his life forever. Bob, I'm very sorry all of your stuff disappeared then. But if the world got the Arts Factory as a later result, I'd like to high five that thief just once!
Bob sold AFL to Nomads a few years ago, but retained some ownership of the property. I asked what it was like selling, and he said it's still strange for it to not be completely his family's anymore. When they walk around the grounds, every single spot has a memory. Not just of something that happened but also who helped create that space, who did something there, who was a part of it. It's the people they still remember from so many years. The Arts Factory has inspired several ideas for my own hostel, but the biggest of them is creating and leaving a legacy. Like many hostels, I want it to be more than just a place to sleep. But I also want it to be more than just a good experience for a few days. I want it to be a destination, a family, a community, for years to come. Arts Factory felt just like that, and I feel lucky I got the chance to experience it. Until, of course, I return once again!
Do you have a hostel that's created a legacy over the years? Do you have a rather new hostel but with that ambition? What kinds of things do you do to make this lasting impact with your guests happen? On another note, do any of you open up to your guests for creating and changing your place? Sign in and comment below!
**I know many of you comment on these blogs on the site's FB page, which is great, but it would be even better to have the comments directly on here for everyone to read. Thanks for your input and helping to further our knowledge!**
Keep following along:
<< My previous post: The Hostel Family Part 2: Keeping the Balance
>> My next post: Complaints, Part 1: Smelling Smoke Before Fire
Just joining the show and don't know who I am? Check out my introductory blog post.
As always, send any suggestions, questions, or thoughts on the blog my way by emailing me here.
Peace & love,
Courtney
P.S. Don't miss out! Follow HostelManagement on Twitter if you would like to receive updates when new my blog posts are made.