Hello fellow hostel friends and enthusiasts! My name is Courtney Loechl, and I am the new staff writer for hostelmanagement.com. Over the coming months I will be continuously filling this space with blog posts about all sorts of hostel-related topics. My hope is that they will be interesting and informative, with a solid dose of fun in there too. But before I get into that, perhaps I shall introduce myself on the off chance that all 9,000 of you don't know me. (Can you believe hostelmanagement.com is already up to 9,000 members?? And growing!)
I am a backpacker at heart, a hostel manager by trade, and a hopeful hostel owner in the future. I'm also very gregarious, slightly entertaining and quite sarcastic, but I digress. While I'd love to get all hippy dippy on you and say that I am a citizen of the Earth, I am actually American. No amount of traveling will completely wash away your original culture, nor should it, but I did throw in dual citizenship with Italy this year for good measure. A big thank you goes out to my great-grandparents who immigrated many moons ago from Italy to the US, with only the clothes on their backs and a freaking delicious homemade salsiccia recipe in their heads. A bigger thank you to the Italian government for finally approving of my bureaucratic loophole exploitation after a 5 year wait.
I grew up in St. Louis, Missouri (also known as the center of the universe to everyone in…St. Louis) but wanderlust took hold early. I took my first student exchange trip abroad at 14 to Australia and New Zealand, after my parents underestimated just how good in sales I was. Their solution to not having to say 'no' was the agreement that if I could raise half the money, $2500, they would pay for the other half. The look on their faces when I said I had my share was part disbelief, part impressed, part 'oh shit'. I'm still not sure who I should be thanking more for solidifying my love of travel with that trip: my parents, or every relative, family friend and neighbor that I sold something to that year. Um, thanks again?
I'm 27 now, and while my tactics for funding my travels have slightly changed- often selling beverages at a bar rather than wrapping paper door to door- my desire to roam the Earth has not. I have been living all over the world for the past 6 years- South Africa, Thailand, the Netherlands, Swaziland, and San Francisco, California- and over the years have developed a deep love of hostels and backpacking culture.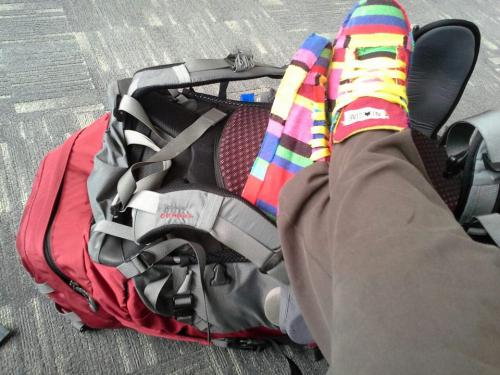 I remember hanging out many years ago at one of my first, and still favorite, hostels called Island Vibe, in Jeffery's Bay on the Garden Route coast of South Africa. All around me were young people from across the world just hanging out; eating, drinking, playing guitar, laughing. And it was just…normal! It clicked for me at that moment that this wasn't just a holiday for many of these people, but rather a continuous lifestyle made up of a mix of wonderful things: diverse culture, adventurous young people, a spirit of community. And while taking a drink of my beer (it was a party hostel, to be fair), I said 'This is what I want to do. This is what I want to be a part of. This is what I want to own.' So after staying in numerous hostels as a guest, I began managing a few years ago in 2011. First in Swaziland, then San Francisco. I hope to continue managing hostels until I have soaked up enough knowledge to open my own. Well, that, and finally settle down in one place. I think that's my much bigger mental roadblock. There's just so much to see in this huge/tiny world!
So. Now you know a little about me, but just what exactly am I doing here, you may ask? I am beginning work on a new feature of this site that will seek to highlight all of the 'best practices' of the hostel industry. Hostelmanagement.com has always been a place of collaboration and sharing, with the idea of working together to raise our industry to the highest standards. With this in mind, my writing will actually be done while on a tour of hostels throughout Australia and New Zealand. Rough life! As I explore these hostels, I will be blogging about each place I stay. My writing will be from the perspective of an experienced hostel manager with the goal of opening a hostel down the road.
I believe staying in hostels along the way will actually be a huge benefit to my learning and writing. How long has it been since many of you who own or manage hostels have actually stayed in a dorm room? Or cooked in the hostel kitchen? Or used the communal shower that you're pretty sure got cleaned that morning but still looks like a wet shaggy dog ran through, paused, shook himself dry as hard as possible, and ran away again? We all know about problems on the operations side of things, but having a guest perspective now and again can only help us all to improve. I can tell you with certainty that in the past I've mentally rolled my eyes when someone has complained about a snorer in their dorm (ear plugs, people, it's a dorm!). That was until after staying in a dorm a few months back and kept wide awake by a snoring gentleman, who was even kind enough to warn me that evening that it would "be like a chainsaw on a tree" sleeping next to him. I was not impressed. Thus, empathy for those affected by snoring suddenly blossomed. Or at least formed a bud. After all, there is only so much we can do to control air flow through a guest's nasal passage. Slightly more we can do if a private room is available. Or an iPod.
Australia and New Zealand have some fantastic hostels, and I'm sure a massive amount of wonderful info to learn and share. After using hostelmanagement.com for the past few years, first as a hostel enthusiast and later as an active member, I'm very pleased at the chance to contribute more to this wonderful site. I look forward to finding all the hostels here that are really getting it right, and seeking to help push hosteling forward. I've been in Sydney for a couple days already, and the hostels here are setting the bar pretty high for those to come. I won't spoil my next post too much by spilling all the good bits, but I can say I was gifted with a private room over a dorm so far, so that I "could rest up after my long journey". My tired body was very grateful, though I'm still not entirely sure why I was tired. I lucked out with two seats to myself on my flight from LA. Being the hobbit sized 5'3" (1.6m) I am, this meant that aside from watching 2 movies- This is 40 (skip it) and Silver Linings Playbook (loved it)- I was getting more horizontal mediation on that 15 hour flight than I had in the past 2 days combined. I'm sure the bloody mary helped. Point being, regardless of my tired/not tired state, I greatly appreciated the consideration and customer service I was given before even arriving. Though I can also say the giant tv over my giant bed playing high quality cable shows like Celebrity Splash is slightly distracting to getting work done, but I'm managing. It did cause me to take longer, thus missing $1 hotdog night upstairs (doh!) but hey, choices. The hot guy with his shirt off won out. Shocking!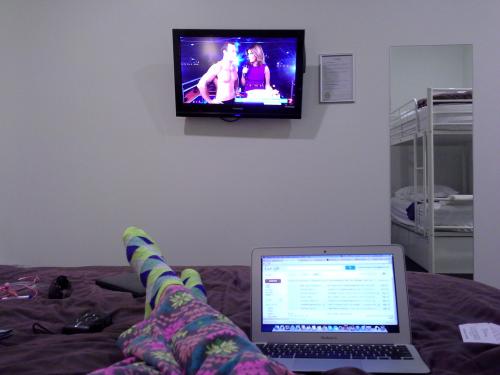 There are countless topics I look forward to learning and writing about. Some I've thought of already, and some will show themselves along the way as inspiration strikes. Some specific interests I have, for example, are the emergence of 'flashpackers' into the industry and the role of 3rd party booking engines. Flashpackers are especially interesting to me since my backpacking days started in Southern Africa and Southeast Asia, where a backpack was your closet and a Lonely Planet your softcover bible. Today, seeing rolling suitcases and digital everything makes me so curious if that is just the direction of the backpacker market, or is it an entirely new market to live side-by-side. And more specifically, how are hostels responding to this change? I do think region still plays a major role. When I was traveling in Colombia last month, backpacks were everywhere. I remember looking at the pile in my dorm room thinking, 'No flashpackers here!'. 3rd party booking engines always cause lively discussions amongst industry folk, as they are often seen as a necessary evil. With the buyout of HostelBookers by HostelWorld, this discussion is only becoming more heated. I'm curious, however, to find out what hostels are doing to take matters into their own hands. Technology has changed the way we live and work. When you look at the success of a site like Airbnb, it makes you wonder how much longer hostels and other businesses will need outside help to grow or even sustain.
So then. What topics or points of interest do YOU have? What are you interested in me writing about? If you're taking the time to read this, you must have an idea or two brewing yourself. Send them my way! Besides digital interaction, such as through the forums on this site, I love meeting other people in this industry. Whether it's to 'talk shop' or just grab a beer, it's always enjoyable. I was lucky enough to attend both the hostel management.com 'Unconference' and the HostelWorld Conference in Dublin this past February. I can successfully say that trip involved both industry discussion and plenty of pints, but it was a wonderful learning experience as someone who is still new to the industry. Though it was also another reminder that hostel industry folks are some of the craziest of them all! Check out the before and after pics below of the HostelWorld Conference if you don't believe me. ;) Thanks to the hilarious The Hostel Worker for putting my 2 infamous pics together. Also, if you've never been to an Unconference, or even heard of it, I highly, highly recommend you check it out here. It was extremely valuable, productive,…and heck, just a whole lot of fun!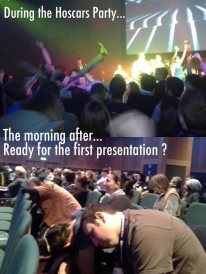 For those of you down under: I will be in NZ May 20-July 28th and Australia July 28-Sept 19th. If you have a hostel in Australia or New Zealand, feel free to contact me. It would be great to meet you and get a tour of your place. If you are in Oz/NZ and don't have a hostel, but interested in hostels, feel free to contact me as well. I have received so much help and advice along the way, I am just as willing to share it.
I hope you all enjoy following my journey, and learning from reading these blog posts as much as I do from writing them. Please send any comments, questions, criticisms, you name it, my way! Comment directly on here (come on, don't be shy!), or if you prefer shoot me an email here.
Don't miss out:
My next post: What's in a name? >>
Peace & love,
Courtney
P.S. Follow HostelManagement on Twitter if you would like to receive updates when new my blog posts are made.