As I'm writing this blog, I am continually asked by both hostels and fellow guests "So, what have you found? What are the best things a hostel can do?" There are certainly details I've seen that make places stand out, which I will continue to write about. However, the answer to that question is- unfortunately- a cliche as big as "Don't judge a book by its cover". It's not about doing a certain something, but rather whatever works best for you. I found great examples of this at Chez La Mer in Akaroa, New Zealand.
Chez La Mer is a charming 29 bed hostel in a small town in New Zealand. It is full of character and some wonderful small touches, which I will highlight later on. What I found most refreshing though was the manager Sara's relaxed attitude. From the beginning she basically said, "We're quite an organic operation, and we just go with whatever works for us." The hostel is a bit rough around the edges, but in that charming, endearing way that many old-school travelers love. They seem to be proud of that, as they should. Not because that is the 'right' way to be (though personally, I do love it), but because every hostel should be proud of their own style, not comparing to someone else's.
Sara explained that they are more than happy to do whatever suits them best, whether that's the industry standard. For instance, they are still using paper and pencil for a reservations book and basic excel for finances. Some may turn their noses up at this, but I wonder if those people are also consistently full during high season. Chez La Mer is also not on HostelWorld, which seems a rarity these days, but they are a part of the BBH network, the main accommodation network in NZ.
One reason they decided HostelWorld was not a good option for them was the amount of walk-in traffic they receive all summer. It didn't make sense to them to turn away guests arriving on foot for other guests who had pre-booked. HostelWorld is a great example of a seemingly 'must do' (or 'necessary evil', depending on your thoughts these days) for a hostel to succeed, but yet should be taken into consideration before jumping on the bandwagon.
As I mentioned earlier, Chez La Mer has some lovely details that really add to the atmosphere and character of the house-hostel setting. The kitchen was filled not only with the usual free coffee/tea/sugar trio, but also every spice you can imagine AND baking ingredients! As I scanned the plethora of spices I thought, 'Damn, I should cook something really tasty and gourmet while I have the chance!' Then I cooked pasta. With a sauce made from powder and boiling water. Yep, I am my own worst enemy. Luckily 2 of the woofer staff saved my taste bud integrity and the three of us baked bread from scratch together. Ahhh, the warm-out-of-the-oven taste of redemption!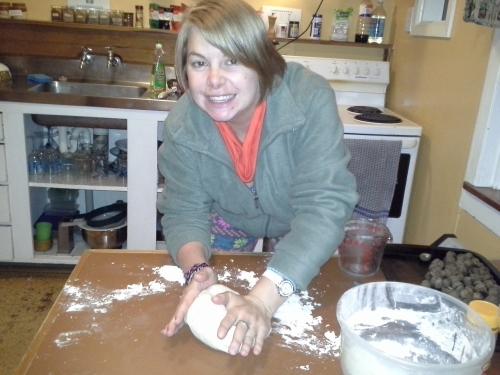 Earning my keep.
Another personal touch I found unique was a 'Backpackers Cookbook' that stayed in the kitchen. Not only did this have great recipes geared at backpackers (small number of ingredients, inexpensive) it was actually compiled from years of guests staying at Chez La Mer and printed just for them. What a lovely idea! It was also for sale for only $15, so I grabbed one in attempt to not eat like a 20 year old bachelor the rest of my life. That was so 2012...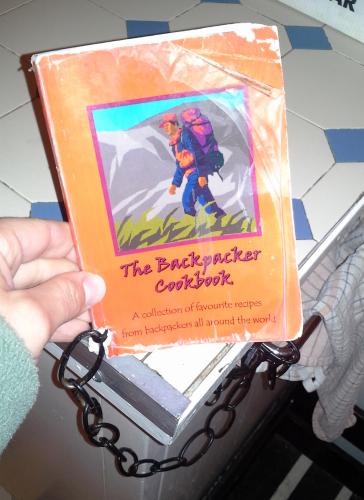 From flipping through briefly, I did not find one recipe involving 2 minute noodles, so it's already a culinary win.
Lots of other home accents adorned the hostel such as the decorative racks for coffee and tea mugs, a cozy fireplace, hot water bottles hanging off every bunk, and a beautiful outdoor garden. The best part of outside: not only was there an excellent barbecue grill but also a full outdoor kitchen. This included a fridge, sink, prep area and stocked in summer with all crockery and cutlery. An outdoor kitchen is not only convenient for the guests, but also smart for traffic flow. The people who want to barbecue, or even just eat outside, can prep their food in another area while freeing up the main kitchen.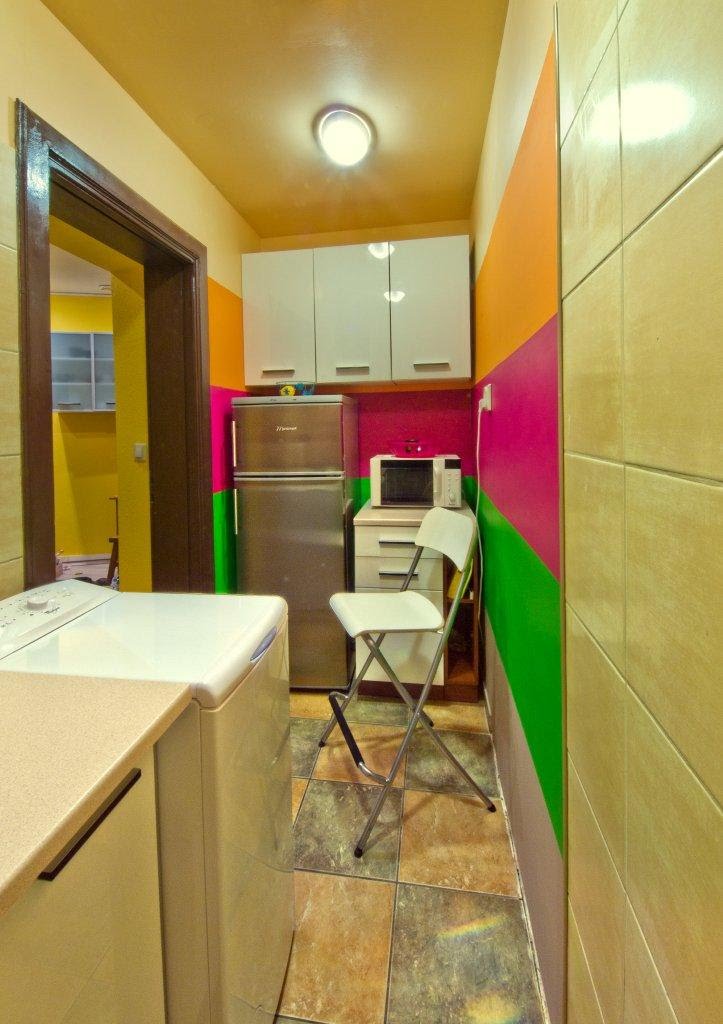 The character of Chez La Mer, along with Sara's attentive but laid back attitude, reminded me that not every hostel needs to strive towards perfection to succeed. Or rather that 'perfection' can have different definitions. Sometimes while working on things around the hostel in San Francisco, Darren (the owner) would remind me that good can mean great. It didn't mean slack off and don't try, but rather that not every detail needs to be perfect. Not only can trying to do that in a hostel be mental suicide, but it can also be counterproductive. Spending too much energy trying to make sure the linen is pressed just so or every smudge on the wall is scrubbed off immediately means less energy on elements of your hostel that make the biggest difference, such as customer service, cleanliness and atmosphere.
In my opinion, the best thing your hostel can strive to be is your vision, whatever that means to you. Not what 'xyz hostel' rated above you is doing. After all, whatever it is, it's probably working because it fits their vision. Focus on what truly fits you. If that means a worn-but-loved home feel, then by all means throw some comfy mismatched pillows from a thrift store on your lounge couches. The hostel neighbor down the road that's going for an edgy, modern look probably focused on stylish furniture and eclectic art. You may think a 5 year old could have created his paintings by blindly throwing color at a wall, but perhaps he thinks your place should be on a hostel edition of 'What Not To Wear'. Doesn't mean you can't both succeed. There is a type of guest for nearly every type of place. Base decisions on what works well for your hostel, not what the other guy is doing, and let your success speak for itself.
Do you ever find yourself comparing your hostel to your competition? What are some ways you have refocussed on what works well for your individual hostel rather than comparing? What are some examples of things you do that are not the industry norm, but you find work well for you? Sign in and comment below! (Oh, and if anyone seriously answered 'No, never' to that first question, I'm sure your nose is practically poking your computer screen right now, a la Pinocchio. Nice try.)
**I know many of you comment on these blogs on the site's FB page, which is great, but it would be even better to have the comments directly on here for everyone to read. Thanks for your input and helping to further our knowledge!**
Keep Following Along:
<< My previous post: Seeing Potential, Desiring to Change, Working to Grow
>> My next post: If Disaster Struck, Would You Be Prepared?
Just joining the show and don't know who I am? Check out my introductory blog post.
As always, send any suggestions, questions, or thoughts on the blog my way by emailing me here.
Peace & love,
Courtney
P.S. Don't miss out! Follow HostelManagement on Twitter if you would like to receive updates when new my blog posts are made.