My admiration for Hekerua Lodge on Waiheke Island as described in my previous post was very much from a guest perspective. As I've mentioned before, it can be great for learning to experience things on the other side. However, everything I'm doing on this trip is also from a hostel management perspective, and I found some great examples of doing things well at Hekerua Lodge.
It's also fair to say that even while trying to be a guest, I can't totally turn my 'hostel manager brain' off. At one point while the owner Tom and I were talking, he got an error code on the washing machine while it was in the drain cycle. I had this problem several times with the washer at my last hostel, and offered a couple quick fixes to try first. While we were able to unclog the drain, and I received the recovered $2.45 in coins for my efforts in helping (score!), it unfortunately didn't totally fix the problem. After a google search (my trusty source for error codes on appliances), it seemed the problem was in a different part of the machine. It did make me laugh to myself, though, that even though one moment I was kicking back with a beer and chatting, as soon as he mentioned a problem with the washer, I was back in manager mode, ready to fix it. I've often heard solutions to problems can require creativity and flexibility. Last time, fixing the washer took both of these, literally. My boss and I had already hooked everything back up when we realized we forgot to turn a valve. Our options were unhook everything again, or squeeze into a very small space. As seen in the ridiculous picture below, we opted for squeezing. Who knew all those years I grew up dancing would come into handy managing a hostel?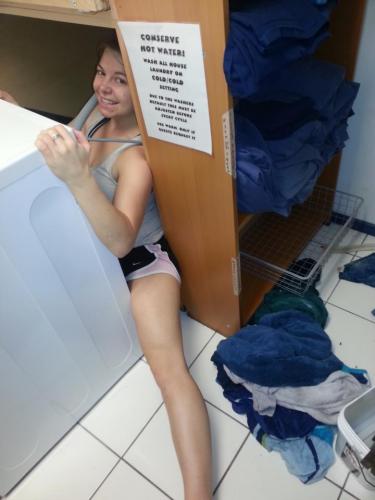 Yea. That was a fix for the books.
One of the attitudes I really liked about Tom towards his hostel was the emphasis on community and personal connection. For instance, though there is a large TV in the common room, he actually dislikes having it. It's there for the occasional big sporting event, but he tries to keep it off as much as possible. This reminded me a lot of an Unconference discussion about the role of amenities that also double as distractions, such as a TV. One night a group of guests and I had a good laugh as we all curled up on bean bags around the fire and watched a really horrible Nic Cage movie. As we were bonding over comments at just which was the worst part (the horrible plot? bad acting? unrealistic…everything?) someone joked, "What do you mean a TV's not social?!"
It was nice to have it for a chill movie night and some of the big rugby games, but I was generally happy that the TV stayed turned off in favor of face to face interactions. Even on the days when it was pouring rain, there was a general tendency to chill on the covered deck playing cards or simply hanging out rather than watching TV. It has a place, but can also be a mindless distraction from actually getting to know other guests. It can also be an easy fall back, like Facebook, for someone who may be a bit shy and hesitant to reach out. However, bring out a game of uno, gather everyone around, and suddenly you've got a mini UN of people talking and laughing instead of sitting like zombies. Keep score with the bet that the loser has to jump in the non-heated pool while it's 10C/50F out, and you will have a frozen, zombified traveling hostel manager instead. Sigh. A bet's a bet. And a jacuzzi is a savor.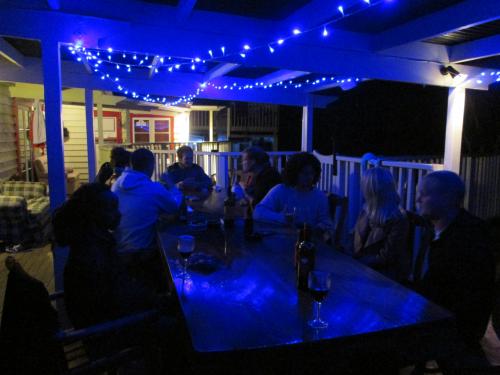 It may seem easy going, but the uno game at the end of this table was INTENSE!
There is always a fine line between having rules at your hostel for your own sanity but still maintaining an easy going environment. I found it interesting that though the atmosphere at the hostel was very laid back, there were actually a few rules that were fairly strictly kept in place. None of these were a huge deal for the guests, but I imagine really helped out the management of the hostel. For example, all shoes must come off before entering the hostel. At first this kind of surprised me, as I wondered how enforceable this was. However, everyone seemed very respectful of this, and quickly got used to kicking shoes on and off when entering or leaving the main house off the deck. Having no shoes inside kept the place incredibly clean. This would be a great rule anywhere in terms of keeping dirt out, but I found especially helpful in this nature-filled environment. It's great that the hostel has it's very own 'bush trek' as a short cut into town, but guests are certain to return with shoes covered in mud. Keep the shoes and mud outside, clean floors inside, and everyone stays happy.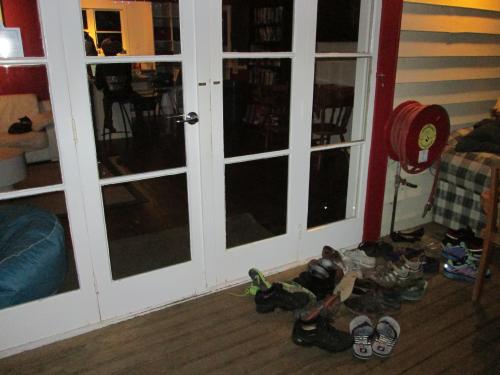 I could almost hear my mom telling my 8 year old self "No shoes in the house!"
Another great rule that I found fairly surprising to be followed was the drying and putting away of dishes. Many hostels ask you to not only wash but also dry and put away your dishes. Unfortunately, it rarely happens. At a glance I could see two reasons why this actually worked at Hekerua Lodge. For one, there was no plastic drying rack or any specific space to set dishes for drying after washing. Only plenty of tea towels. After washing up, I would look around out of habit for the drying rack. When I didn't see one, I grabbed a towel and started drying. I personally thought the lack of a drying rack was probably the biggest deterrent to leaving dishes to dry, since it provides an easy way out. Though many travelers see dish drying jenga as an entertaining form of laziness, a small tower of dishes is irritating at best.
The second reason follows the first. Since the kitchen was kept nearly spotless with everything put away very tidy, it would have felt out of place to leave some dishes laying around. Of course you are always going to have lazy people who don't follow simple rules, but it seemed the precedent had been set that you dry your dishes immediately after washing them and put them away. In a small place like this where everybody is around, there's more social pressure to 'not be that guy', and it actually seems to work. From a management perspective, a wonderful thing. It looks nicer to those entering the hostel or kitchen for the first time, and it's less work for staff.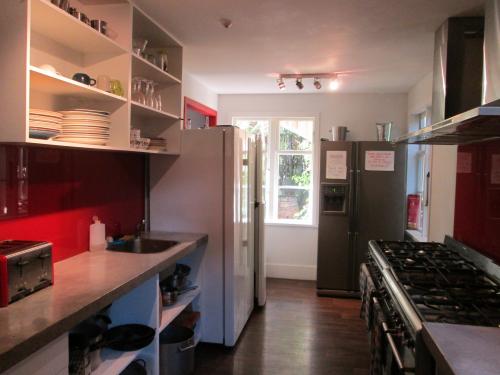 Dazzling!
There was also a (sometimes painful) rule was that anyone wanting to use the jacuzzi spa had to jump into the swimming pool first. Not such a big deal in summer, when everyone is hanging out in the pool anyway, but definitely a chilly winter rule. However, it helps keep the jacuzzi much cleaner. The cleaner the jacuzzi, the less often the water has to be changed. Since the hostel is located on an island where every resident has water restrictions, this is a huge deal. Tom explained to me that all water is collected off the roof and treated on site. They have a limited supply, as well as restrictions on how much grey water they can discharge each day. He said everyone on the island has to treat their own water and waste. Of course this is a huge expense, which is another reason, besides running out, why you don't guests wasting water.
I was interested in which ways he kept the water in check, especially as I'm sure he is not the only hostel to deal with this issue. The hostel I managed in Swaziland was also on limited water, and it was always a struggle reminding people of this. Backpackers are often 'green' in mindset, but suddenly forget in the middle of a 15 minute hot shower. Tom said he has restrictors on all of the showers and taps to reduce the flow. The water flush in the toilets is also low flow at a liter or two instead of 5 or 10 like some toilets. Inside each bathroom is a reminder that there is limited water and to please not waste it. This isn't unusual in a hostel, but what I liked there specifically was the minimal wording and decorative nature of the message painted on the back of the door, rather than a small laminated sign. It was aesthetically appealing, but also very prominent. Another water saver is the lack of laundry facilities offered to guests. Tom explained that it wasn't actually out of a desire to save water, but rather due to legal restrictions placed by local government. While a guest may be disappointed if you don't offer a certain service, you may be able to use the explanation of why as a quick teaching example. For instance, if a guest is informed there is no laundry service due to a limited supply of water, maybe (just maybe!) they will get the idea and shorten up their shower next time around. Hey, we can dream right?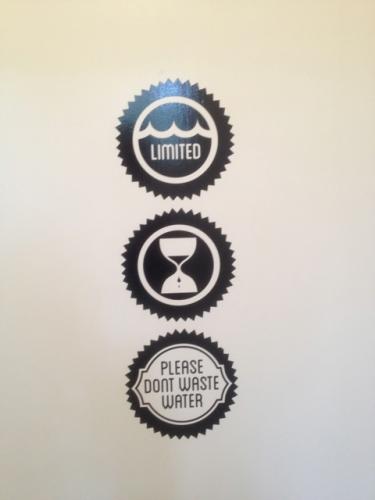 Simple, decorative, effective.
What is your experience with rules or expectations at your hostel? What is your primary method of informing about and enforcing these? Opinions on signs, for example, can range widely across the board. While some seem to use them to the extent of hostel decor, others refuse to hang all but those legally mandatory. Any thoughts to share with the class? Sign in and comment below!
Keep Following Along:
<< My previous post: Finding New Gems: My Time at Hekerua Lodge
>> My next post: A Home (and Hostel) is Where the Heart Is
Just joining the show and don't know who I am? Check out my introductory blog post.
As always, send any suggestions, questions, or thoughts on the blog my way: [email protected].
Peace & love,
Courtney
P.S. Follow HostelManagement on Twitter if you would like to receive updates when new my blog posts are made.