So much of a traveler's impression of a hostel is linked to the activities they experienced during their stay. When you talk to a backpacker about their favorite hostel, they'll likely dive into a story of an epic hike, a delicious meal, or a big night out with their newly made hostel friends. Offering activities is one of the things that hostels have championed for decades, while hotels and Airbnb have yet to offer a similar experience. During our Hostelling Across America Road Trip, Byron Bunda and I encountered a variety of ways hostels engage with their guests. In this article, we'll explore what factors are important to consider when planning successful hostel activities.  
Property Type
The types of activities a hostel can offer are often dictated by the layout and size of the building. Large properties with spacious common rooms or outdoor patios have the advantage of being able to host events within the property. At USA Hostels Hollywood, the gated patio is at the front of the building, in the heart of the action where guests are coming and going. The lounge furniture is easily moved to arrange for games, which are common during the weekly patio parties. With minimal effort required from guests, these activities tend to receive a large attendance and create a strong sense of community. Smaller hostels might have to get a bit more creative when using the space they have. A great example of this is at Drifter Jack's Hostel in Austin, where they offer a Monday Movie Night by turning the intimate lounge room into a retro VHS cinema. On other days of the week, guests can be found socializing outside by the pool tables and picnic tables on the side of the building. By looking at the space you have to work with, you can determine what activities are possible. 
In-House or Out and About
When planning activities, you have the option of keeping guests on the property or taking them out to see the local area. In smaller hostels, outbound activities may be the most appealing, since these will take guests away from the property when space is limited. Taking guests off-site doesn't mean losing the sense of hostel community, however. For example, Samesun Backpackers in Venice Beach has adapted to their limited common space by offering group outbound events. Some of their activities include trips to the Santa Monica Pier and the Grand Central Market, or bar crawls and a limo ride to Hollywood. 
On the flip side, Sin City Hostel in Las Vegas keeps guests onsite by making use of their backyard. The patio is furnished with outdoor couches, tables, a grill and board games. Hostel staff put on BBQ events with drinks and free food, which encourages guests to mingle effortlessly and play games, even after the food is finished. 
The majority of hostels we visited had a mix of outbound and onsite events, such as Auberge NOLA in New Orleans, where guests start out with a pregame party on the patio and then staff take guests offsite to a local music venue. Robert, the owner, said he's planned the guest's nights very intentionally to create a desired experience. For example, by having guests take the trolley car, it allows them to experience a local attraction and it creates a stronger impression that the hostel is close to the action than if guests had to take taxis or Ubers. Starting the night at the hostel and ending it out on the town is a great way to manage volume level, ensuring that by 10 pm, the party leaves the hostel and other guests can enjoy the quiet.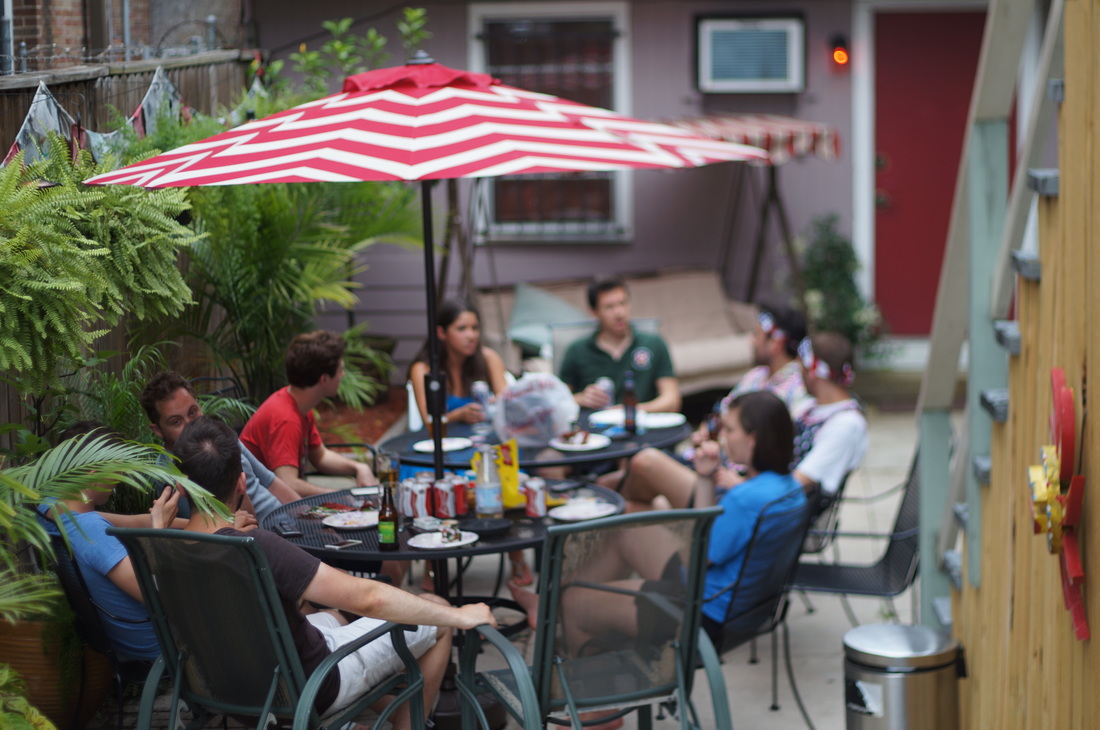 In expensive cities, it's all the more important for hostels to offer low-cost activities for price-sensitive backpackers. In Las Vegas, Hostel Cat kicks off the party with a pregame in the courtyard, and then offers deals and a shuttle to local nightclubs, ensuring that guests on a budget don't get priced out of the city's nightlife. Another good example is USA Hostel's Hollywood Hills Hike. This is led by hostel staff and provides guests with a free alternative to the otherwise expensive Los Angeles activities. In our experience, the best balance occurs when hostels offer a mix of activities both at the hostel and the local area. 
Hostel-Run vs. Third Party 
Besides deciding whether to offer activities inside or outside the hostel, you should also consider who will operate the activities. Although the hostel may be able to operate its own activities, it might save you time, money, or cut down on risk to use a third party. Considering all of the factors involved in operating the activity is important when deciding whether to do it yourself or use an outsider. 
Many of the hostel owners we spoke to cited liability as the biggest reason for choosing to partner with a tour company. Drifter Jack's Hostel offers river tubing and brewery tours from a third party. Andy, the owner, said in addition to it being too much work on his own, he can feel confident because the tour company has done all the research on safety and insurance needs. He believes that a tour company can provide a consistent experience with a level of guaranteed quality every time. With the United States being as litigious as it is, working with a third party is a great way to offer fun activities to your guests while shifting the risk, and cost of insurance, away from the hostel. 
Not only is there risk involved with operating activities on your own, but it can be extremely time-consuming. Jason from Sin City Hostel used to take guests out in Las Vegas every night but found it draining and labor intensive. Now, he uses another company to take guests out on a pub crawl. Jason explained that managers and owners need to focus primarily on improving the hostel, not on trying to run a tour company. 
In addition to considering the time needed to operate an activity, you also need to look at the cost of equipment. Robert from Auberge NOLA bought several bicycles for the hostel, thinking guests would love this. However, he soon found himself spending hours and money on maintenance, or having to pick guests up when the tires went flat. "It started turning into a full-time bicycle rental operation, and this is not what I had envisioned," Robert said. To ease the financial burden of equipment, Firehouse Hostel offers several bikes through third party company, Donkey Republic. These are located in the building and can be rented by guests using an app, without any help needed from the front desk staff. Using a third party means that company alone will have the burden of buying and maintaining any equipment needed for the activity.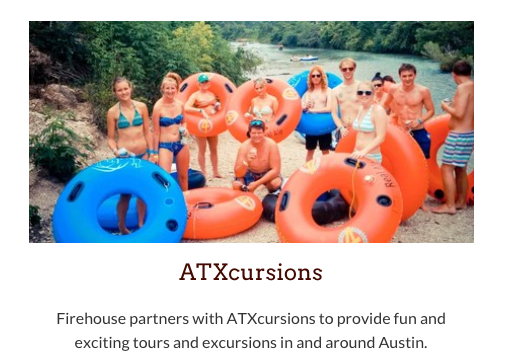 Like Drifter Jack's, Firehouse Hostel in Austin partners with a tour company for fun excursions and advertises this directly on their website. 
The more owners we talked to, the clearer it became that just because a hostel can do all its own activities, doesn't always mean that it should. After considering factors such as liability, time burden, and cost, you may find that offering an activity is more hassle than it's worth. If hostels want to offer activities to their guests at no extra headache or cost, there are plenty of tour operators that would love the business. 
Educational Events
In addition to nightlife and outdoor activities, we encountered several hostels that are offering educational programs to their guests. Some of these activities connect to the hostel's greater mission, while others simply enrich the variety of activities the hostel offers. When considering if educational workshops are right for your hostel, think about your hostel's mission and what knowledge or experience you want guests to walk away with. 
Hostel in the Forest in Georgia has a mission to impart environmental sustainability to its traveler community. This hostel is located deep in the forest, consisting of buildings made by hand by former guests and staff. They've experimented with hosting workshops based on the talents of the guests that arrive, with topics ranging from solar energy, soapmaking, and botany. The hostel is hoping to expand their educational programs and conferences since these are often the sole reason guests book their stay.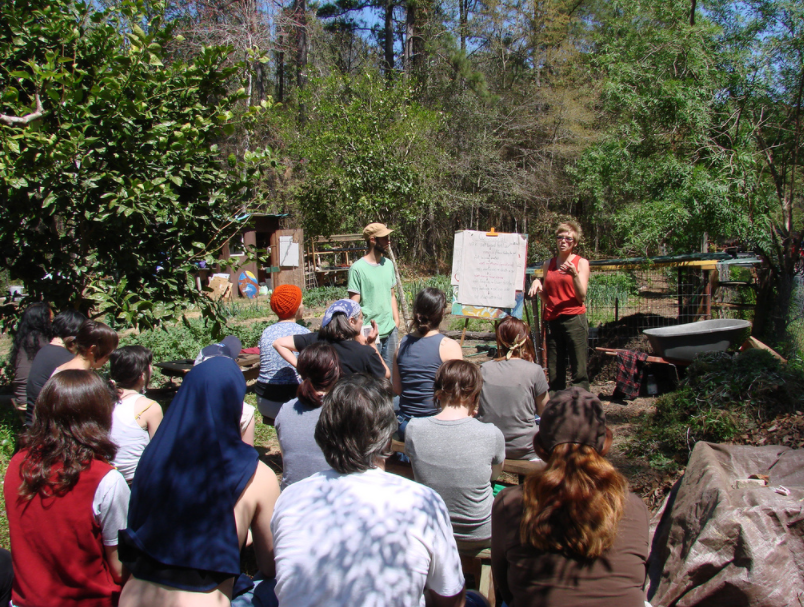 As another mission-driven organization, HIUSA offers many programs that strive to use travel as a vehicle to "foster a deeper understanding of people, places, and the world around." Their programs fall under three categories: Environmental, Cultural, and Travel Education. As part of their commitment to cultural exchange, HIUSA hosts two yearly events, Sleep for Peace and IOU Respect, and several ongoing courses like Cultural Kitchen and Community Expressions. In these classes, participants learn about another culture and demonstrate their knowledge through cooking, art, or dance. HIUSA also offers travel education seminars including World Travel 101 and Women Traveling Solo, which provide information ranging from booking cheap flights to packing like a pro. These programs all go back to HIUSA's goal to produce global citizens and facilitate interaction with diverse communities. 
Aside from mission-driven education, Freehand Hotel in Chicago has seen the benefit of offering education as a way to provide value to guests. On their activities calendar, you can find DIY dreamcatcher classes, calligraphy workshops, cocktail classes, SUP yoga, architecture tours and free walking tours. Guests have been receptive to these activities, especially travelers that are used to staying in hotels where activities aren't typically offered. 
Consider the ways that you can engage with your guests through education. Do you have a staff member from a different country? Encourage them to spread cultural exchange by hosting a dinner involving cuisine from their country. Or perhaps you can differentiate your hostel from others by offering a class about travel hacks. Think about how you can shape the guest's experience and provide value outside of simply being a place to sleep. 
Summary 
Hostels have a variety of ways to connect with guests to provide an unforgettable experience. Finding the right activity for your hostel will depend on your property, location, mission, demographics, and resources. No matter what activity you provide, it is important for hostels to continue strengthening their engagement with the guest, as this is a key factor that sets hostels apart from other lodging options. 
How do you engage your guests? What is the biggest crowd pleaser at your hostel? What's the most unique activity you offer?