Not all in life is as it seems. If you've ever been enticed by a fast food burger commercial you know what I mean. Forget that the meat actually looked real through the magic of HDTV. What really got me was the crispy lettuce and juicy tomato, so fresh out of the garden they bore water droplets. Just looking at it made me think I was about to eat a meal so healthy even quinoa would be jealous. I'm sure you're all shocked to hear that reality turned out somewhat differently. Unfortunately this scenario happens in many life situations, and hostels are no exemption.
I recently stayed at Adventure Queenstown in the south of New Zealand. Rated 97% on HostelWorld, it was quite susceptible to the fast food predicament that had so often in life left me feeling disappointed and wanting more. Being the ultimate optimist, I still went with high expectations, though I wondered if the reality could live up to the hype. But…WOW. As objective as I can be- in that I look at hostels not only as a guest, but also as a manger- I truly believe this hostel deserves the superior ratings and reviews it has consistently received over the short two years it's been open. In fact, it's probably an even bigger testament to the hostel that I say that as a manager and not only a guest. I know how skewed reviews can be, and have a much more critical eye since joining the industry side of things.
Adventure Queenstown has beautiful facilities, wonderful customer service, and a warm, energetic atmosphere. However, the biggest impression that struck me over and over while staying with AQ was the exquisite attention to detail. Literally dozens and dozens of small details had been thought through by the owner and manager, Brett. It wasn't just that certain features existed as they do in many hostels, but that their function, style, appearance, usefulness, etc. etc. had also been taken into careful consideration. Many hostel dorm rooms have a light next to each bed; AQ dorm rooms have specifically sought out 'bendy' lights, with a bright yet direct light to avoid lighting up the entire room. Many hostels have extra pillows if you ask; AQ's standard dorm set up is 2 pillows per bed. According to Brett, a very small investment that makes a huge difference to the guest. Floor towel in front of the shower? Great, until you are the 3rd person to stand on it and it's soaking wet. At AQ, simple teak wooden mats adorn the top of each towel, ensuring freshly washed feet stay comfortable and dry. (On that note- one of the only hostels that was so impeccably clean, I had no problem showering barefoot.) Clocks in dorms were bought specifically because they don't tick loudly. Hooks were literally everywhere. Shower heads were not just high pressured but also extendable, which apparently is a moment of excitement for many male Dutch guests. (Having lived in Holland, I can understand this. Being only 5'3" (1.6m), walking through a bar there was like a hobbit trying to part a sea of giants.) There was even a small radiator in the communal bathroom. One of those details you don't think about, until you're in a bathroom that doesn't have heating. If I really wanted to sit on an ice block when I need to take a wee, I would try out life as an Eskimo, not head to a hostel.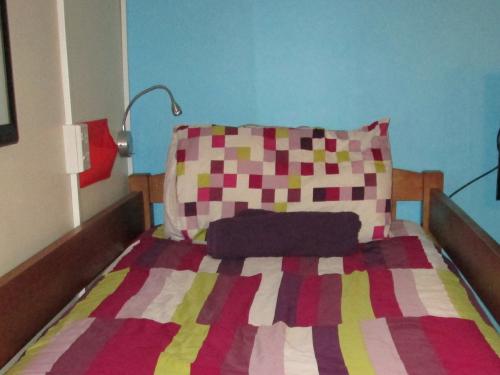 Bendy lights, double power points, pouch for your belongings, two large pillows and a towel on every bed....quite the set up!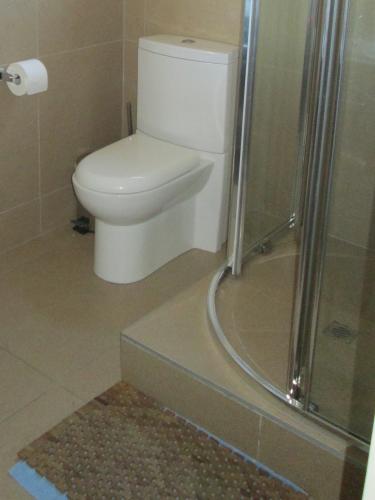 Gorgeous bathrooms are throughout Adventure Queenstown, with great touches such as the wooden bath mats.
The girls-only dorm room had a huge mirror with a power point...right next to the mirror! What logic! No more awkwardly stretching half way across a dorm room in attempt to actually see yourself as you dry your hair. Since I've been convinced for years that architects must only be male, otherwise female bathrooms would have 10x as many stalls as male bathrooms, I was extra shocked to find out this wonderfully small detail was thought of by a man. Well done, Brett. The kitchen was not only gorgeous but also organized to efficiently manage traffic flow. Multiple 'stations' were set up twice a day with cutting boards, pots, pans, and other crockery so that once you started cooking in one spot, you didn't need to cross the kitchen constantly for other items. This is a perfect example of one of the many details likely overlooked by a guest, but made daily operations run near flawlessly. There was also an egg bowl (take an egg, leave 50 cents) that I thought was brilliant. Sometimes I get the urge to cook eggs while I travel, but don't want to buy a whole carton. Sometimes I also like the idea of something more than the thought of actually doing it, which is why I ended up with toast and cereal for breakfast every day. But hey, if that ever changed, a gourmet omelet was only an egg bowl away.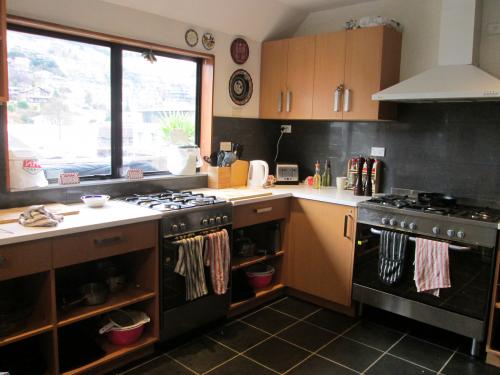 Not only 3 ovens, but also an abundance of cutlery and crockery in multiple spots.
Small touches, big difference.
From a guest viewpoint, many small details made a big difference in my stay without even consciously realizing it. It just felt like the overall package was there. There may be other hostels out there that have amazing beds or wonderful social events or other specific areas where they excel. However, I'd venture to say that there are only a handful of hostels in the world that truly excel across the board like Adventure Queenstown.
From a management viewpoint, it was a great reminder of what a difference small details can make not only to the guest experience but to business and operations. One of my first follow up thoughts to 'wow, look at all these extras' was 'this must have cost a fortune'. I was very impressed to find out that AQ has been profitable from the first month and was even full on their 3rd night open. While admitting they did take some financial risks that luckily panned out well, their mindset was to do it right from the beginning. Brett explained that though some things initially cost a lot, many of the little extras they thought of weren't big financial drains. For instance, putting in dimmer switches in the dorms didn't cost much more than installing the lights to begin with. Doubling up on pillows was a very small investment that provides that extra something. Power points needed to be installed no matter what; choosing a next-to-the-mirror location was just great planning.
A hostel can have every amenity on the market and more, but if it lacks in atmosphere and service, it won't make a lick of difference. The real reason Adventure Queenstown is such a fantastic hostel is that every single decision and detail is rooted in customer service. The extras are there to enhance, not provide, a superior guest experience. The latter is the job of a fantastic staff and a manager mindset that is completely guest-centered. Brett's philosophy is "worry about the money you'll make next month, not today." What a simple, but effective way to run a business. Focus on the happiness of your guests now, and you'll consistently have higher occupancy to come. He feels he doesn't have to nickel and dime guests once they have arrived, because he designed a hostel that has every extra already built in. From the moment the guest arrives, the staff can focus on great customer service instead. Brilliant. So before you run out and start buying the perfect bedside light or build a kitchen with a robot who does the dishes for you, remember than no extra detail is complete without true customer service to back it up.
What are some of the 'extras' that you like to provide guests? Do you find guests notice the small details, or do these just enhance the overall experience? What are some things that make your guests say 'wow!'? Sign in and comment below.
Keep Following Along:
<< My previous post: Preventing Burnout: Keeping Your Sanity, Investing in Your Future
>> My next post: Seeing Potential, Desiring to Change, Working to Grow
Just joining the show and don't know who I am? Check out my introductory blog post.
As always, send any suggestions, questions, or thoughts on the blog my way: [email protected].
Peace & love,
Courtney
P.S. Don't miss out! Follow HostelManagement on Twitter if you would like to receive updates when new my blog posts are made.