All good things must come to an end, which is why I've stopped drinking. Wait…traveling. I've stopped traveling. Though they did begin to feel like one in the same at some point. Sadly my four months in NZ & Australia came to a close last week, and I am now back in the US. Yes, I had a blast, but it wouldn't have been a productive time if I hadn't learned something besides how to blow up a goon bag into a pillow. Luckily for me, and now by proxy, for you, I learned heaps.
The next series of blog posts will be summing up 'Tips & Tricks' I learned from the 32 hostels I stayed at and the couple dozen more I toured. Like all of my posts, they are mostly observations as a guest, thought about from a management standpoint. Some I saw at several hostels, while others were just one particular place here or there. If the latter, I will try to credit those hostels as best I can. There are also a few that I haven't actually seen done, but were ideas of mine thought up along the way.
So here we go. Tips & Tricks, Part 1: Reservations & Check In.
Reservations
When sending a confirmation email, have links to FAQ such as how to get to the hostel from the airport. This will hopefully save your reception inbox from the same repetitive time-sucking questions.
In the above confirmation email, it's helpful to include attraction highlights or links for 'things to do' info. This can help the guest get excited for and plan his stay, while also subtlely showing him just how much there is to do in your city. Perhaps he will consider staying an extra night or two to catch that upcoming performance this weekend, or squeeze in a day trip he didn't know about.
Since we all know nobody seems to read anything anymore, consider a video with the above information instead, which can be more engaging. For example, the Abraham Hostel has a video on their website explaining how to get to the hostel from the airport. Highly more exciting than reading the options. Not only is the guest more likely to watch it than read, he or she will start to get a feel already for the fun personality of the hostel.
Videos can also be good for highlighting top attractions. They can be made quite easily with simple software and a little patience. The contest video I made, which many of you have seen, was made using only iMovie with photos, short video clips from my phone, and voice overs recorded straight to the program. (Yes, that was a shameless plug, and yes, you should all still click that link and hit 'like' on my video).
Check In
As part of check in, give the guest a tour of the hostel. It is easier to explain things as you are showing them, makes the guest feel more welcome, and gives you the opportunity to introduce them to at least one other person, hopefully by name. Take a quick glance at the room list before you take the new guest to the dorm. If you run into a dorm mate of theirs, you are now more likely to remember who it is and can introduce them. Any way you can help foster community is generally a plus, and it starts at check in.
Taking a guest on even a brief hostel tour during busy times can be tricky. Utilize your other staff to keep traffic flowing. For example, have staff member A check the guest in with the admin, then have staff member B take them around the hostel. Staff A can then begin checking in the next person while B is gone. Another option is to have the 2nd arriving guest do a hostel tour first and then return to check in properly. This way the staff don't need to give back to back 'tours'.
If you have something that could potentially be seen as negative by a guest, point it out from the beginning so you can explain why you do it as you do, and more importantly why that is great for them. I explained this in detail in Part 1 of my Complaints post.
Be sure ALL of your staff are trained on the unwritten (written here) golden guest screening rule: If you wouldn't feel comfortable sleeping next to that person, neither will anyone else. Don't let them check in. Far better to prevent a problem than fix one.
Put room keys on some type of lanyard. It makes them easier to keep track of for the guests, and can help staff quickly recognize who belongs in the hostel. A quick glance to the wrist or neck shows that yes, indeed, that crazy half naked hippie has in fact paid to stay here. Lovely.
Close reception and still have the ability to offer after hours/late night check in. I have seen this at several hostels in a variety of similar ways. It is usually some version of giving the guest the gate code ahead of time in either a confirmation email or over the phone (or having the night watchman let him in). The guest then finds an envelope or card waiting for him at reception with key, room number, and a few hostel details. The guest then checks in properly in the morning. For obvious reasons, this is only done for prepaid reservations (as far as I have seen).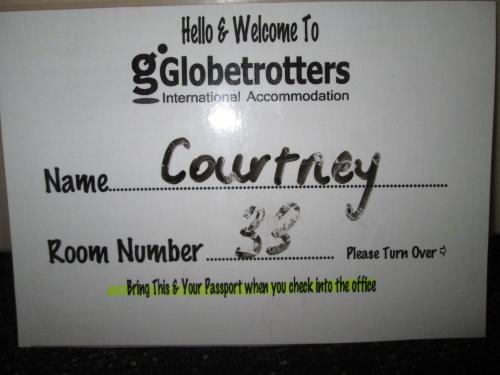 The front of my late night check in card at Globetrotters International in Cairns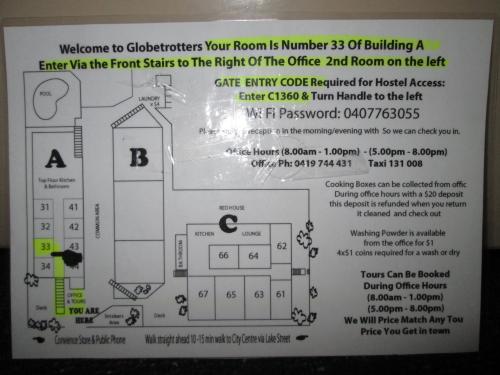 The back of the card, which also had my key taped on.
Have a system for notifying staff when a guest has arrived so that they don't have to physically man the desk during slow periods. I have seen this at nearly half of the hostels I went to, usually using the phone paging system as seen below at the Prince Albert Backpackers in Nelson, NZ: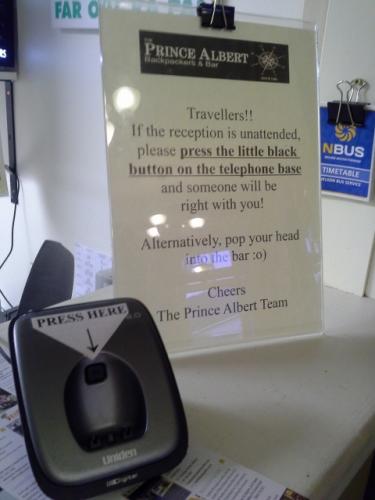 Many hostels also list a phone number to call if a guest needs help outside of normal reception hours. Beachside Backpackers in Port Macquarie did this with a chalkboard paint door: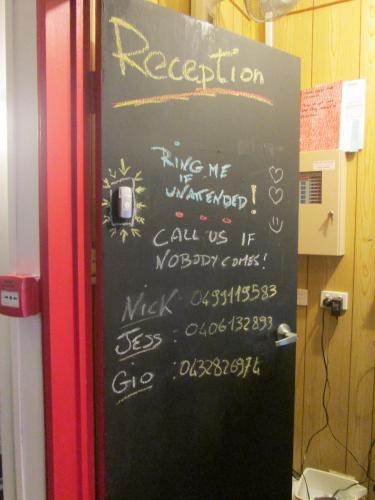 If possible, offer a late or flexible check out. Tasman Bay Backpackers did this and I thought it was a really nice idea. In reality, it's probably because in winter they are slower and need less time to turn over the beds, but as a guest I thought 'Aw that's so nice of them. I'd love to sleep in once!'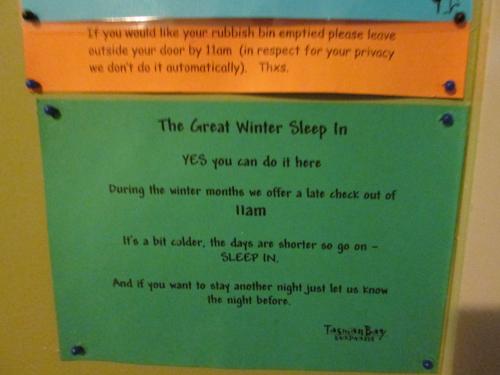 What are your other tips & tricks for checking guests in or out, and handling their reservations? Sign in and comment below.
**I know many of you comment on these blogs on the site's FB page, which is great, but it would be even better to have the comments directly on here for everyone to read. Thanks for your input and helping to further our knowledge!**
Keep following along:
<< My last post: Complaints, Part 3: Responding to Negative Reviews
>> My next post: Tips & Tricks, Part 2: The Kitchen
Just joining the show and don't know who I am? Check out my introductory blog post.
As always, send any suggestions, questions, or thoughts on the blog my way by emailing me here.
Peace & love,
Courtney
P.S. Don't miss out! Follow HostelManagement on Twitter if you would like to receive updates when new my blog posts are made.