Find a great hostel, and you've likely found great communal space within that hostel. Hanging out with other travelers is an integral part of hostel life, and having a great space to do it in can make or break a hostel. I found some wonderful examples and ideas in Australia & NZ, which I have shared below. This post focuses on indoor areas; outdoor areas are to follow. Enjoy!
Albatross Backpackers in Kaikoura, NZ, had one of my favorite common areas for several reasons which I talk about in a previous post. But a few highlights include: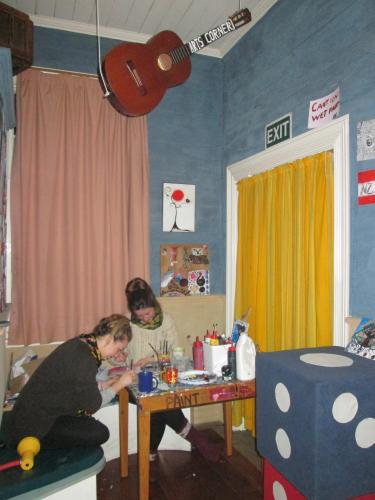 An arts corner for guests to paint small canvases which then adorn the walls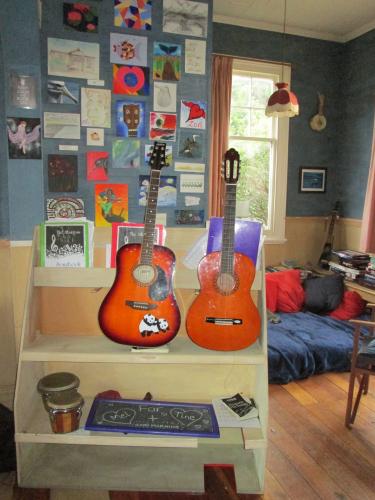 Guitars, djembes, ukeleles, and other instruments for guests to jam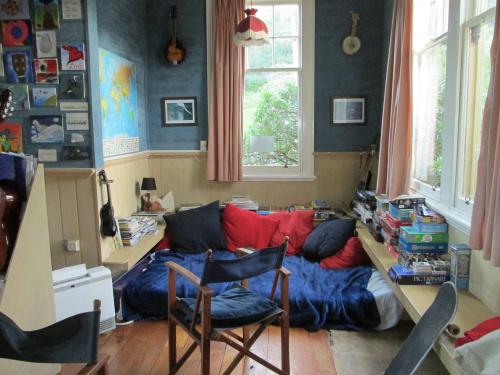 A lovely reading nook simply made out of a mattress on the floor, blankets, and pillows.
A large wall map of the world can be a great visual conversation starter (until every guest has their face in a computer or phone, which is another problem unto itself…)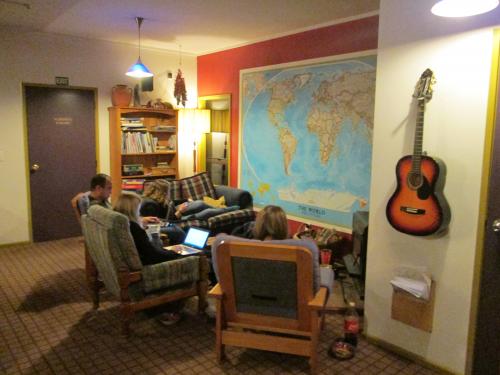 Wall map at Tasman Bay Backpackers, Nelson
A large wall map of the local area can be a creative reminder of nearby attractions, as well as aid in giving directions.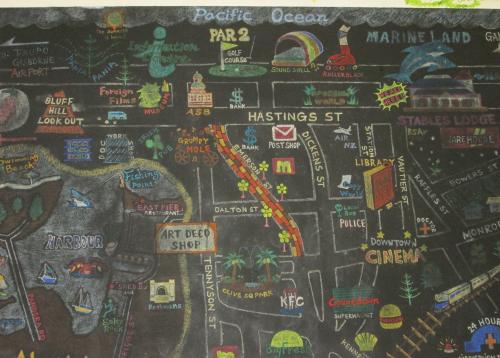 Area map of Napier on chalkboard paint at Stables Lodge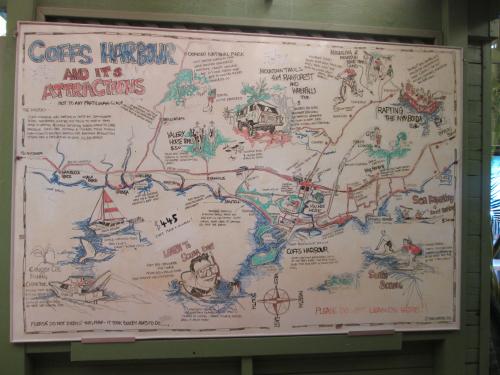 Area map of Coffs Harbour on white board at Aussitel
If you have the space, a 'computer/work' area which is relaxed but separate from your chilled out lounge area may keep the atmosphere in your hostel alive. I know a few hostels on this site have mentioned they have done this, in an effort to prevent the entire atmosphere from becoming stagnant with guests buried in screens. There are legitimate reasons for guests to use wifi, but those who are device-less aren't so keen to strike up conversation when they are surrounded by it.
If you are going to have a TV, consider having it in a separate area from your main common space. This will allow other guests to be able to hang out without trying to talk over the TV.
One hostel told me they kept the TV in a separate area so that it could be used 24 hours. They found a large majority of their guests were from the UK and liked to keep up on their football matches, which were often shown at odd hours of the night due to the time difference. I thought this was a good reminder of knowing your guest and what may fulfill their needs or desires.
At Adventure Queenstown, the video games are controlled from reception to make sure they're not being abused/ overused/ etc. for others who also want to use the space.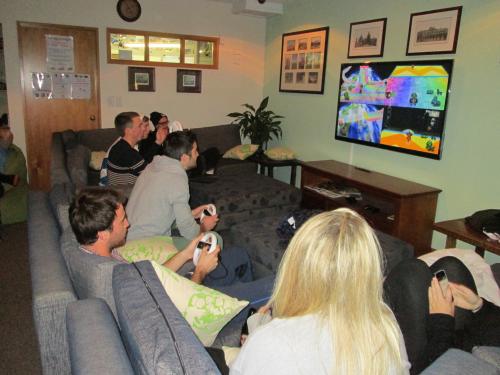 Practicing for the weekly Mario Kart Tournament at AQ
Use your space creatively. Paradiso in Nelson added an extra reading/chilling out nook above the reception area by building a loft: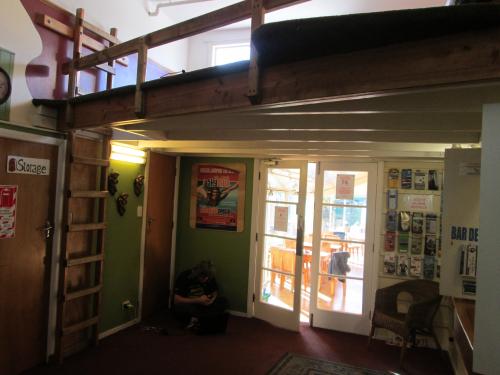 Another creative use of space I saw was at the YHA in Nelson. They have a ping pong table which is actually made from four normal square tables pushed together. When they need the extra space for dining, they simply pull the tables apart and add the chairs. It avoids having to find a place to store which ever type of table is not in use.
Chalkboard paint is very popular in hostels for all kinds of reasons. I've seen it used on walls for maps, local attractions & tour info, ride share messages, and even guests' answers to the statement above "What I want to do before I die", which I saw at Backpackers by the Bay in Airlie Beach. I've also seen it used on doors for changing artwork.
If you want to add some more permanent creative touches to your ceilings or walls, don't underestimate the talents of your guests. Many hostels I stayed at had fantastic artwork done in exchange for accommodation.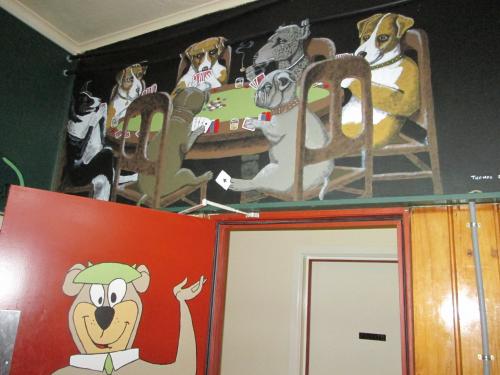 Dogs playing poker mural done by a guest at Cactus Jack in Rotorua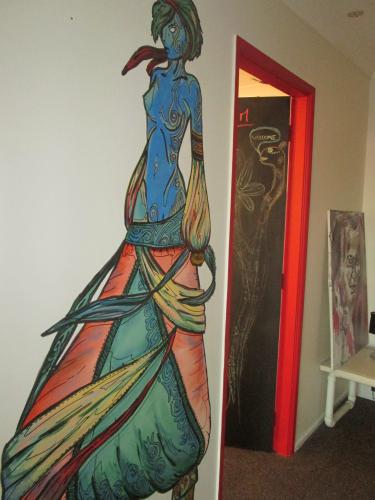 Artwork by a dorm at Beachside Backpackers in Port Macquarie, who also has doors covered in chalkboard paint for changing artwork.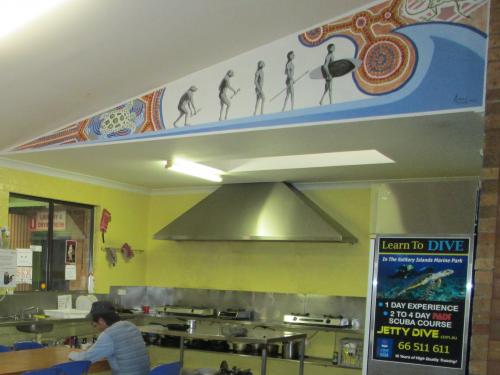 Evolution of the surfer at Aussitel in Coffs Harbour
What do you think makes a great common space? What are your other tips & tricks? Sign in and comment below.
**I know many of you comment on these blogs on the site's FB page, which is great, but it would be even better to have the comments directly on here for everyone to read. Thanks for your input and helping to further our knowledge!**
In case you missed it:
<< My last post: Tips & Tricks, Part 4: Rooms
>> My next post: Misadventures in Hostel Management: A Look Back
Just joining the show and don't know who I am? Check out my introductory blog post.
As always, send any suggestions, questions, or thoughts on the blog my way by emailing me here.
Peace & love,
Courtney
P.S. Don't miss out! Follow HostelManagement on Twitter if you would like to receive updates when new my blog posts are made.