Someone once told me a brilliant idea for a hostel tshirt. It was basically along the lines of "My name is ____. I'm from ____. I'm traveling for ____ weeks/months. I'm going to ____ next." The guest could just fill in the blanks with a marker, and thus avoid the standard hostel small talk. At one point in my travels I was so done with that particular monologue that I was ready to write it on my forehead. So naturally, I thought it was a great idea. I've also reached that point more than once while working in hostels, as I'm sure many of you have.
There are crappy parts about the travel experience, for both the guests and those serving them. They are inevitable, but some places just seem to rise above it. They appear to give a flawless guest experience, and the travelers forget their worries or annoyances, leaving in a state of bliss. They are some of the best hostels in the world. But how do they do it?
If you haven't caught on by now, each month HostelManagement picks a theme. We organize a panel discussion around this theme with various owners/managers worldwide. Before that happens, I get the pleasure of writing about it from my own experiences as a hostel manager, and sometimes guest. This month's topic is basically "The Best of the Best". The panel discussion will take place live from the Unconference in Madrid, and feature "Hoscar" winners and top-rated hostels.
Though a hopeful future hostel owner, that day hasn't come yet, so I couldn't really write on how I got my amazing hostel up and running, or what inspired me. To be fair (and toot my own horn, beep beep!) the hostel I manage in San Francisco, Pacific Tradewinds, is the #1 hostel on TripAdvisor in SF. Until we took ourselves off HostelWorld last year, we were also #1 on there. However, I was lucky enough two years ago to take over the hostel already holding that status. I wanted to think about how hostels got there to begin with, not just stayed there. Luckily I've been to several top-rated hostels, so I racked my brain on what these all have in common. Below are my observations, from both discussions with owners and experiences with guests.
As that first example showed, small talk sucks, for everyone involved. Pushing through it takes effort, and I've noticed that the best hostels have a genuine interest in making connections with their travelers and getting to know them as people. Staff are clearly trained well in facilitating these interactions, but perhaps more important is that the right staff were chosen to begin with. Fellow backpackers who now have a desire to share their home and community with the rest of the travel world. Or those who are trying out a new country and are eager to explore it alongside new guests, together. Staff who see this as not just a job, but a once-in-a-lifetime experience to connect with friendly faces from another corner of the globe. On that note, I don't think I've ever made cleaning toilets and answering the phone sound more glorious. Reminds me of this meme: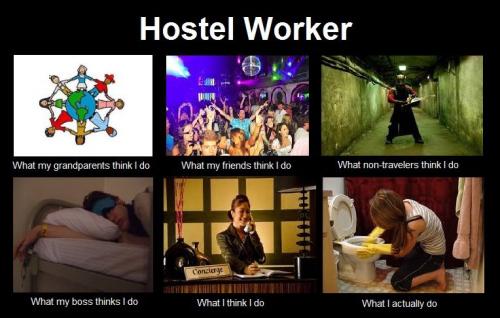 Ahh truth. Photo credit to The Hostel Worker
People often ask if hostels are profitable. I've seen everyone from guests to personal friends try to do the math quickly; thinking of our nightly rate, number of beds, etc. When they look to me for the answer, it's never a quick one. Yes, of course, most hostels are profitable. At the end of the day, we are not shelters or charity houses, we are businesses. (May need to remind that to the hitch hikers looking for a free bed, or the guest who thinks "free breakfast" really means "all you can eat brekkie/lunch/dinner buffet shoved into your backpack at 9am").
However, one definite commonality among amazing hostels is that it's not about the money. Though large hostel chains have their own merits, it's no secret- by both traveler opinion and industry awards- that the best hostels in the world are usually independent and often owner-operated to some extent. These people have poured everything they have into their properties. Blood, sweat, and tears style they opened up hostels out of a love of backpacking and community, not to strike it rich. And it shows. Not because they aren't successful (I'm sure some of these great hostels actually turn a pretty enviable profit!), but because that genuine love of lifestyle is palpable throughout the guest's experience. ...Also because no one hates feeling ripped off more than travelers with $300 backpacks haggling over $0.50 at a foreign market.
The owner of my current hostel once told me that travelers don't go around with mental checklists, ticking off that everything is in order. "Oh, stairs were vacuumed; check. Activities updated & posted; check. Staff anticipated my needs and fulfilled them; check." Ok, maybe some do, but the majority of people just take everything in as it comes. It's only when things start to go wrong that their eyes, ears, minds get more critical.
A staff member is cold or rude to a guy, and suddenly he thinks the bathrooms are really dirty and the atmosphere sucks. Or, on the other hand, a guest doesn't specifically notice that the bed was made nice and taught, or that the grout in the bathroom tile was scrubbed white, but has a general feeling that the place is super clean and therefore leaves happy. Great hostels avoid problems escalating and create superb environments by having proper tools and procedures in place. These help to maintain a consistent atmosphere and quality of service, especially when paired with solid staff training, follow-up, and quick thinking when eventually something goes belly up. And you know it will.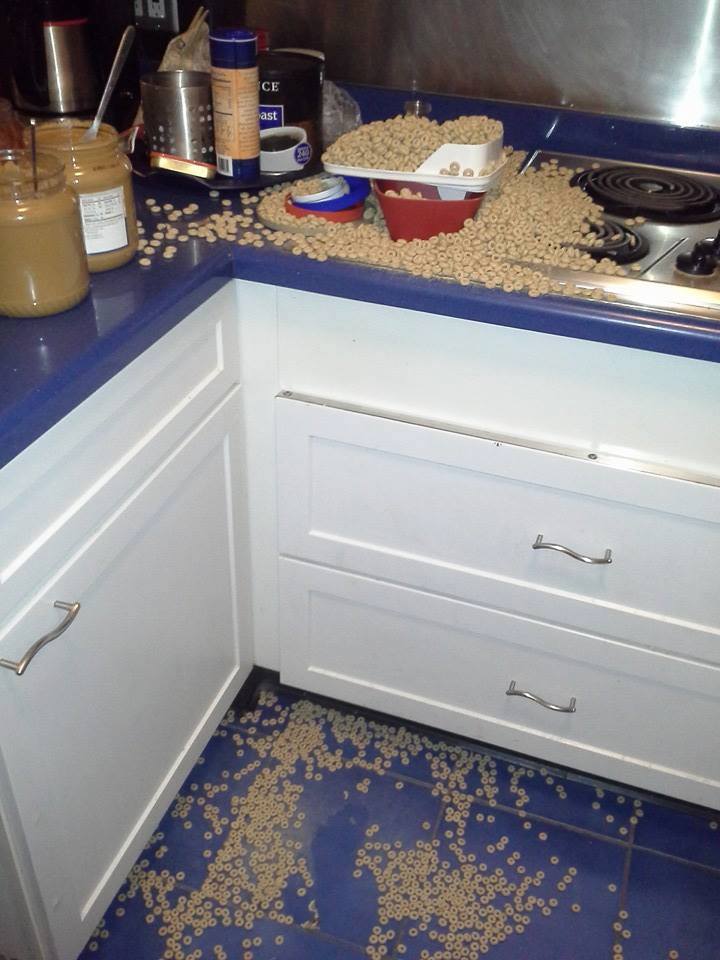 I just wanted to put out breakfast that day.... :-/
One last thing the best hostels have in common? They don't stop. As the infamous dance teacher Abby Lee Miller says, "It's easy to get to the stop. It's much harder to stay there." Yes, I did just quote Dance Moms, a horrible reality show I may or may not have binge watched in a past life. But the sentiment rings true. Amazing hostels don't stop caring when awards start pouring in and ratings skyrocket. They keep trying, keep innovating. They make changes when needed, and aren't afraid to try new ways. I would also venture to say that this has much more to do with pride and passion about their hostel, than simply staying number one. Just like money is often not the main motivator of fantastic hostels, the only people who will put in the effort required of a top-rated hostel are the ones who truly care.
So, to sum up-
It's not about the money, it is about the connection. It's not about the awards, it's about the pride of self and service that led to receiving those awards. Mostly, it's about doing whatever it takes to give a consistently amazing experience. Not everyone can receive an award, and the hostel industry has some truly wonderful unrecognized gems. To those who have received any type of award or recognition, I have no doubt it was well deserved; congrats! But, I have a strong feeling you would create these brilliant places to share with us regardless of the gold star. 
Want to find out the good stuff from the people who are responsible for it? Check out our March Panel Discussion, live from the Unconference in Madrid! Monday, March 16th @ 16:00 GMT. Details can be found here.
What do you want to know about being the best? What questions do you have for these industry leaders, or anyone awesome for that matter? Sign in and comment below!
**I know many of you comment on these blogs on the site's FB page, which is great, but it would be even better to have the comments directly on here for everyone to read. Thanks for your input and helping to further our knowledge!**
In case you missed it:
<< My last post: Consistency: Keeping It All Together
>> My next post: Adding Bars & Restaurants: Extra Value or Extra Headache?
Just joining the show and don't know who I am? Check out my introductory blog post.
As always, send any suggestions, questions, or thoughts on the blog my way by emailing me here.
Peace & love, 
Courtney
P.S. Don't miss out! Follow HostelManagement on Twitter if you would like to receive updates when new my blog posts are made.