After my 15 hour near-luxury flight from LA (it's not often I end up with 2 seats to myself), I arrived at Sydney International Airport at the bright hour of 6am. I thought it might be a bit early to check in, so I scammed free wifi at the airport for a few hours before heading into the city to Bounce Sydney, my first hostel. The directions on the website seemed easy enough. The city train left straight from the airport, and only 4 stops later you are at Central Station, just across from the hostel.
In fact, taking only 15-20 minutes, the journey was so short compared to the $16 price tag that I thought perhaps I had it wrong. Fortunately, I was correct; unfortunately…I was correct. That was my first intro into how expensive this city is, which I've found to be a common theme in many conversations among backpackers here. At least I wasn't alone in sticker shock!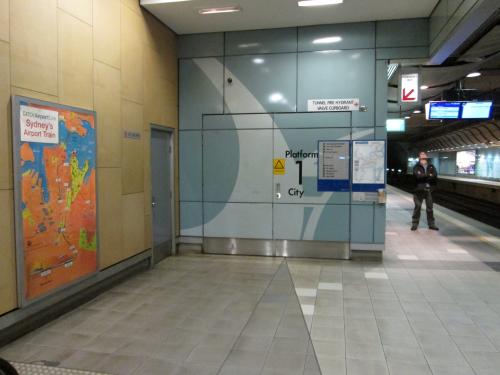 I was greeted by friendly reception staff, and just a minute later by Mark, the GM of Bounce Sydney. He couldn't have been more helpful and accommodating. As I mentioned in my first blog post, he was kind enough to put me up in a private room so that I could rest up after my long journey. So after a quick intro to the city, I went to my room to get settled, i.e. emptying my entire bag as if I was moving in for the month. Yea, that's going to be fun to repack later. Whoops. Besides the fact that I now had clothes, shoes, and toiletries everywhere, the room was pretty immaculate. Luckily I took a picture of the room before it looked like a 5 year old had a slumber party in it. My backpack nearly looked out of place, the room was so nice. Definitely superb quality. The queen bed was extremely comfortable, there was a large plasma tv with free cable, extra towels, and a wardrobe for hanging clothes. I guess I forgot about that last amenity, as the majority of my stuff ended up on the floor. You can take the girl out of a hostel, but you can't take the hostel out of a girl? Right. Sorry mom, I'm sure you're cringing right now.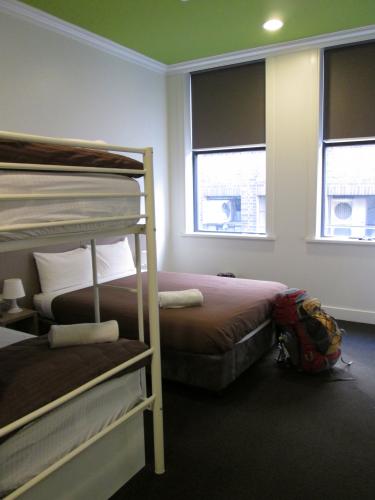 Shortly after I had successfully marked my territory with my possessions, I was able to meet with Mark. After seeing my room and beginning to get a feel for the place, I was very curious to know more. He gave me a thorough tour of Bounce and we had the chance to talk about a variety of highlights, issues, and challenges. There were many wonderful features of Bounce, and my overall impression of this place was 'quality, quality, quality'. There is a clear emphasis on having a certain (read: high) standard of service. I get the impression that when guests come to Bounce, they know their expectations will be met. We've all been to hostels that sound great online, but come up short in reality. That was certainly not the case here, and it was very clear to me why this hostel has such high ratings and reviews.
As I walked up to Bounce, one of the first things I had noticed was the name on the building, 'Bounce Hotel'. I thought, "Oh, they call themselves a hotel? I definitely didn't notice that on their website." I asked Mark about this, and we had an interesting discussion about hostels vs flashpackers vs hotels. Turns out that though it was always backpacker accommodation, this place started out in name as 'Bounce Hotel'. However, over the past year or so, all of the branding has been switching over to 'Bounce Sydney'. In fact, the only thing that remains with 'hotel' in the name is the front of the building. Being across from central station, this makes sense, as foreigners can easily see that accommodation is available here. Bounce is essentially a hostel/hotel crossover. Or perhaps it could just be considered a 'flashpackers'. The brilliance of being called 'Bounce Sydney' instead of 'Bounce Hostel' or 'Bounce Hotel' is that they aren't limiting themselves to one certain type of guest. 'What' they are simply comes down to guest perception. To most, they are a backpackers hostel. And while many of those key elements are clearly present- shared dorm rooms, common areas, kitchen, organized activities-, the accommodation is certainly upmarket. The dorms are of the highest quality with huge lockers with power points, individual reading lights, tons of space, and solid beds. To others, they may seem like a funky, boutique hotel. The private rooms, as stated before, are wonderful and the well-designed physical layout keeps noise confined to certain areas.
A common challenge for many hostels is receiving hotel-type guests who do not have their expectations met in a hostel environment. While some may book Bounce as a hotel in mind, it's also fairly clear from their website that though high quality, this is backpacker accommodation. I thought that was an important thing to remember: the more a guest understands what type of accommodation situation they are booking, the better. One more reason to have a great website with lots of visuals, especially if it is not translated into other languages. I'll be honest, even though I had looked through Bounce's website and knew it was a great backpacker place, when I saw 'hotel' on the building my heart sank a little. In my mind, I am not at all interested in hotels, and my first instinctual thought was, "I'm a backpacker! I want atmosphere and people and even a bit worn facilities as long as the soul of the hostel is there."
But that's where Bounce is doing it right. There is plenty of vibrance and atmosphere in this place. Being a purpose-built facility (which I think any hostel owner is envious of), the owners of Bounce were able to design a building that provides the facilities to meet backpacker needs (like an amazing rooftop terrace with barbecue area), but also cater to those who might be looking for a quiet, private room. For instance, each floor is laid out with the larger (i.e. louder) dorms on one end, smaller dorms in the middle, and the private rooms on the opposite side of the building. They have certain rules in place which help logistically, but also help with the crossover guest population. For instance, the rooftop and kitchen areas now close at 11pm though they previously stayed open. This has solved a lot of problems and received very few complaints. Instead it has actually deterred complaints. Whereas before people would be out drinking till all hours of the morning being loud and leaving messes for the morning, now people generally take their party to the pub. It helps keep the facilities clean but it also prevents potential hotel-type guests from being upset with a party atmosphere. I wouldn't say Bounce is a party hostel, but there were definitely some fun times happening while I stayed here. I'd be lying if I said I hadn't indulged in a shared bottle of rum on that rooftop terrace. However, from a management perspective, the beauty of this building is in the layout. Any party situation is confined to the 4th floor, well separated from where a quiet-seeking guest would stay. There is plenty of atmosphere here, but there is also choice. That doesn't always happen in a hostel. So often you are subjected to whatever the majority of the guests are feeling that night, and if it's tequila shots at 2am, you best join in or suffer through. So kudos, Bounce, on providing some of the best crossover accommodation I've seen. I wasn't sure how I'd feel about a flashpackers, but it's hard to argue with quality AND good times!
Hostels come in all shapes, sizes, and styles but we often find ourselves with the same predicaments. One thing I'm looking forward to most over these next months is seeing how different hostels address these common problems and challenges. One of these is assigning/not assigning beds in dorms. I have worked in hostels on both sides of the issue, and I do think there is good and bad to each way. I've spent time reading different view points on this debate as well, on the hostelmanagement forum awhile back. (http://hostelmanagement.com/forums/assigned-beds.html) It seems most hostels don't assign beds, but one issue with this is that it gets confusing for housekeeping to know which beds need to be cleaned. Bounce has come up with a great solution to this problem. Guests are not assigned beds, however, each guest receives a small plastic badge upon check-in. This has their name, room number, and check out date written on it. When they get to their room and choose which bunk they want, they simply clip it onto mini lanyards already attached to the bed. With this system in place, new guests to the room know which beds are already taken and housekeeping knows which beds need to be cleaned. Mark also said it has helped cut down on people switching beds (i.e. their bottom bunk mate checked out that morning, so they just hop on down to a new bed) because the staff already know which bed they had claimed. Of course, a guest could still grab a new, clean bed and simply switch their tag, but the staff will figure out pretty quickly that a switch happened when there is a dirty bed with no tag. If a guest wants to extend, they simply receive a new card with a new checkout date. There is no perfect system, but according to Mark this works extremely well for them and I thought it was a great middle ground to assigning beds vs. a free for all. What do you think? Does your hostel assign beds? What systems do you have in place to prevent confusion with housekeeping? Comment below and spread the hostel knowledge love.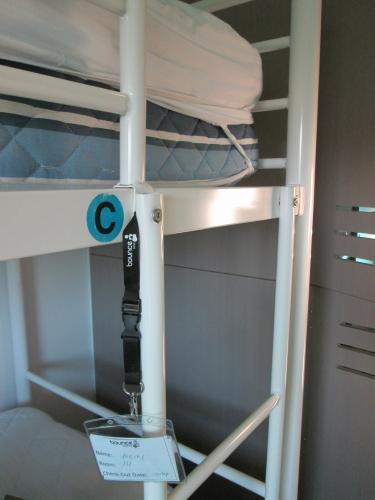 Another aspect of this journey I'm looking forward to is seeing what hostels are doing that exemplify the spirit of hostelmanagement.com. By this, I mean specific things that are working to push the industry forward. They can be big or small, together with other hostels or a solo effort, but something that is helping us all to improve as an industry. I found a great example of this here in Sydney, started by Mark himself. A collection of the hostels here now have a buying group. With this they are able to get discounts on all sorts of items. From cleaning products to a fire service and even a plumber, they are working together to get the best deals and service. He said it has helped drastically cut costs in many areas. I thought this was a prime example of working together to build up the industry, rather than just see the other hostels in the area as strictly competition. I know I've heard of other hostels working together to negotiate things like commissions and insurance. Is your hostel a part of a group like this? Are you interested in seeing this happen more? I'm sure many others reading this would be interested in hearing if you are, so please comment below and get the conversation going.
One last thing. Sometimes great customer service means providing something before a guest even needs to ask. We all know small details can make a big impact, and I found a great example of this at Bounce. While in the girls' bathroom, I noticed a sign that said "Going out? Need a hair straightener? Located on the 1st floor female bathroom." Alright, look. I know I say "I'm a backpacker, I'm a backpacker. I like ramen noodles, I love to wander new cities and I haven't showered in 3 days." (Ok, maybe I hadn't shared that last bit yet but let's be real. It happens.) However, I'm also still a girl. And I also am not blind to how many attractive men are roaming this city. Girls in a hostel in a small village or in a beach town probably don't care much about straightening their hair. (Though I can tell you that as soon as one girl found out I had a hair dryer in a hostel in Colombia, about 4 more quickly came over with excitement asking to borrow it.) But generally, no, backpackers are little to no frills. However, this is Sydney, not some small town, and Sydney is filled with posh bars and clubs. And the majority of patrons in them are not backpackers. They are real people, with jobs and money. And straight hair. And sometimes we want to be those people too. So thanks, Bounce, for providing that little extra and making us feel good, even for just one night.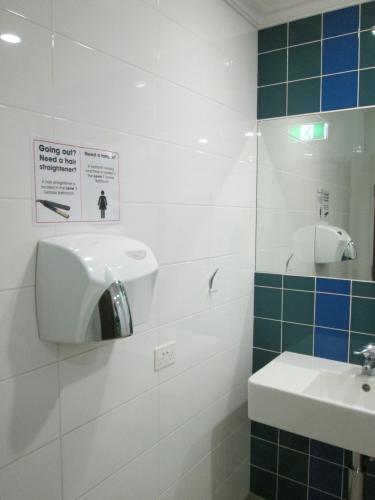 So hostel management audience. What do you think? Did this post spawn any ideas out there? Would love to hear comments back on how you market your hostel-style, what you think of the bed assigning/not assigning, buying groups, and anything else that comes to mind!
Comment below, or send thoughts my way at [email protected].
Just joining the show and don't know who I am? Check out my introductory blog post.
Be sure to keep following along:
My next post: How a Traveler's Pennies Can Become Hostel Dollars >>
Peace & love,
Courtney
P.S. Follow HostelManagement on Twitter if you would like to receive updates when new my blog posts are made.