Breaking Tasks Into Smaller Bites
I use Trello, a free project management app, to keep all of my to do lists and tasks organized. Any task I come across gets put onto Trello. There are so many ways to set up something like this, but what I found worked for me was a dual system that balanced the time it took to complete along with the urgency. I have three different Trello boards for time (10 Mins or Less, 30 Mins, 1 Hour +) and assign the tasks as appropriate.
If it's a larger task, for ex. replacing the lights with LEDs, I split it into smaller tasks. Researching costs may go on the "30 Mins" list, while ordering the ones I choose would go on the "10 Mins or Less" list. I also add color labels to these cards that correspond to the task being High, Medium or Low Priority. This helps me choose what needs to be done and when.
Scheduling My Day
As someone who has flexible time but always has a ton to do, planning my day with an actual schedule has made all the difference in the world. In the past I would only have to-do lists. These were usually too long and not structured, setting myself up for failure. So I started scheduling out my entire day. For example:
8am-9am: Check email and create tasks
9am-10am: One hour task- High priority
10am-11am: Two half hour tasks- Medium priority
11am-Noon: Shit That Comes Up
Noon-1pm: Lunch & phone call
1pm-2pm: Three 20-minute or less tasks- Low priority
I could then look at that template and slot in tasks that matched.
Specifically, it has helped me in three ways:
Allowed me to see in black and white just how much time there is in one day. There are so many days when I feel like I haven't done enough. Sometimes this is true (damn you time wasters!). However sometimes it's just that nagging feeling that comes with a hostel never-ending to do list. By seeing my day actually scheduled out (not just a list of things to get done) and then seeing each task checked off, I know I did as much as humanly possible and don't need to feel bad about it. Anything that helps me keep my sanity and not feel like a failure is just as important to me as getting the tasks done.
Stay focused on what tasks really need to get done. For instance, there's much less chance of being sucked into email, because I only have two scheduled times to be checking it. Once in the morning, and once in the evening. By sticking to the assigned task for that time slot, I am much more efficient than trying to also multitask with email or other work distractions.
Not getting frustrated when something unexpected arises, because of scheduling in 'Shit That Comes Up' slots a couple times a day. The idea is that something will always come up, and this builds in buffer time. If I have it set for 2-3pm and something arises around 11am, then whatever 11am task I had planned gets bumped until 2 and I am still able to complete my day successfully. If nothing comes up (yay!) then I can quickly pull a task or two from my master list on Trello. This keeps me on track, and therefore more efficient than if I had no buffer time and shit hit the fan.
More Favorite Time Savers
Gmail Canned Responses- allows you to have templates saved on email that you can then adjust as needed. Always get emails asking how to get to the airport? Use Canned Responses. Huge time saver!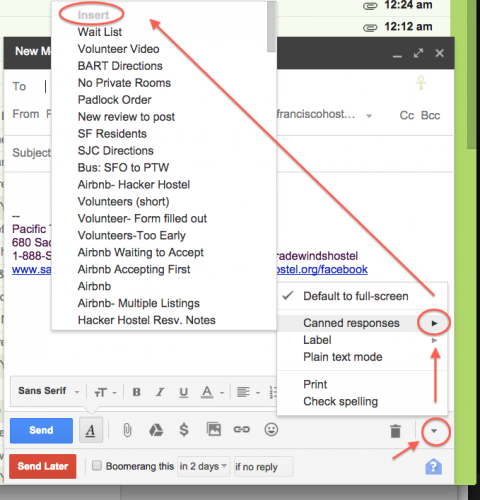 TypeIt4Me- A free app that works like Gmail canned responses except off all keyboard shortcuts, and you program what you want. For example, I found myself often introducing myself over email. So I downloaded TypeIt4Me and programmed in "mgrintro" (Manager Intro). As soon as I type in that combo of letters together, the sentence "My name is Courtney, and I am the manager of Pacific Tradewinds Hostel." just appears where I was typing. It not only does this for short answers; my entire volunteer response email (a few paragraphs) is completely saved under a shortcut.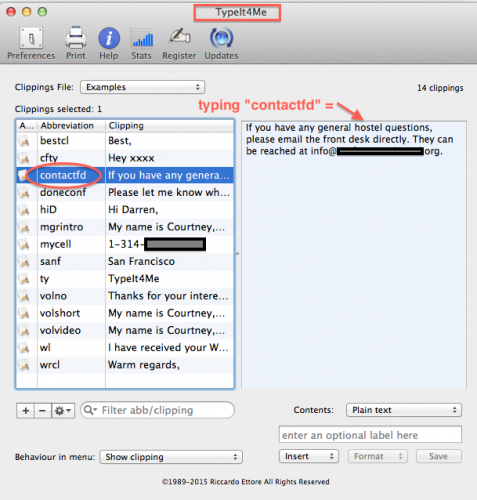 (Yes, I blocked out my cell number. I'm not that easy 
 )
Delegating- taking the 10 minutes to explain something to a staff member instead of the 30 to do it myself. Not only is keeping a small project taking time away from more imporant projects but I find people generally respond well to being given responsibility, and helps foster a sense of care about what they are doing.
Taking short, timed breaks. Yes, breaks are vital to success and efficiency! However they should be kept short *and* timed so you don't get sucked into the black hole of YouTube videos for an hour. Preferably a break from a screen if that's where you usually are. Today I did 10 minutes of yoga in the sun on the roof. ...I then got sucked into a hilarious parody video a friend sent me of Nicki Minaj, Miley Cyrus, and Taylor Swift but hey, I'm not perfect. Just telling you how YOU can be!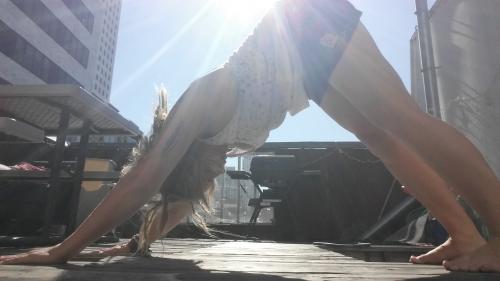 I snapped this pic to send to a yogi friend, who knew I'd be able to use it for a blog post!
...And just for your entertainment, here's the video. Thank me later.
What are your best time saving tips? How do avoid falling into time wasting traps? Sign in and comment below!
**I know many of you comment on these blogs on the site's FB page, which is great, but it would be even better to have the comments directly on here for everyone to read. Thanks for your input and helping to further our knowledge!**
In case you missed it:
<< My Last Post: The Roadblock to Efficiency: My Worst Time Wasters
>>My Next Post: Managing People: 4 Lessons Learned That You Need To Know
Just joining the show and don't know who I am? Check out my introductory blog post.
As always, send any suggestions, questions, or thoughts on the blog my way by emailing me here.
Peace & love, 
Courtney
P.S. Don't miss out! Follow HostelManagement on Twitter if you would like to receive updates when new my blog posts are made.
Key image courtesy of Alan Cleaver, Flickr