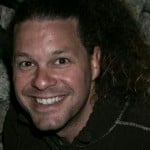 To understand what you're looking for, how would you like the booking button to work? Would it be on each hostel's own website for guests to use to make a direct booking? Would you have a single page with all the hostels in your chain listed, and the guest/staff member could use it to make reservations in any of them? Are you looking for something embedded in your PMS for receptionists to make onward bookings in the next hostel? Would you set up a booking kiosk (with a tablet?) somewhere in the hostel for people to make reservations in other hostels from the chain?
Also, what do you mean when you say a staff member would manage or oversee it? What part would they play in the reservation?
If all of your properties were working on the same PMS that would probably help. The receptionists could simply click over to the other property's system and enter the reservation directly. Which combination of systems are you using?
You could easily set up a single web page that lists each of your properties. You could embed whichever booking widget you are currently using for each one with an iframe to display real time bookable inventory.
MyAllocator has a system called MyGroup, that basically sets up a private OTA just for your hostel chain. That could be an option for you.
Hostel 2 Hostel is a system that lets you make reservations at other hostels and receive them in return. This thread has a discussion about them.
There was a program called Open Travel Exchange (OTE) that let you make onward bookings and share a small commission with OTE for use of the platform. It seems they have merged with Hostel Hops to do the same thing.
Maybe one of those would work for you? Or have I misunderstood what you're looking for?