There are 3 types of apps that can help keep a hostel manager's sanity to a reasonable level, and the first of those is automation. If you can ever stop doing a task more than once, you should. No one wants to do the same task over and over, and for me this includes typing. 
Maybe you're in the same boat, and as you write "Hi xxx, my name is Courtney and I'm the manager at Best Hostel" for the 27th time today you may start to think "how do I not have a robot doing this for me by now?" While a robot may be out of the budget this month, there are lots of ways to automate your work. One of my favorites happens to be this free* app called TypeIt4Me. 
*Free, but every so often it will prompt you to stop using the free trial and finally pay. I've yet to do that, but probably should seeing as I use it all the time. Does free advertising count? I digress.
TypeIt4Me uses custom preloaded abbreviations to extrapolate any amount of text when you type one of them. It's a pretty simple concept that is a game changer. Not just because of the time it saves but also the break it gives from the mental monotony of having to type the same thing over and over. It can feel like such a waste of time (because, ya know, it is). 
For example, take the sentence in the first paragraph. While I could type that over and over each day at the beginning of every email, I could instead load an abbreviation into the app on my laptop called "mgrintro" (manager intro). Now, every time I type the string of letters 'mgrintro', that abbreviation will disappear and immediately be replaced with the sentence "Hi xxx, my name is Courtney and I'm the manager at Best Hostel." Game. Changer.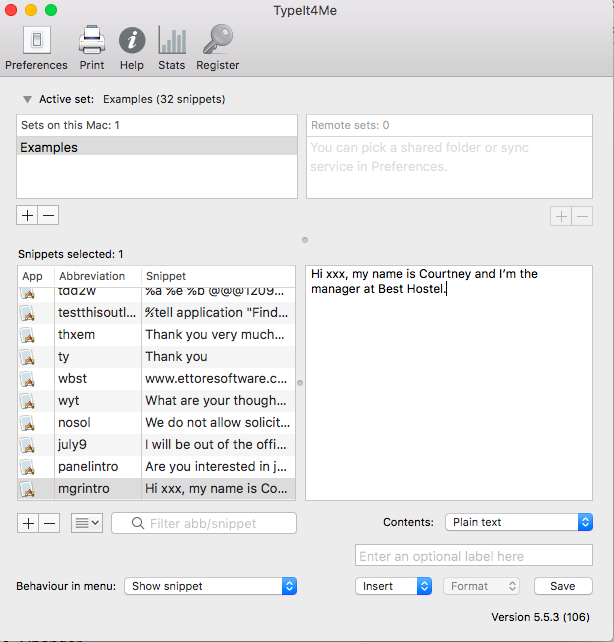 You can name the abbreviations whatever you want, and also have anything from a short piece of info to several paragraphs. If you are familiar with Gmail's Canned Responses, it can work similarly, just even faster. Nothing to open up and click to insert. Simply type an abbreviation, watch it turn into the text you need, and keep typing. I previously had my several paragraph volunteer info email set up under one small abbreviation. 
Other small helpful examples I have are things like "mycell" which changes to my phone number, "myinfo" which changes to include all of my contact information, or "clend" (i.e. Courtney Loechl end) to insert a salutation at the end of my email. The ideas are endless but if you ever find yourself typing something and think 'I'm pretty sure I've typed this before', it's probably time to add it to your clip library. 
For being a free app, it's incredibly useful and even has some fairly advanced options such as using keyboard symbols to return certain functions such as time and date. I'm sure there's a more advanced explanation of what that's doing, but I'm writing this for those of you like me who just need to know the basics and how it can help. Personally, all I know is that adding the % symbol with certain letters means even less work, and that's good enough for me. For example, the text saved under the abbreviations "tdd" is  %a %d %b. While the text may look like gibberish, when you type 'tdd' it will return today's date. 
There's even an option to have your computer find something for you, and complete a task. I'm even less in the know about how that is made possible technically, but I do know that it's super cool for someone really busy. Maybe one day I'll even figure out how to use it! ;-)
There are many, many apps out there for automating your work and I recommend checking a few out. As I said in
my first post
, I am simply highlighting a favorite of mine for each type. Don't forget as well about automating other areas like bill pay or payroll. The point is to work smarter, not harder, and stop doing anything twice unless absolutely necessary. 
What apps for automation do you use or find helpful?
Sign in and comment below!
**I know many of you comment on these blogs on the site's FB page, which is great, but it would be even better to have the comments directly on here for everyone to read. Thanks for your input and helping to further our knowledge.**
In case you missed it:
As always, send any suggestions, questions, or thoughts on the blog my way by
emailing me here
.  
Peace & love, 
Courtney