Between staff, guests, and outside visitors, all hostels face issues of security. There is a wide range of both the potential threats a hostel may face, as well as what to do about them, but there are also some pretty basic measures that any hostel can take. This blog will be split into two separate posts. 
This first part will discuss internal security: How to ensure staff are being honest, and also that the hostel is safe from outside threats. The second post will discuss external security: How to ensure your guests are safer from theft or harm.This is certainly not an exhaustive list, and all of these are simply ideas you can tailor to your own needs or experience. If you have anything to add, please share it in the comments below! 
Tamper Proof vs. Tamper Evident
A hostel may have different security for various reasons. One area you can see this is the difference between choosing a tamper proof option versus a tamper evident one. If an item is described as "tamper proof" it means there is really no way of getting in there. For example, a pry-resistant key box made with thick steel. Unless you employed the Hulk this summer, no one is touching your spare key without your personal number code. Tamper proof is generally chosen when you want security, there is a high risk of theft, and the locked area will not compromise safety. For example, simply locking a closet with booze in does not likely compromise safety.  You can see an example of such key box below: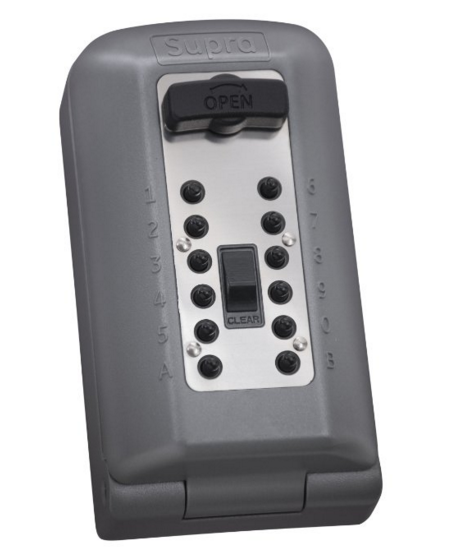 A tamper proof key box will ensure high security
"Tamper evident" means that while it is possible to interfere with the system, there will be a clear indication that it happened. This is generally chosen when you still want security, and don't want to sacrifice safety, but there is a low risk of theft.
A great example of deciding between these options would be securing an item outside of staff control. For instance, you may have a spare key to the management office in case you ever lose yours or get locked out. If you are the only person who should have access to this office, and there's never a reason someone else should go in there, you may elect to put the spare key in a tamper proof key box like shown above.
However perhaps you have another area- an electrical room, or basement with utilities- that you don't want staff messing with, but in case of emergency they may need access. In this case, tamper evident is a great option. They will be able to get a spare key in emergenc, but you will know immediately upon return that it's missing or was used. If there was no indication of the small fire they swore happened, you can investigate further. 
Tamper evident boxes can actually be created really cheaply, but simply screwing a plastic box with keys to a wall. You can also super glue a plastic box to the inside of a locked desk. The plastic is easily broken to retrieve the key, but the box can't be taken anywhere and you will know right away if someone opened it. It's recommended to do this in a controlled area where only staff have access.  See below for an example: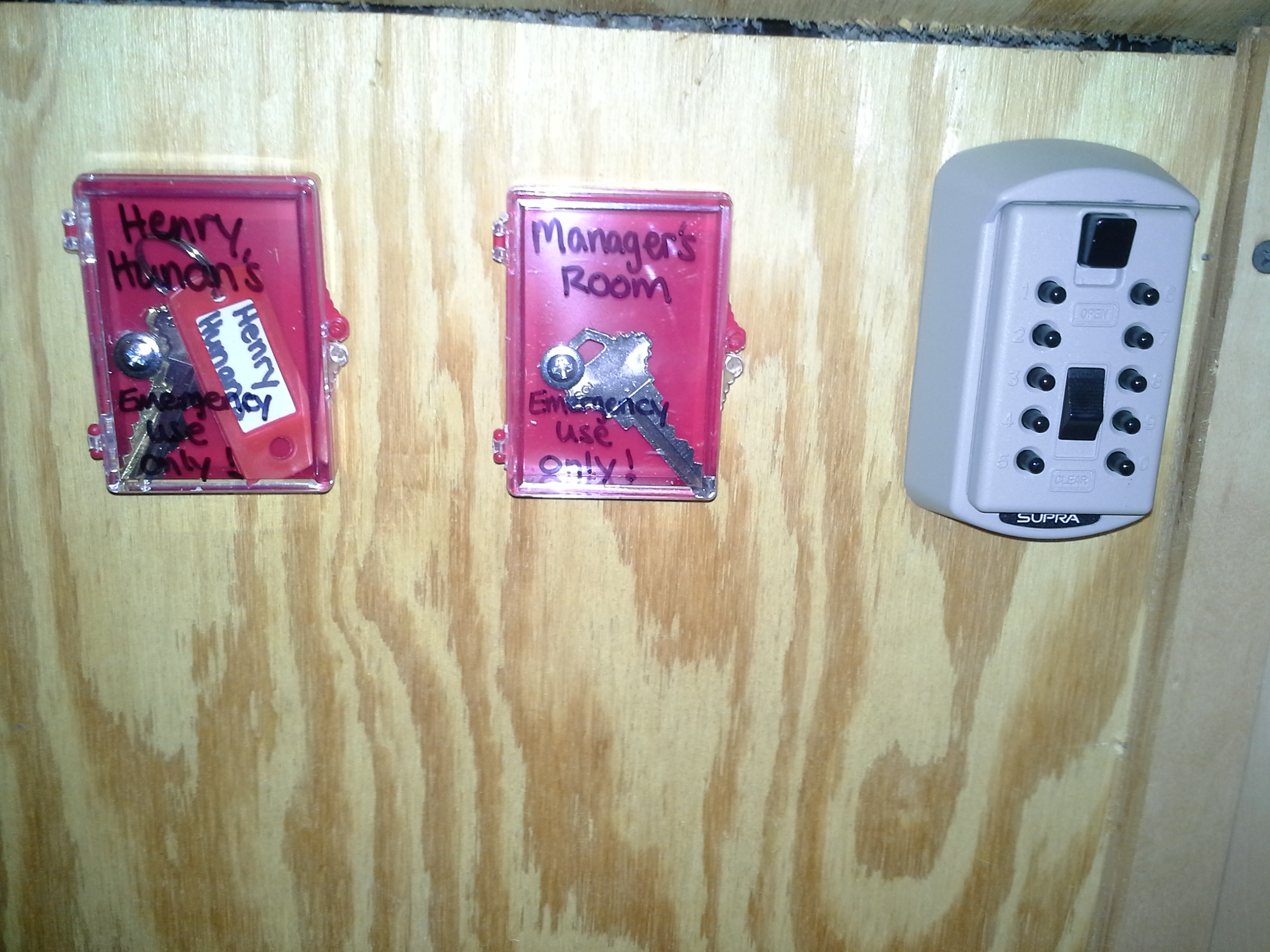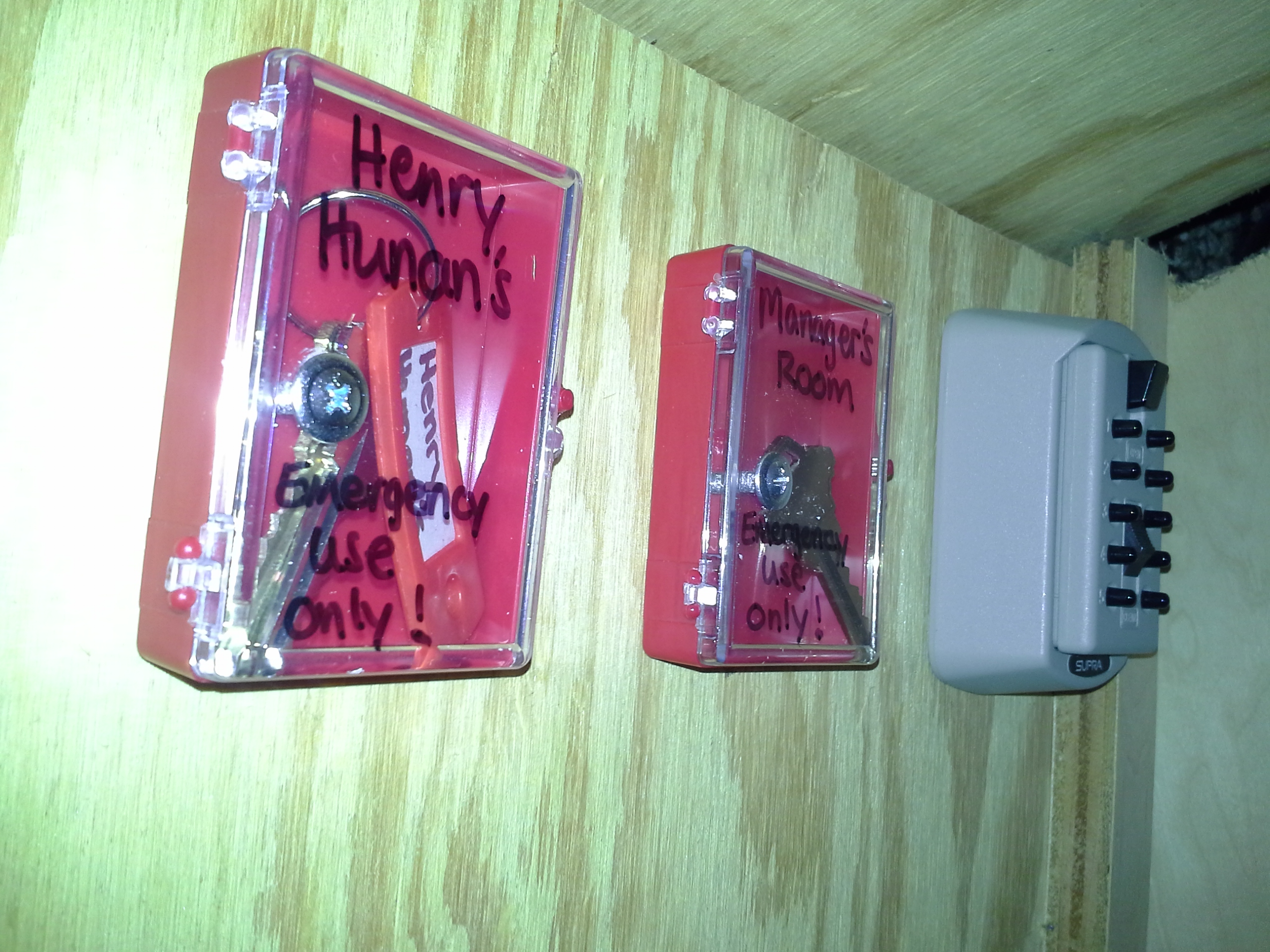 On the left are two red plastic boxes that are "tamper evident". They are screwed into the wall, but easily breakable in case of emergency. It's usually a good idea to put exoxy in the screw head so it can't be unscrewed. On the right is a tamper proof key box that requires a combination code. 
A hybrid of tamper proof and tamper evident could be something like a key box with a wired sensor, connected to an alarm system. If the box has been opened or removed, or a door opened that it was attached to, you will know right away. They are generally tamper proof in that there's no easy way to disarm them, but tamper evident in that if someone causes it to go off, you will be quickly alerted. Think "In case of emergency, break glass. Alarm will sound." type of thing. You can do this cheaply though, with a small sensor on a door, like the picture below.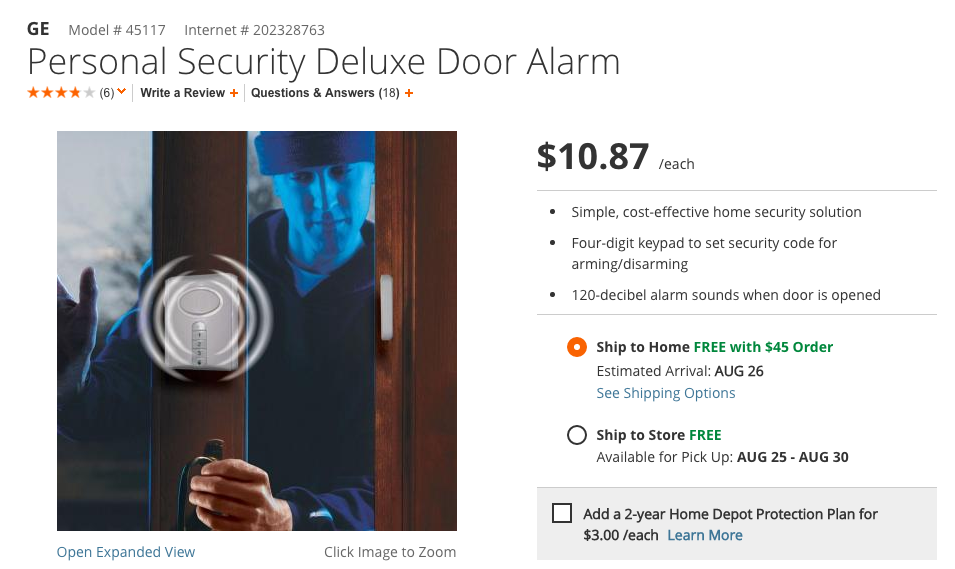 An inexpensive way to know if anyone is entering without authorization. 
Two Man Rule:
According to Wikipedia, "The two-man rule is a control mechanism designed to achieve a high level of security for especially critical material or operations. Under this rule, all access and actions requires the presence of two authorized people at all times." What does that mean in plain language for a hostel? Basically, that access to anything really valuable, such as large sums of money or guest valuables, requires two individuals with different keys. If under control from a combination lock instead, this can be implemented by each person only knowing half the code. Many banks use some variation of the two-man rule, and it can certainly be adapted for hostels. Even if it's just throwing two separate locks on a box or door, rather than one. It takes a lot of guts for one staff person to say to another "Hey, let's steal some money from this hostel" because the other staff person may report them. 
Plain Sight Security
Instinct, experience and a dash of common sense often tell us to keep valuables out of sight. However, sometimes this is actually opposite of what you want. For instance, if you feel like there is a legitimate reason to worry, you may choose not to put the safe in a back room where no one can see if you are ever being held up. Instead, you might want to put the safe in a public area where a holdup would be riskier. 
Another example of plain sight security would be the tactic employed by many jewelry stores who leave their tills open to show that all money has been removed. If a hostel reception area is locked up but still has windows, it may not hurt to do something similar to thwart any unnecessary opportunistic happenings.  
Cameras
An obvious, but still worth a quick mention, would be security cameras or some type of CCTV (closed-circuit television). Just like with guests, using video surveillance in areas where staff have access can be a deterrent from an incident happening in the first place. Some hostel owners have even admitted to using defunct cameras for this reason. However, if something does happen, video surveillance is a powerful tool for solving a mystery problem. It's a good idea to have cameras anywhere where cash is exchanged or valuables are stored. 
What simple ideas have you tried for keeping your hostel secure from dishonest staff or outside intrusions? Sign in and comment below!
**I know many of you comment on these blogs on the site's FB page, which is great, but it would be even better to have the comments directly on here for everyone to read. Thanks for your input and helping to further our knowledge!**
In case you missed it:
As always, send any suggestions, questions, or thoughts on the blog my way by emailing me
here
.
Peace & love,
Courtney