Aside from "Where did all the teaspoons go??" and "How can I make my staff actually want to clean?", one of the most common questions that plague hostel owners is "What should a manager do?" This may seem like a silly or even obvious question but the answer can vary dramatically depending on who you ask. In addition to the 'what' (tasks, duties, responsibilities), there are also many other variables that dictate the 'how' such hours, schedules, and live-in vs live-out to name a few.
From what I've seen on the Hostel Management forums and in the Facebook group, as well as in my own conversations, one overarching goal most hostel owners agree upon:
A good manager should be able and willing to take care of almost everything involved in operating the hostel, without direction or supervision.
It should go without saying that a solid manager is incredibly self-reliant. This means not only having the training and knowledge to be able to handle the many facets of hostel operations but also having a hands-on, "I'm not above plunging a nasty toilet" attitude to jump in where needed. The best managers have a sense of ownership in the business, whether just mentally or also through profit-sharing or other means.
Note that above I say taking care of "almost" everything simply because either a) as the owner you may have certain tasks or responsibilities you choose not to have the manager complete, such as legal admin, or b) there may be situations that come up where you do want to be consulted, even if the manager is willing to handle it.
However, the overall value of having an excellent manager is that it frees up space and time for the owner to focus on developing the business, exploring other opportunities, or simply to provide a better work/life balance for someone used to doing it all.
So I found an amazing manager. Now what?
How to most effectively utilize a manager depends on many factors. As Lior Slepkov, founder of hostel.consulting explained, some of the reasons each management situation is very different are the size of the hostel, the year-round occupancy, the owner's involvement, the strengths and weaknesses of the manager, and the company structure, just to name a few.
One of my own biggest observations early on in managing was just how little (like, none) of my management work I could get done while doing any type of shift work. At the same time, if I took myself off the reception desk altogether I either felt very out of touch with operations or occasionally found a shit storm of problems a few days later that I could have easily nipped in the bud had I been more involved.
Lior has also recognized this, and one of his general suggestions is for the manager(s) to have time "off-shift" (meaning that they are not on a reception shift) for about half of their weekly/monthly hours in order to do work that requires focus and for follow-up work. This follow-up can include observing and coaching reception, cleaning, & maintenance staff to continuously improve. At the same time, they need "on-shift" time in the reception so that they are always aware of the work that is being demanded and are "in the trenches" with the rest of the team.
How should I split on- and off-shift work?
This completely depends on your hostel's needs. It can vary anywhere from 1 off-shift day with 4 reception shifts, to the complete reverse. This could also depend on if you have more than one manager, how many reception staff you have, and if you as the owner are involved or not.
I personally find on-shift work important not just to prevent small problems from becoming huge headaches later, but also to keep in touch with my staff's reality. I can't tell you how many times I've wondered 'Why can't you just get those emails answered quickly and fold some extra towels?' only to be on a shift where the phone won't stop ringing, the sink started leaking, and three people want to switch beds in different rooms. Yes, there were plenty of times I found my receptionists kicking back with the guests or playing on Facebook, but returning to reception can also be really humbling as to the number of things that can (or can't) get done.
Which also goes to reason why off-shift work for a manager is so critical in order to have the ability to focus on bigger picture development and solutions, such as sales & marketing, operations, or staff training. If you've ever seen the Eisenhower Box (pictured below), you know that long-term business strategy is what falls into Box 2: non-urgent and important. If good systems are in place to allow it, time spent in Box 2 is where a manager can really offer their weight in gold.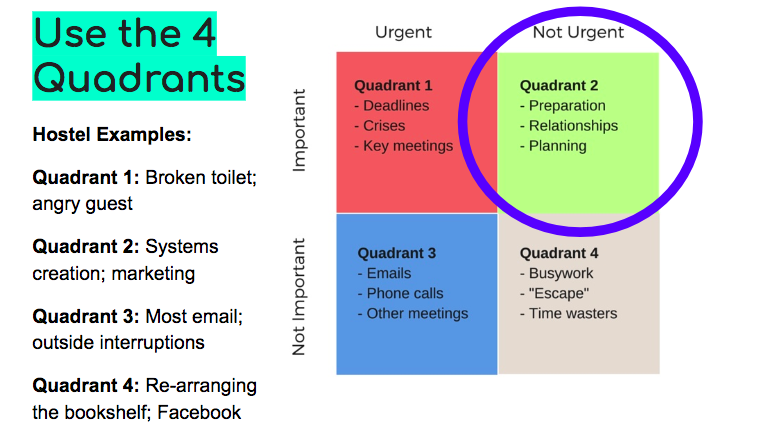 Take off a slide from my Time Management presentation at the American Hostel Conference
Unfortunately while putting out critical fires (Box 1: urgent and important) is par for the course at times, often managers get tied up in Box 3: urgent and not-important. In addition to things like certain emails and small fixes, reception shifts can fall into this category. Not because they are inherently not important but because they can and should be frequently delegated outside management. Simply put, it is not important to have a manager on the desk all the time, and it's actually very short sighted.
Since you may need to play around with what schedule arrangement works best, it's helpful to look at reasons such as the ones above for each type of shift to better identify your needs. The same goes for deciding days vs nights, weekdays vs weekends, and one manager vs multiple. Keep in mind as well that burnout for managers is a very real thing, especially highly involved managers that are wearing many hats. This can be even more true for on-site/live-in managers. Therefore, when making a schedule, don't forget to allow adequate off time if you want to keep a good manager around.
What tasks, duties, and responsibilities should a manager have?
Well, to be quite frank, this list could be as encompassing as to include every possible task and to-do a hostel has. How much of that falls onto a manager is, again, completely varied depending on your situation. For those looking for an overall list, our community manager Brian wrote a fairly extensive hostel manager job description a few years ago that is a great starting spot. The areas he included are:
Staff Training and Management
Sales and Marketing
Human Resources
Reception and Customer Service
Public Relations and Industry Relations
Housekeeping
Maintenance
Purchasing and Inventory Control
Accounting and Budgeting
Entertainment, Atmosphere, Activities
Quality Control
Business Development and Strategy
IT/ Web Development
He also listed several subcategories under each, so in an effort not to reinvent the wheel, I'm going to simply link to it here. 
One area that he added later via the comments was "Crisis Management", based off a different blog post that I wrote ("The Hostel To-Do List is Complete!" Said No One, Ever.) In it, I explained how one of my biggest frustrations in trying to get stuff done while managing was all of the 'unexpected' that came up daily. I said:
"I don't think I gave the unexpected happenings of the day enough credit. They aren't part of managing a hostel, they ARE managing a hostel. Operations systems are in place to keep the smooth, daily flow of things. Staff are there to help and guide these systems to their maximum benefit.
…A manager is not there to oversee everything happening correctly, but rather to manage the unexpected.
…
If a hostel has been set up well, the day to day is going to run well. It's when the unexpected, the situations that were never a part of the daily systems, suddenly appear that a manager really needs to shine."
I absolutely still stand by that. You can figure out the perfect amount of delegation and responsibility for a manager, what they should/ shouldn't do, but the real test of how effective your manager is for your hostel is how well they keep everything running when things don't go to plan.
So to reiterate once more: A good manager should be able and willing to take care of almost everything involved in operating the hostel, without direction or supervision. If you have a potential manager ready to say "that's not my job" or who wants to cherry pick which parts sound good, you may want to keep looking.
Do you have ideas of what a manager should do, or any tips & advice?  Sign in and comment below.
**I know many of you comment on these blogs on the site's FB page, which is great, but it would be even better to have the comments directly on here for everyone to read. Thanks for your input and helping to further our knowledge.**
In case you missed it:
<< Using a Blog Post to Educate Potential Guests & Your Local Community
Coming up next:
>> Using Activities to Increase Reviews, Ratings, & Occupancy
Just joining the show and don't know who I am? Check out my introductory blog post.
As always, send any suggestions, questions, or thoughts on the blog my way by emailing me here.
Peace & love,
Courtney
P.S. Don't miss out! Follow Hostel Management on Twitter or Facebook if you would like to receive updates when my new blog posts are made.