There are probably as many reasons for travel as there are excuses as to why you can't go to your in-laws for dinner next weekend. The same goes for reasons why some of us devote our life's work to encouraging and facilitating travel. However, I'd like to think that at the core of it, we are all just trying to make the world a better place. Sound cheezy? Hear me out.
The world is a mess. I don't need to go into all the reasons why, we have enough of that with mass media. I certainly don't need to lament on it or give unsolicited opinions of whose fault it is, that's what your Facebook newsfeed is for. All I will say is that, in my opinion, the world could use a little bit more understanding and tolerance. A dash or two of respect mixed in never hurt anyone either.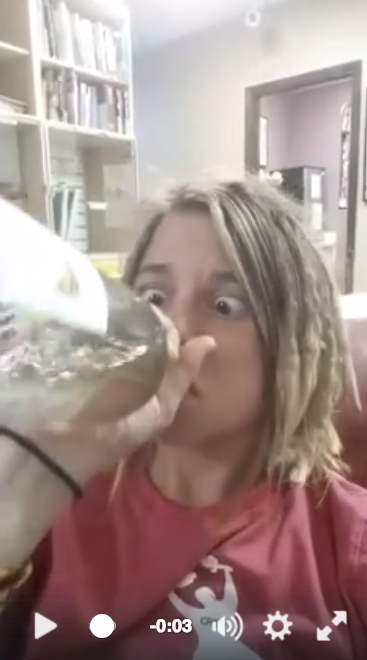 Ok, I'm trying to practice what I preach, but the US Presidential debates required the aid of wine and resulted in this 6 second video
By now you probably know where I'm going with this. Travel is something that offers an abundance of opportunity to learn these practices, whether you like it or not (and yes, being understanding or patient is a practice!) I remember watching a German guy waiting on a pretty Colombian girl to join him for an activity and him suddenly finding a bit more tolerance for being late. I'm sure we all have memories of travel and its sneaky ways of teaching a lesson unexpectedly.
One of mine came on a sleepy journey aboard an infamous 'bed bus' through Laos. I discovered that the bed I had booked- a 5ft/1.5m, smaller than any bunk I've ever seen, twin bed...was actually a double. I spent several hours spooning a tiny Laotian woman in fetal position because it's the only way we could fit. At the time I had trouble seeing the humor in it. Looking back I realize not only is that hilarious (I mean...come on), and finding the humor in any situation will make it 100x more tolerable, but I was backpacking through Laos without a real care in the world. I was part of the 0.001% who get that chance.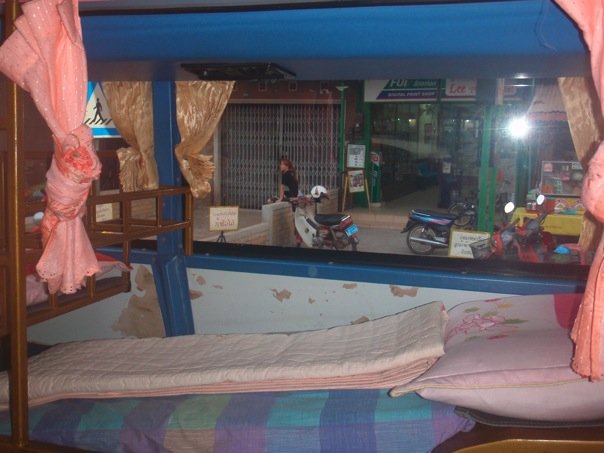 This bed got a whole lot cozier after the first 30 minutes alone.
Now, as a hostel manager and in-the-works hostel entrepreneur, I get the opportunity to help others on their journey. Just like the other 10,000 or so of you. And sometimes it's hard and  really sucks. So why do we do it?  
It could be the growth it gives you personally, whether on your own adventure or simply surrounding yourself by others stepping outside their comfort zones. Maybe it's a devotion to helping others have this experience, or simply to live a fulfilling lifestyle rather than a stagnant career trajectory. Even if there wasn't an ounce of altruism, I strongly believe people doing what makes them happy IS serving the world in its own way.
People often ask me how I got into the hostel industry, but rarely why. And I think there's a pretty obvious reason for that- surrounding yourself with and around travelers is amazing. Helping to facilitate that, however, is both incredibly difficult at times and really important. So naturally I was completely on board when I found out what ILH- the independent Israeli hostel network- just launched this past week.
Introducing "Back a Backpacker". The entire ILH network teamed up in an Indiegogo campaign to encourage tourism as a way of bringing cross-cultural understanding and collaboration. They work with local businesses, creating a ripple effect, and also hold entrepreneur workshops to both inspire dreamers and arm them with the skills to open their own hostels. What they are doing is BIG!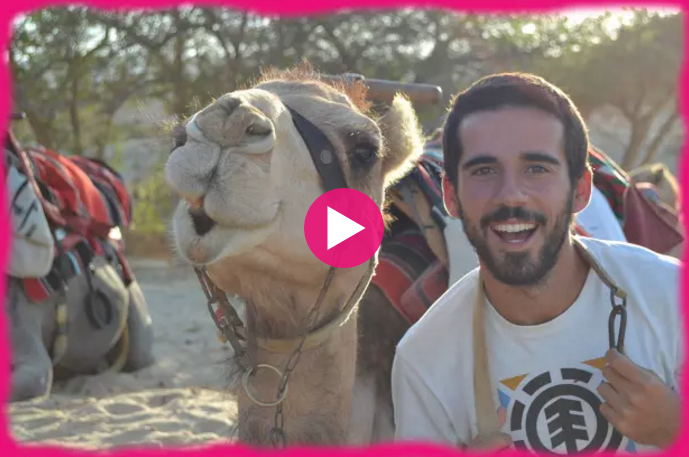 Click the pic for a funny and engaging 2 min. video explainin the campaign
The Hostel Management community is all about collaboration, and this is one of the best examples we have seen in awhile. They need support from all over, but the hostel industry should be some of the first in line.
Just in case you still aren't convinced, here are 3 reasons why you should get on board:
1) If you are traveling to Israel, the perks for backing the campaign are going to save you money on accommodation and activities you'd be buying anyway!
2) If you aren't traveling to Israel, by financially backing the campaign anyway you are helping a fellow hostel network, showing solidarity, and supporting the principals of the campaign.
3) If you can't donate, just sharing it with a few words could help immensely. You likely have guests that will resonate with the message (if not the perks!) and the more it's shared, the better.
...But seriously, you really can't give up the cost of a beer or a lunch out and donate something? I spent 45 minutes on a bus at 2am the other night instead of a 15 minute cab ride and I donated. (On a related side note, if my deep rooted Catholic guilt is working, please let my mother know. :-P )
At 14% they still have a ways to go, but HostelManagement is a community of 20,000 people. We have the power to get them there, so let's do it.
Here's the link. Go Back a Backpacker! https://www.indiegogo.com/projects/back-a-backpacker
Have more questions? Talk to Yaron Burgin or Ori Gonen at [email protected].
Thanks for the support!
Also, we will be doing a future panel discussion and blog on crowd funding for hostels. If you are interested in participating, please send me an email here.
Have any comments or advice on crowd funding? Sign in and comment below!
**I know many of you comment on these blogs on the site's FB page, which is great, but it would be even better to have the comments directly on here for everyone to read. Thanks for your input and helping to further our knowledge!**
In case you missted it:
<< My last post: Social Apps: The Future of Guiding Guests
>> My next post: Preventing Human Trafficking: The Role of the Hospitality Industry
Just joining the show and don't know who I am? Check out my introductory blog post.
As always, send any suggestions, questions, or thoughts on the blog my way by emailing me here.
Peace & love,
Courtney
P.S. Don't miss out! Follow Hostel Management on Twitter if you would like to receive updates when my new blog posts are made.