With technology changing the way we do nearly everything, from buying groceries to finding a life partner, there's been both trepidation and anticipation to see how it would influence budget travel. Using an app to find something or get a travel tip doesn't necessarily seem to fit in with the typical 'ask a local' backpacker approach. Until you realize that even asking a local has also moved digital; it's the premise of several popular travel apps. 
With the rise of technology, hostels around the world have seen more and more travelers connected to devices, often leading to a lack of camaraderie around the common room. When every traveler has their entire life plus tips for new adventures tucked in their back pocket, there's less of an incentive to reach out. I think most people agree this isn't ideal in a communal hostel environment. However while some choose to sit back and complain that things aren't how they used to be, others have jumped on board to leverage this technology for the better. 
Welcome to the world of in house social media apps. What exactly does that mean? These social apps aim to use technology as a proactive way to bring guests together, facilitate events, sell ancillary good & services, and offer guests tips & information. Two of the most popular are Hostelite and GLOQON. The biggest difference between these two is that Hostelite is an actual app that must be downloaded, whereas GLOQON is a web-based app. GLOQON also offers more features and services, and seems to be far more popular at this time.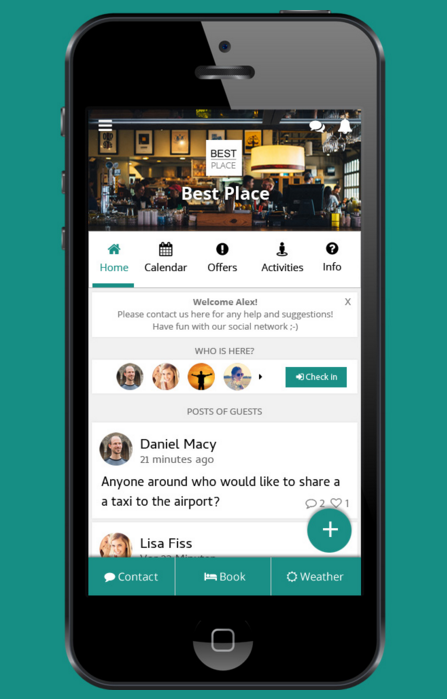 Anything new is bound to have friction, and these apps are no exception. HostelManagement.com recently hosted a panel discussion about using these apps in hostels, and while moderating I learned about several barriers and ways around them. One obstacle is getting guests to use it in the first place. 
One solution a hostel had for GLOQON was not calling it an app, since people immediately think they have to download something and tune out. Simply calling it a 'web app' instead can help with this. Another is getting your guests easily to your specific page. Searching through the main site takes time and you may lose people, whereas typing a long specific URL is annoying (and quite frankly, no one will do it). QR codes also seem to have gone by the wayside. 
Kabul hostel in Barcelona fixed this by having their web developer create a redirect: kabul.es/chat will actually load the much longer
https://www.gloqon.com/app/channel/kabul-hostel
You can also show them how to save the site to the homescreen of their phone (usually under bookmarks) so that they can go straight to it, as if it was an app, without it taking up space on their phone. 
There also has to be incentive for the guest to sign in. You can see any posted hostel info without being signed in, but if you want engagement such as social posts between guests and sales for services, there has to be some motivation. For example, one hostel did a half hour of free beer, but to participate you had to RSVP on the GLOQON event. This taught the guest how to navigate the app and check the calendar for what events were happening. Then a few of these turned into bookings for bar crawls, dinners, etc. 
Even if your motivating event, such as the free beer, doesn't pay off in itself, it's creating atmosphere in your hostel by bringing everyone together. This is in turn offering a greater guest experience, which turns into extensions, word of mouth, and online reviews. 
Apps like these also take consistency if they are going to take off. If a guest does check out the app and sees the last post made was 3 days ago, they aren't going to be very confident that it's a good source of information or services for their stay. If you are just getting started and have few guests interacting on the app, be sure to keep regularly posting events. Don't be afraid to have your staff or volunteers post regular social and engaging messages to your guests. If you overhear guests discussing an activity the next day and it seems open to others joining, encourage them to post it on the app and invite new friends.
One idea that is common in hostels for ensuring guests see a certain webpage is using a wifi gateway portal. This means that in order to connect to the wifi the guests must connect via a landing page, which can be set up for any site. However that didn't seem to be the best option for a web app like GLOQON. Not only do guests often get confused thinking the wifi isn't working, not realizing you have to open the browser to fully connect, but it doesn't show them how to use the app or how to return to it the next time. Half the battle with these apps is teaching and guiding the guest on how to intuitively use them, and that starts from the first time they see it.  
There was also some concern over the price. Currently Hostelite is free but GLOQON is still on a rate plan. As with most free apps or websites, they must start free to gain any traction. However, many hostels are currently using GLOQON for free and the co-founder recently informed me that they are currently working to make it free for everyone. If you are interested in trying out GLOQON, I suggest contacting them to see what can be worked out.  
My overall take on in house social media apps? Give them a try! Especially if they are free, you have nothing to lose except a little bit of time updating events and reaching out. Perfect for a graveyard shift or that afternoon lull while everyone is out exploring. Technology is not going anywhere, and the opportunity to use it to bring our communities closer together should be welcomed. 
Have you used GLOQON, Hostelite or another app to help your guests? What has your experience been? Sign in and comment below!
**I know many of you comment on these blogs on the site's FB page, which is great, but it would be even better to have the comments directly on here for everyone to read. Thanks for your input and helping to further our knowledge!**
In case you missed it:
Peace & love,
Courtney